Intercultural integration and sport in Ireland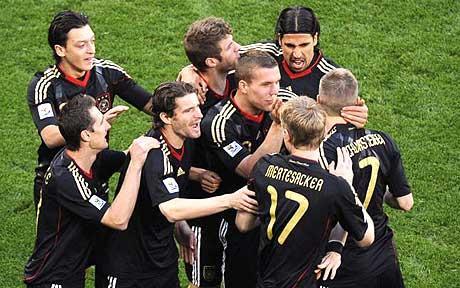 Ireland appears intent on restricting young migrants from participating in our sporting life. By Justin Frewen.
Generally regarded as no-hopers, the German football team became one of the biggest success stories at the recent World Cup. Moreover, they played an exhilarating brand of football, scoring four goals against England and Argentina and another three in the third place play-off.
However, this team differed from previous successful German formations, with 11 of its 23 man squad coming from 'non-German' backgrounds. A couple of decades ago, a multi-ethnic German team would have been impossible, as first and second generation migrants were barred from the national team. This changed with the abandonment of the 'one-drop of blood' policy in 2000 and the subsequent naturalisation of almost 1.3 million people of migrant origin.
A strategic plan was instituted to include this 'new' German youth in under-age and development national teams across the sporting spectrum. Hailu Netsiyanwa, Director of Sport at Insaka AFC, highlights how this resulted in a "strategy that encouraged a rich football talent pool to aim for German international caps at all levels."
Unfortunately, Ireland appears intent on restricting young migrants from participating in our sporting life. The removal of automatic citizenship to people born in Ireland after 1 January 2005 made it far more difficult for migrants. This situation is aggravated by the tortuously slow processing of refugee claims.
Sports Against Racism Ireland (SARI) international officer, Ken McCue, warns of a 'Heighway factor'. Steve Heighway played on the highly successful 70's Liverpool team and won 34 Irish caps. He qualified for Ireland having been born in Ireland to English parents here on a short work assignment. Today, he would not be eligible.
There is a serious risk the migrant talent nurtured by football clubs, such as Insaka AFC, will be lost to Ireland, as players have little option but to consider declaring for their countries of origin. They may also be attracted by other European countries with less onerous citizenship requirements.
The inter-cultural sensitivity of our political elite further aggravates this situation. A particular low point was Minister for Arts, Sport and Tourism, Martin Cullen's comment after the Beijing Olympics
''Obviously, unless you're black and African you're not going to do well in sprint or middle distance. We'll get the odd one coming through, like a Sonia [O'Sullivan] or an Eamonn Coghlan, but we'll deal with them as they come. But the likes of the javelin, the discus, the pole vaulting, these are the ones being won by white Europeans. Physically and mentally we're suited to them, and it's easy to see how we could do well here."
Why Cullen believes the white European physique and psyche are especially attuned to hurling javelins and discuses long distances or vaulting over horizontal sticks dangled precariously high up in the air is, to put it mildly, baffling. It also demonstrates a lamentable ignorance as to Ireland's new multi-ethnic tapestry.
It is this blinkered approach that left the then Irish School sprint champion, Nigerian-born, Kelvin Ekanem, unable to represent Ireland abroad. Instead, the Irish-born runner-up took his place. Kelvin now plays rugby for Lansdowne and still awaits word on his citizenship status. Nor have things improved. Ireland now has another Nigerian-born dual 100 and 200 metres schools champion, Seye Ogunlewe, who also cannot represent his adopted country abroad.
Cullen must, however, be delighted that Athletics Ireland has unearthed a US pole-vaulter of Mexican-Irish heritage Tori Pena. While Kelven and Seye are prohibited from representing Ireland internationally, Tori participated in the recent European Championships, as her situation was sorted out, according to Ian O'Riordain in the Irish Times, "with astonishing speed."
Ireland has been willing to use any loophole to capture sporting talent. A legion of footballers have represented the Republic through an Irish grandparent. Former Irish manager Steve Staunton openly declared his intention to use the 'granny rule' to recruit new players, while Trappatoni is reported to have contacted players born outside Ireland to see if they would declare for Ireland.
The Republic has also been ruthless in poaching football talent from the North. For instance, despite having represented the North at Under-16 level, Man United's Darron Gibson was convinced to transfer his allegiance to the Republic. Yet, domestically cultivated migrant talent is left to languish in obscurity.
The Nigerian born Chukwuemeka Onwubiko, while a 'refugee in waiting', represented the Republic at underage level at home matches but was unable to travel to away matches. However, when a Belgian football academy displayed an interest in him, he suddenly received an Irish passport, as it was realised he would have been eligible for Belgian citizenship in a few years.
Today a player from Zambia with an Irish grandparent might qualify for Ireland whereas an Irish-born player with Zambian parents would be ineligible. Surely a person who has lived in Ireland is more 'Irish', whatever that might mean, than someone who has never lived here, irrespective of background.
The restrictions preventing youth with a migrant background from representing Ireland on the global sporting stage should be immediately removed. They should be fully included in every aspect of our sporting life. Then perhaps Ireland might have national sporting teams which, similar to Germany, will be truly representative of our new multicultural reality.
Insaka AFC, is a football team that plays in a Leinster Area Juvenile League. Insaka is composed of migrant players from 10 different African countries, Poland, Serbia and Romania. Insaka is based in Dublin and is an official partner of Glentoran FC Belfast. For further information, please contact Hailuu Netsiyanwa on 0851488185 and 0834074596.
SARI is a not-for-profit organisation that supports social integration through promoting cross-cultural participation in sporting and inter-cultural events. SARI also sponsors integration projects at the school level and lobbies government and sporting bodies to promote anti-racist policies, programs and practices. One of the directors and major figures behind SARI is Brian Kerr, the ex-Ireland football manager and current manager of the Faroe Islands. Brian Kerr is strongly committed to using sports as a driving force to promote cultural integration and social inclusion. For further information, please visit www.sari.ie