Attempted robbery a good start to the weekend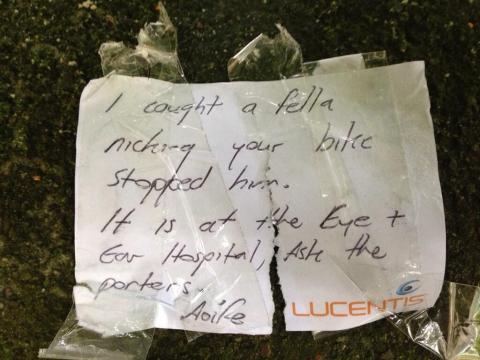 An uplifting experience today I thought worth sharing. I skip down the steps of the Luas station at Charlemont, on the way in to a gathering of colleagues at the Storyful office. Wrestle a ball of keys from my pocket to unlock me bike, when BAM! No bike! Hands to head. *Curses* Noooo! Couldn't be gone. Did I walk from work yesterday? No. Did I not lock it properly? No. *Curses*. *Curses*. Fuckers.
I walk to the front of the shiny stainless steel bike rail. Ludicrous. As if staring at it will divine my bike back into place. But wait, what's that scrumpled notepaper sellotaped to the bar? "I caught a fella nicking your bike..." Kneel down to read the underside. "Stopped him. It is at the Eye and Ear Hospital, ask the porters. Aoife"
Aoife, I could kiss you! Pace down Adelaide Road to the Eye and Ear where I meet John, the porter, who shows me to the bike. Aoife had used her own lock to secure it. My cleanly cut Kryptonite lock hung from the handlebar, my wire lock shredded in half. "She's away today for the weekend," John says. "Said to make sure you had the key to open the lock." I oblige.
"Yer man had a grinder. Angle grinder, y'know? Must've been one of those battery ones."
What? Aoife confronted a man with an angle grinder?
"Yeah, pushed him off, y'know? Sort of thing she'd do. Most people if they saw that sorta thing would walk past, wouldden they? She cycles in too, y'know, so she probably... y'know?"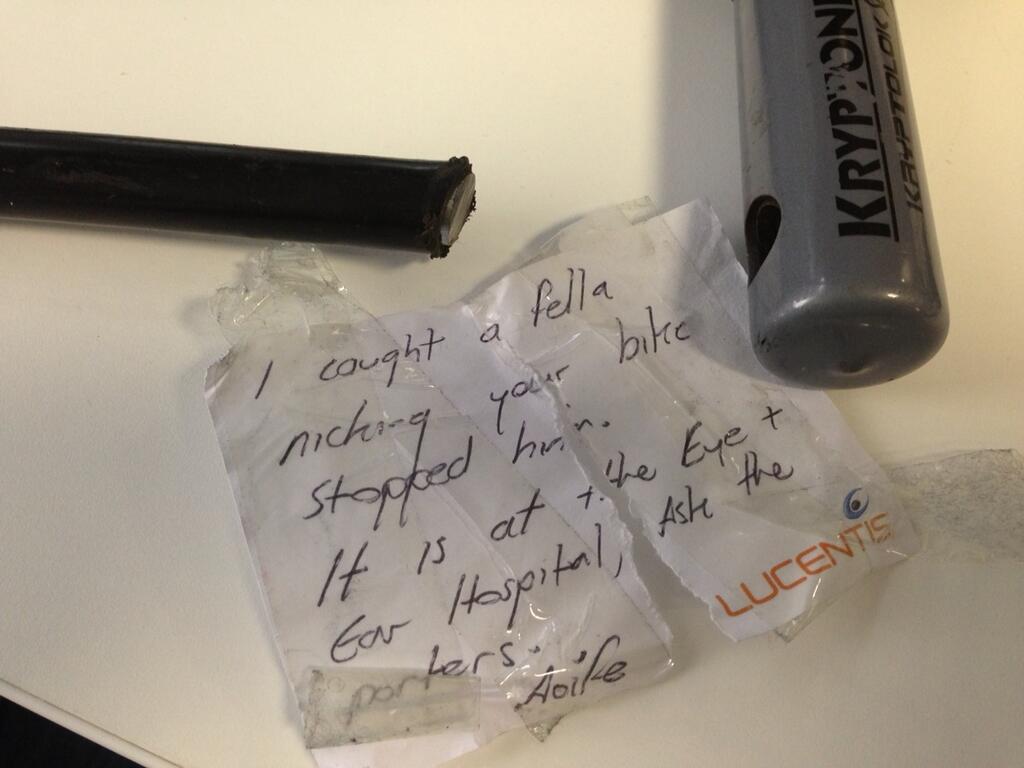 So I tweet about it. "Thank u brave Aoife who saved my bike from a thief with an angle grinder". It's retweeted. People praise Aoife. Within minutes, Eoin Maguire, a writer for the Broadsheet.ie messages me. "Delighted you got it back! I helped Aoife confront the asshole trying to steal it. Good start to the weekend!"
Eoin tweeted the details of what happened to Broadsheet.ie who ran a post with a photo of my bike: "Is this yours? It was inches from being lost forever. Until a couple of pesky kids came along..."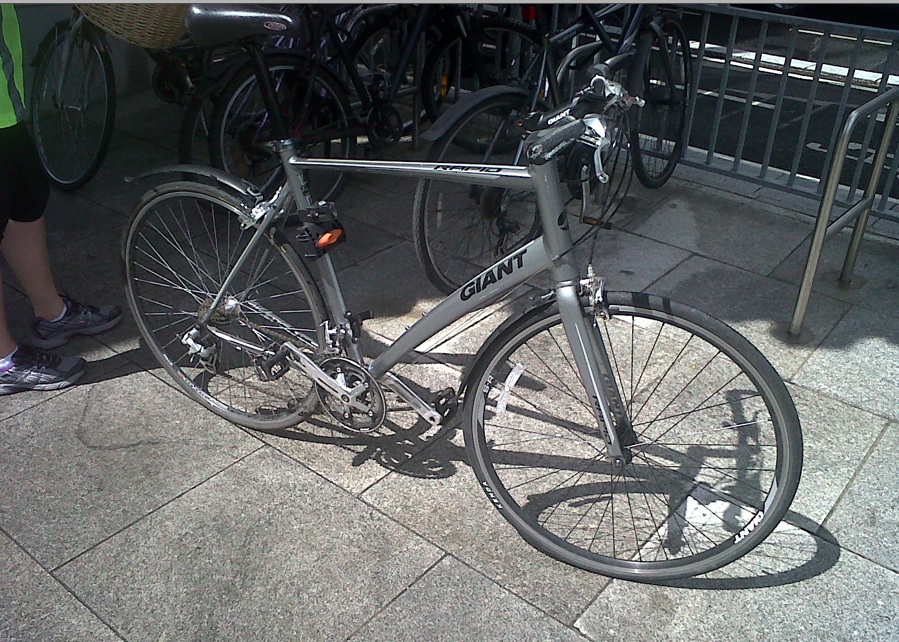 Eoin had tweeted Broadsheet what happened: "Just helped someone stop a person seconds away from stealing a bike under Charlemont Luas Bridge [at the Grand Canal, Dublin]. Locks had been sliced through with mini angle grinder. He claimed he "lost his key" before scuttling away. The bike is now locked at Royal Eye and Ear hospital, Adelaide Rd if the rightful owner would like to collect. Kudos to Aoife who spotted it in the first place."
Broadsheet later updated their post with the headline SAVED! "We're taking back the streets. One politely retrieved hybrid at a time."
To quote a friend, Laura Pasquini, the story is another example of "why social (justice, culture, action & media) matters!".
Thank you Aoife and Eoin.