#vinb post-show blog 25 April - Relentless economic contraction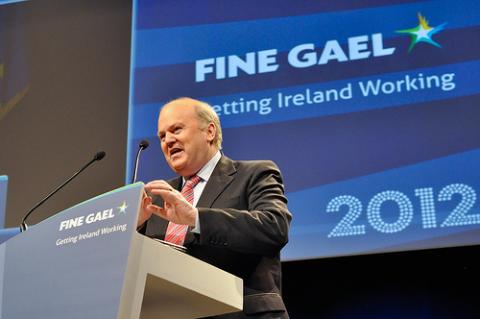 Vincent Browne responds to comments on last night's show with Minister for Transport, Tourism and Sport Leo Varadkar, Independent TD Stephen Donnelly, Catherine Halloran of the Irish Daily Star and Sinn Féin TD Padraig Mac Lochlainn on the fiscal treaty. {jathumbnailoff}
I think there is a serious issue about the Government agreeing or instigating the gun-to-head provision in the ESM Treaty, at a time when they knew (a) there was a possibility there would be a referendum on the Fiscal Treaty here and (b) there was a possibility a majority would vote No. Why did they go along with that? Michael Noonan says they did not disagree with this provision. Why?
Also on Michael Noonan, he was talking at the Oireachtas Committee on Finance today and started off by suggesting the economy was doing well because there had been 0.7% growth in 2011 and "this is the first increase in economic growth since 2007". This was consistent with repeated claims by Enda Kenny and Eamon Gilmore that this government "stabilised" the economy.
There seems to be  denial about the reality. While there was a 0.7% GDP growth in 2011, the figure is fairly meaningless because, for Ireland GDP is fairly meaningless. It is GNP figures that matter and in 2011 there was a contraction of 2.5% and a contraction of 7.2% in the final quarter of 2011, as compared with the final quarter of 2010.
The reality is Government policies are devastating the economy but a government committed to persisting with the same policies doesn't want to acknowledge the damage being done.
And the depressing reality is that this will continue relentlessly for years and years because of the new fiscal rules being introduced via the Fiscal Treaty.
(PS: The CSO states: Gross Domestic Product (GDP) represents the total value added (output) in the production of goods and services in the country. Gross National Product (GNP) is the sum of GDP and Net Factor Income (NFI). NFI is the difference between investment income (interest, profits etc.) and labour income earned abroad by Irish resident persons and companies (inflows) and similar incomes earned in Ireland by non-residents (outflows). The outflows invariably greatly exceed the inflows, which means the more reliable measurement of the economy is GNP.)