Some well known favourites with new slants
Colin Murphy picks some highlights from the Dublin Theatre Festival, which runs until 14 October
The empty space
Thirty nine years ago, Peter Brook wrote that he could "take any empty space and call it a bare stage. A man walks across this empty space whilst someone else is watching him, and this is all that is needed for an act of theatre to be engaged." Now 82, Brook is less influential than in his heyday, which lasted from the 1960s through to the 1980s, but still active and provocative. His Théâtre des Bouffes du Nord brings two shows from Paris, a collection of short Beckett works called Fragments and an adaptation of Dostoyevsky's The Brothers Karamazov, titled The Grand Inquisitor. Each runs for an hour and you can see both in the same night. And on 8 October, there's a public interview with Brook himself.
Tivoli Theatre, 9-13 October, 7.30pm & 10pm respectively.
The fabulous beast
Those of us who missed Michael Keegan Dolan's 2003 breakthrough dance-theatre show, Giselle, still find it hard to take. There's compensation on offer this year with the third installment of his Midlands trilogy, James Son of James and, providing that goes well, the hugely alluring prospect of a Druid-type performance of all three parts of the trilogy together, down the line. Many of the ensemble he used in The Bull, two years ago, are back this year, though Dolan says James is very different to The Bull – which entertained not just its sell-out audience, but the much larger Liveline audience for an afternoon, when Joe Duffy milked outrage from callers over Keegan Dolan's use of "gratuitous nudity" in having a naked man play the role of a dog on stage.
Samuel Beckett Theatre, until 13 October, 7.30pm.
From Hungary with love
There's a particular focus this year on "ensemble" work – that done by permanent companies of actors, where the same actors hone their performances together over years, and often alternate plays in their repertoire, allowing different roles inform each other. Festival director Loughlin Deegan has brought two Hungarian ensembles to the festival, with one of them, Kretakor Theatre, performing Chekov's The Seagull and a satirical piece devised by the company, Blackland. Both will be performed in Hungarian with English surtitles – my instinct would be to read The Seagull  beforehand and so not be chained to the surtitles, and be able to relax and watch this ensemble do what it does best – act.
The Seagull: Project Cube, October 9-14, 7.45pm.
Blackland: O'Reilly Theatre, October 2-7, 7.30pm.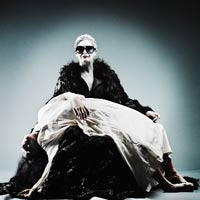 Long night's journey at the theatre
Dublin audiences will have ample time after the festival to catch the new Playboy of the Western World and Marina Carr's new play, Woman and Scarecrow, at the Abbey, as well as Uncle Vanya at the Gate. Better now to see Druid's festival offering, Eugene O'Neill's four-hour epic Long Day's Journey Into Night. Druid's Synge cycle, where they staged all of Synge's plays in one day, was extraordinary, and that experience can only have had profound influence on Garry Hynes's approach to staging work of this density and length. Four hours sounds intimidating – but my experience of "marathon" work is that it can be the most transformative. No harm either that there's a bit of celebrity casting, with James Cromwell (The Queen, LA Confidential) in the lead.
Gaiety Theatre, until 13 October, 7pm (except 6, 7 & 13 Oct, 6pm).
All tickets from Festival Box Office, 44 East Essex St, Temple Bar;  (01) 677 8899; www.dublintheatrefestival.com.