Selections for The Lions: the large lump syndrome
Jim Telfer's assertion on television that he felt that the British Lions would need big forwards and big men in midfield for the 1983 tour of New Zealand suggests that he, as coach, and Bill McBride, as manager, have already formulated their policy for the selection of the team. The only area of the pack where size could be a matter of choice is in the back row, and the idea that you need large lumps at loose forward in the Land of the Long White Cloud is familiar enough. In any case, Peter Winterbottom looks certain to play at open side in the test team because he is the only contender around, and even someone like John Beattie will have to go a bit to keep John Scott and Nick Jeavons out of the back row.
I would bet a lot of money that Scott will finish up in the test back row somewhere, either as a number eight or as a blindside, and I would even risk a fiver each way on the black England Student, Francis Emerua, getting a lot closer than anyone might believe just at this moment. But the loose forwards are not a concern. The implications of choosing them on the basis of their weight on the hoof, or even on the blacked out Adidas, are not especially significant. What IS significant, though, is the idea that you are going to pick midfield backs on the same basis, because that affects everyone around them. It affects the choice at wing-threequarter. It affects the choice at fly-half. It even affects the type of player you have to choose at scrum-half in order to fit in with all the different bits and pieces in the back division outside him.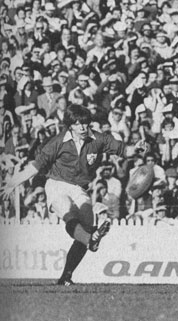 I imagine that the heart of every wing-threequarter who can run and swerve and side-step and handle and do his sums must have sunk into his boots when he heard Jim Telfer's pronunciamento on television. Telfer made no mention of centres being able to pass the ball or read the game or play a bit of football. His first concern was that they should be large lumps. That means that he is bound to be driven in the direction of wingers whose greatest skills are with the dustpan and brush. He wants wingers who can tidy up and who can tackle and who can catch the ball fired over their heads. In other words, he wants wingers who can play as second and third full-backs, because they are not going to get the ball in outback anyway.
It may well be that with Andy Irvine and someone similar at fullback, he feels he has no option, because none of the full-backs currently in the international frame could possibly be confused with the Rock of Gibraltar. They all wobble under the high ball. They all miss tackles. So every man-jill of them would love to have a back line full of Mike Slemen's scudding around the option to clear up the mess. The snag is that Slemen might not want to tour.
His sense of anticipation would not be exactly sharpened, either, by the sums he arrives at when he does a bit more of the two plus two. He will know that if the prime consideration at centre-three quarter is avoir du pois, the prime consideration at fly-half will be avoir du pied. If the centres are to be judged by their weight ON the hoof, then it follows, as sure as night follows day, that the fly-halves will be judged by their weight IN the hoof.
A combination of kicking flyhalves, smash-it-down-the-middle centres and full-backs who can't catch and who can't tackle will consign the sing-threequarter contingent to the Mr. Mopp brigade. There are not likely to be too many volunteers. There are already some pretty glum faces in England, I can tell you, even though England have at least six wingers who are much, much better than any of those in Ireland, Scotland and Wales.
The thinking of J. Telfer and W.J. McBride may also have been influenced by the choice at scrum-half. Whatever tactical considerations are made, Terry Holmes is bound to go, and as things stand at the moment, so is Steve Smith. Neither of these is in Nigel Melville's class as far as speed of moving a dead ball off the ground is concerned, but they are both strong enough to reach the gain line, and set up the large-lump-loosies, and if the fly-half is going to kick, who wants speed of pass anyway?
In one sense, of course, it is an ill wind that blows nobody any good, and in what appears to be the prevailing climate of opinion, Ollie Campbell knows that he is so far ahead of his rivals as a tactical kicker that he can book his place in the club class cabin right now. All he has to do is stay in one piece. That may not be so easy. No one admires the skills and the personality of Seamus Oliver more than I do, but his track record as a physical survivor is not all that hot. In fact, it is distinctly tepid. He only played two games out of the first nine in South Africa in 1980.
Still, there is no doubt that at this stage of the game, Campbell is first choice for the 1983 Lions at fly-half. What is more, if only Tony Ward had been able to translate his marvellous technical skills as a kicker and his capabilities as a footballer into a comparable tactical appreciation of the game, he would be a lively contender as well. The trouble is that Ward is too concerned at the moment with the length of his kicking rather than where he is kicking. He does not read the options nearly as well as Campbell. He has not worked out the right moment to pass; the right moment to present the opposition with a different problem.
It would not even be worth discussing such matters if Ward did not have the talent to work all this out, but I think that he might have that talent, and it always irks me and sad· dens me when I see a player who is operating at less than his full potential. I know it is an amateur game, or at any rate, it was, and I know that it ~ a player's own affair how much he puts into it, but I still feel just as cheated because Tony Ward does not play to his full potential as I do because Tony Jacklin does not play to his. It's a terrible, terrible waste.
After all, no one could seriously consider LesCusworth as a fly-half for New Zealand, and after his performances for Wales last season, particularly the one in Dublin, Gareth Davies' shares looked worse than those on the Hang Seng index in Hong Kong. I think that Davies is a much better player than that, and I have seen .him kick superbly, but he did bottle out of it in Dublin, and if there is one commodity that you must have on the long haul round New Zealand, it is most surely bottle.
What about John Rutherford, you may ask. What indeed. Of all the players who had a carpet slipper coronary when he heard Jim Telfer pronounce, none could have been deeper in intensive care than John Yuill Rutherford. He is a runner and a sniper. Kicking is very definitely not his forte, or even his twenty. I am quite certain that Huw Davies would be an asset in New Zealand. He CAN kick and he IS quick. He can also tackle, and he can also play centre, but not many Lions' selection processes have been up to making choices as informed as that, and they never will be, either, until the four national coaches become the Lions' selectors. In any case, there is always too much nationalistic horse trading in a Lions selection.
Someone like Ray McLoughlin would have been up to it if he had been appointed as manager, but his intellect was so blinding and his attention to detail so meticulous that when the tours committee of the Four Home Unions were faced with making the touring appointments, he frightened them to death. Albert Einstein had the same effect on people, and so does Enoch Powell.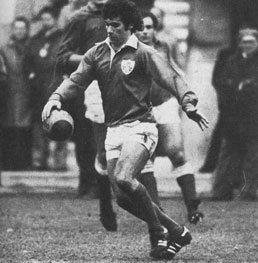 Ah well! It's no use crying over spilt grey matter, even though the long years have taught me again and again that New Zealanders are nothing if not pragmatists on the Rugby field. If they have the forwards, they smash you in the forwards. If they don't have the forwards, they go in for the one-mighty-bound stuff and wriggle off the hook in the backs, as they did in 1977. Video tapes being what they are these days (the clean ones, that is), it will take New Zealand about one week to work out how the Lions are going to play, and it is worth remembering that the only time the Lions have won in New Zealand was when they had so many options as to how they could play the game that the All Blacks could not cover them all. That was in 1971.
It was a different story in 1977. The All Black forwards were being stuffed out of sight but they knew that without Mike Gibson and Peter Squires. nothing would or could come from the Lions' backs, so that was where they played and won the game. That is what bothers me about the large-lump syndrome. It is too limited. It is too easy to stop, too easy to bypass. After all, Allan Hewson can't catch and can't tackle at full-back for New Zealand, either, but that has not stopped the All Blacks playing to him and to their wings for years now. They have done that because their forwards have not been good enough to be the focus of their attack, but despite that, the All Blacks have put together a pretty impressive string of results.
The only hope for us defenders of the faith in British back play is. that British Rugby generally is very, very short of large lumps in the centre. Dave Irwin must be strutting about, all keen as mustard, but really, the only genuine Goliath is Paul Dodge, and he is a beautiful passer .of the ball, particularly if he is ever fortunate enough to play outside a fly-half who can do anything other with his left foot than stand on it.