John Weir: 'I'm lucky to be above the ground'

While serving in the RUC, John Weir colluded with the UVF in at least 10 murders in Ulster in the mid-1970s. In an interview with Frank Connolly, he claims high-ranking RUC officers knew about the activities of the loyalist gang that killed at least 76 people between 1972 and 1977
John Weir served 12 years in jail after admitting to his role in the murder of Catholic shopkeeper William Strathearn in 1977. The former RUC officer colluded with the loyalist paramilitary UVF gang in at least 10 murders in Mid Ulster in the 1970s. He claims his superior officers in the RUC were fully informed of the activities of the UVF gang that killed at least 76 people between 1972 and 1977.
The gang was responsible for the 1974 bombings in Dublin and Monaghan, the deaths of members of the Miami showband in 1975 and more than 20 other attacks north and south of the border. Operating from a farm in Co Armagh, it included other serving RUC and UDR officers as well as the notorious UVF killers Robin 'the Jackal' Jackson and RJ Kerr.
Last week, an independent report into the deaths of 76 people in the mid-1970s said ballistic and other evidence supported Weir's claims that senior RUC officers, army intelligence officers and high-ranking members of the British government were aware of the gang's activities. The report also confirmed the involvement of RUC and UDR members in the killing of Catholics from as early as 1973.
According to Weir, among those who knew of the activities of the gang were RUC chief inspector Harry Breen and chief superintendent Brian Fitzsimmons, head of the Newry-based RUC special branch. Breen was killed along with RUC officer Bob Buchanan by the IRA in an attack in Co Louth in 1989. The attack is currently the subject of an official Irish government inquiry into alleged collusion between the IRA and gardaí. Fitzsimmons died with 24 other senior security-force personnel when their helicopter crashed on the Mull of Kintyre, Scotland in 1994.
"There was a war and now the war is over," Weir said. "There were people in high ranks in the RUC and British army intelligence who were allowing these killings to go on. If they were allowing it then they were effectively directing it."
Weir said he suspected a number of the gang members, including Billy Hanna in 1976, were subsequently killed in operations carried out by the British security forces. Loyalist RJ Kerr was also killed in suspicious circumstances in recent years after he had made contact with a journalist, Weir claims.
"Why were Billy Hanna and Robert McConnell killed? I would go so far as to say they were profesional jobs set up by the army. McConnell had worked closely with the SAS and the intelligence boys and he may have talked out of place," said Weir. McConnell was involved in a bomb attack in Castleblayney, Co Monaghan in March 1976 in which three people were killed. According to Weir, the bomb was prepared at a farm owned by UDR member James Mitchell in Glenanne, Co Armagh with explosives supplied by UDR captain John Irwin.
He said the farm was the gang's base of operations, where attacks were planned – including the Dublin and Monaghan bombings which killed 33 people and an unborn child. It was finally raided in 1978, several years after senior RUC and British army officers were informed of the gang's activities there.
Special-branch agent Robin Jackson was a key figure in the gang. He was arrested on many occasions but was protected by his police and army handlers. Jackson was implicated in dozens of killings over two decades. Although he killed William Strathearn in 1976, he was never charged with the offence. Jackson died in 1998 of natural causes.
Weir admitted he participated in the killing after his RUC colleague William McCaughey had a nervous breakdown and confessed to his involvement.
"I was given 14 years. During my trial I said that high-ranking police officers and special-branch men were aware of all of our activities. Inspector Harry Breen knew all about our activities. He was not for one minute directly linked with the UVF. He was doing his job as a policeman and carrying out official policy. But he could not say that publicly.
"Brian Fitzsimmons knew all about it. So did Inspector Earl McDowell. I was approached by high-ranking army officers and asked to do certain jobs but I refused as I thought that if I carried out certain things then I would get the chop as well.
"I recall that after I told chief inspector Breen about my involvement in the Strathearn murder, that he told me to forget about it," he said.
After his release from jail in 1992, Weir was warned his life was in danger from both his former associates in the security forces and from republicans. He started a new life in Nigeria.
He believes there was at least one attempt to kill him in Nigeria when men armed with machine guns stopped a vehicle in which he usually travelled about three years ago.
"They stopped the Jeep in which I usually took a lift on a Saturday night. They stopped the wrong man. I would be mad not to look out for my own security."
Weir first provided detailed information about the Mid Ulster gang's collusion with the security forces in a detailed affidavit he made in 1999. In it, he set out details of British security-force involvement in the Dublin and Monaghan bombings and a series of other killings north and south of the border.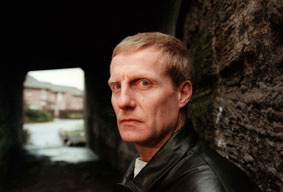 Weir said he believed the Garda investigation into the Dublin and Monaghan bombings – which were carried out by the Glenanne gang with the knowledge and support of senior British security figures – was deeply flawed.
"I know that the Garda special branch did not want to know anything about Dublin-Monaghan and who was responsible. The Irish government was afraid of further attacks and there was some deal with the British to cover it up. I have proof that the Garda special branch did not want to know about it," Weir said.
Now aged 56, John Weir appreciates that he is fortunate to have survived the 30-year conflict and believes some form of truth and reconciliation process is necessary to heal the wounds in both communities in the North.
"I'm lucky to be above the ground. My family has suffered. There is no sense in my saying that I feel sorry for what I have done. But I do believe it is important that each side looks at the other's point of view. A long-lasting peace will depend on one side showing that they know the other side has also been wronged."
Last week's report into alleged collusion supported Weir's claims of RUC and UDR involvement in 11 murders and one attempted murder in the mid-1970s, as well as in the Dublin-Monaghan atrocity. The report was commissioned by the Pat Finucane Centre in Derry and carried out by five international lawyers and investigators. It concluded that the British government should conduct investigations that meet international standards into 25 cases it examined involving alleged collusion.