A Bizarre Championship
So many groups of national selectors got so many things wrong in the 1980 international rugby championship that it was small wonder that it finished up in a way that no knowledgeable critic could have predicted with England winning the international championship, the Triple Crown, the Grand Slam and the Calcutta Cup; with France buried at the bottom of the table, sharing the wooden spoon with Scotland; and with Wales reduced to anonymity, having been buried by Ireland at Lansdowne Road.
The whole thing started to go wrong when France toured New Zealand last summer, and Jean-Pierre Rives stopped being a law officer in Toulouse, and started selling pate in Paris. France beat the All Blacks in Auckland by scoring four tries, and they came back believing that they had discovered a new spirit and that Rives' personal crusade to restore 15-man Rugby to the French team had been vindicated.
Unfortunately, what no one noticed at the time was that the game played at Auckland was as loose as enteritis; that France's defence was dreadful: that their scores were produced by some almost unbelievable All Blacks mistakes; and perhaps most significant of all, that France had possibly the world's greatest prop, Robert Paparemborde, playing at loose head.

While this false trail was being laid, Australian and British Rugby communities were shaping their respective minds towards some equally invalid conclusions about a tour which had taken place two months earlier, two thousand miles across the Tasman Sea. This was the tour of Australia in which Ireland had succeeded where Wales and England had so signally failed, and in which a rookie international called Ollie Campbell had not only displaced Tony Ward from the fly-half position in the Irish team when he was in the middle of building another Irish legend, but in the space of ten days had rattled ahead with brickwork at such astonishing speed that he had laid the foundations and built about 24 storeys of a legend of his own. The legions of Tony Ward's supporters and the army of Mr. Murphy's bricklayers were equally aghast at the speed of the operation. The remarkable accuracy of Campbell's goalkicking eclipsed even that of Ward, and Ireland had the enormously talented Colin Patterson at scrum-half, too.
This all persuaded us that France were likely to turn the enviable depth of the playing talent in their club Rugby into one of the most brilliant teams in their history, and that plugging along in their wake, at a suitably respectful distance, would be Ireland, with Campbell's goal-kicking leg swinging backwards and forwards like a metronome.
It took exactly 40 minutes of Rugby football in the 1980 international championship for these illusions to be destroyed.
France went to Cardiff, and after twenty minutes in which they threatened to do exactly what they had done in Auckland, they were demolished. Ireland went to Twickenham, and after twenty minutes in which they threatened to do exactly what they had done in Australia, they were demolished too. The only thing we got right was the bit about Ollie Campbell's goal-kicking metronome. By the end of the season, he had set a new record of 46 points in the international championship.
France went on to lose against England in Paris and even managed to give away the international against Scotland at Murrayfield, when they did so many unbelievably stupid things that they succeeded in losing with something to spare after leading 14-4 with 15 minutes to go. Jean-Pierre Rives was not a bit amused when I suggested that while they were at it, France ought to have gone the whole hog and presented each Scottish player with a case of champagne as well.
Ireland did rather better. They beat Scotland in Dublin, after making two vital changes in their team, and they came close to beating France in Paris, after making one more significant alteration. Ireland then brought a surprising season to an incredible end by pulverising a Welsh team that seemed to have lost all interest in playing after it had lost its chance of winning either the Triple Crown or the championship.
Meanwhile, England sailed on, with something less than either their best team or their most logical team, and cleaned up the lot. France ought to have beaten England in Paris, and Wales ought to have beaten England at Twickenham, but the French selectors on the one hand, and the Welsh players on the other, had no one to blame but themselves for presenting England with the victories which gave them the Grand Slam, and at the end of the day, one could not help thinking that it served France and Wales right.
Back in November, the North of England had shown in their comprehensive defeat of the full New Zealand test team that England had it in their power to produce a team playing Rugby far more effectively than Ireland ever could. However, instead of choosing Alan Old to do the kicking at fly-half, with crash men like Tony Bond and Peter Warfield in the centre and a genuine 24 carat full-back like Alastair Hignell, the England selectors refused to back out of the blind alley of their early squad selection, and aimed unerringly for a point between the two stools.
The fact that they got away with a frail, non-specialist kicker at fly-half, with two lithe, willowy runners in the centre, and an unsound defender at full-back while setting to play crash-bang Rugby, simply demonstrated how much they owed to the shortcomings in the selection and match-planning of the opposition. Still, England were overdue for a bit of luck, and in the case of Bill Beaumont their captain, it could not have happened to a nicer man.
In reality, though, England were no different from what they have been for years. They had a good pack, a splendid left wing in Mike Slemen, and lots of limitations elsewhere. They were worth four or five points in the international championship; maybe six if things went well, but not more. The fact that they did finish up with so very much more was as much of a surprise as all the others in the 1980 championship.
The key to these surprises was the insanity of France's choice of players, and the collapse of the Irish scrummage at Twickenham. The first of these manifestations was always a likelihood, and it has always been a part of the charm of France's contribution to the world of Rugby, but I think it is fair to say that no one envisaged the second. Even a sage of the calibre of Ray McLoughlin did not encompass that possibility in his vision of what might happen when Ireland played England at Twickenham.
In the event, though, it was seen that Ireland had made two mistakes in the selection of the front five of the pack, and another at full-back and no team setting out to play ten-man Rugby can get away with that.
The French were even more culpable. They went to play Wales, not with Paparemborde at loose head, but with a wretched man called Salas who had scarcely played in the front row at all.
This committed France to playing against Wales without a scrum, and as if that was not bad enough, they did exactly the same thing against England! Just one player, a loose head specialist like Armand Vaquerin, would have been enough for France to beat England, and I have no doubt that he would have made a tremendous difference against Wales as well. Even if France had chosen Paparemborde on the other side of the scrum as a loose head, as they did in Auckland, they would have had the firm base to launch Gallion and the rest of the fleet-footed French backs. France's dolour as they trailed from one disaster to another was only increased by the realisation that Rives' change of job had so reduced his opportunities for training that he was only a shadow of the true Rives.
This had a shattering effect on the defensive balance of the French team, because with a heavy-footed tight forward specialist like the redoubtable Joinel on the other flank, and tacklers as indifferent as Codorniou and Costes in the backs, France had to have Rives tackling at the top of his form to get by. That essential was denied them.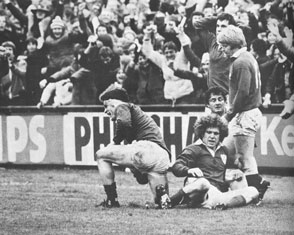 There is no doubt that in most years, France and Wales should be the best teams in the international championship, with England in the middle and sometimes challenging them, and with Ireland keeping Scotland firmly pinned to the foot of the table. It is for that reason, therefore, that the decline of Wales was even more surprising than the abdication of France, or the modest succession of England.
The circumstances of Wales' violently disagreeable game against England, and their narrow defeat after being clearly the better side even when reduced to 14 men by the early dismissal of flanker Paul Ringer by the Irish referee, David Burnett, so disconcerted them that they fell to pieces against Ireland in their last match.
For Wales to be defeated by Ireland was not altogether surprising. It was a possibility upon which I had invested a modest sum early in the season. But for Wales to give up the ghost as they did was so significant that I am surprised it did not have more repercussions on the selection of the British Lions' team to tour South Africa than it did.
Whatever else Wales have been in the last twelve years, they have been well organised. This soundness of method and preparation, built upon hours of slogging in the squad practices which they introduced to Europe, has served them just as well as the superstars who studded their back division throughout the golden years of the seventies. But when fly-half Gareth Davies had to drop out of the Welsh team to play in Dublin because of injury, Wales chose to play a novice centre at fly-half, and an experienced fly-half at centre. This was just like putting a learner driver in a grand prix car.
Scotland, of course, never had a price. With tight forwards as poor as theirs, no team can play, and although they had some brilliantly sharp-footed backs, their selectors never came to terms with the fact that their only hope of providing those backs with a service of the ball was to choose a pack of spoilers and tacklers, built round a solid front row, rather than opt for an orthodox selection in the back five. The one forward plus mark that Scotland produced all season was the discovery of John Beattie at number eight. He has something of the look of a young Ken Goodall about him, and is about the only thing in the back five of the Lions pack about which it might be possible to become really excited in South Africa.
The British Lions team that was chosen at the end of the 1980 championship was as odd as the championship itself, though to some of us who have studied the habits of selectors for upwards of 25 years, it was not really a surprise. In the end, nothing was more predictable than that the selection would be full of curiosities.
The selection started to go wrong as soon as the Four Home Unions decided to send a team to tour South Africa in 1980. They rushed their fences in appointing the management, instead of waiting to see how the international championship shaped, and in doing so, they consciously and deliberately deprived themselves of the logical choice as captain of the tour - Ireland's Fergus Slattery.
The obvious choice as manager of such a politically sensitive tour was Micky Steele-Bodger, the chairman of the Four Home Unions' tours committee. Above all, the committee needed a senior executive who was of a generation far removed from a red track-suit. Mr. Steele-Bodger opted out, and so the committee offered the managership to Ireland's Ronnie Dawson instead. He was not available either. The committee then appointed Syd Millar; not a member of the Four Home Unions, and very definitely still a member of the track-suited generation, having coached the Lions as recently as 1974.
He was also Irish.
That killed Slattery's hopes of being appointed captain, because it was always likely that the coach of the 1980 Lions would be Ireland's Noel Murphy, and there was no way that Ireland would be given all three appointments even though, as I have remarked before, three wrongs do not make a right any more than two do. Anyway, just as anticipated, it all came to pass, including my opinion expressed at the time that Bill Beaumont had only to go on standing up to be appointed captain.
Slattery declared himself unavailable for the tour, and the repercussions of his absence as a player were quickly magnified. Paul Ringer, of Wales, possibly the most effective openside flanker of them all, put himself out of the running when he was sent off the field in the match against England. Tony Neary also declared himself unavailable. Suddenly, the Lions were left with little to choose on the open side flank.
They were in the same mess in the centre, too; and at number eight; and at full-back; and on the wing. The prospective Lions party was well served at prop, at hooker, at fIrst choice lock and at half-back. For the rest, if not exactly silence, there was an awful hush in the close.
The loss of England centre Tony Bond, who broke his leg badly against Ireland, was crucial to the selection of the centres. Millar has always admired strong-running, strong-tackling, defensive centres, but with Ireland's Paul McNaughton unavailable for the tour, there were none currently playing international Rugby. So the Lions' selectors decided to take a huge gamble by recalling Ray Gravell, who had not played for Wales for 18 months, even though they could not match him with a centre to fulfil a similar function in the Wednesday matches, and even though Gravell's experiences with his club in South Africa have not been successful.
The one piece of perception in the selection was the choice of Scotland's Andy Irvine as a wing rather than as a full-back, but if anything, Scotsmen were more surprised than anyone to find that the other full-back selection along with Ireland's Rodney O'Donnell was Bruce Hay. Like Rives Hay has changed jobs and has been struggling even at club level in Scotland. Alastair Hignell would have been far more sensible choice, just as Gordon Brown would have been instead of Alan Tomes in the second row. Tomes was even chosen ahead of Geoff Wheel, of Wales, but if Wheel has every right to feel as sick as the proverbial parrot, so has David Leslie, of Scotland, who looked to have just the sort of pace to fill one of the gaping open-side slots, but finds both John O'Driscoll and Colm Tucker, of Ireland preferred to him. The selection of Tucker was the turn-up of them all.
Ah well! No one knows how good the Springboks are. They do not even know themselves. Maybe they are still as bad as they were in 1974. It looks very much as if they will have to be.