American Troops' Treatment of Iraqi Civilians Draws Debate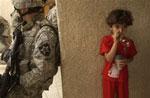 An article in American magazine The Nation about the treatment of Iraqi civilians is stirring controversy as US troops step up offensive operations against insurgents around Baghdad.
The article, based on interviews with 50 combat veterans, all Americans, about their experiences in Iraq, said that the veterans' testimonies reveal "disturbing" patterns in US military accountability and troop behaviour toward civilians.
The article suggests that the indiscriminate killing of civilians by allied troops is more widespread than the US military reports.
The veterans described raids on innocent homes due to incorrect intelligence, as well as instances of civilians being run over by convoys or riddled with bullets during patrols or at checkpoints. Many veterans said that innocent people are often killed due to simple miscommunications, as well as the fear that a foreign, violent environment can cultivate.
Interviewees also reported that a lack of interpreters and cultural understanding solidified stereotypes and dehumanized Iraqi civilians in the eyes of many troops.
One veteran showed reporters a photo in which an American soldier pretends to eat the spilled brains of a dead Iraqi man. Another veteran said that he encountered hostility from his fellow soldiers for attempting to help an injured Iraqi civilian.
According to a Pentagon report released in May, 47 per cent of US soldiers and 38 per cent of US Marines in Iraq believe that non-combatants should be treated with dignity and respect.
The veterans made it clear that not all troops participated in abuse and indiscriminate killing of civilians and that such acts were often perpetrated by a minority.
The Pentagon report found that 10 per cent of soldiers and Marines had mistreated civilians or damaged property when it was not necessary.
However, some veterans also commented in the article that such instances of abuse became so common that they were not usually reported.
"Some units were so tight on their command and control that every time they fired one bullet, they had to write an investigative report," said Sergeant Patrick Campbell. But Sergent Campbell said that his unit "fired thousands of rounds without ever filing reports".
According to the interviews, even when reports and investigations do occur, they are often conducted on misrepresented information. Several veterans said that killings during patrols became so frequent that soldiers would plant AK-47s on bodies after the fact in order to justify shootings.
"Even after a thorough investigation, there's not much that could be done", said Specialist Garett Reppenhagen, a cavalry scout and sniper with the 263rd Armor Battalion, First Infantry Division, who was deployed to Baquba for a year in February 2004. "It's just the nature of the situation you're in. … It's not individual atrocity. It's the fact that the entire war is an atrocity."

 According to the article, the subjects ranged from private to captain and included 40 soldiers, eight Marines and two sailors. Most served at least one year or longer in Iraq. The veterans interviewed were stationed throughout Iraq, with many in volatile areas such as Baghdad, Tikrit, Mosul, Fallujah and Samarra.
The article, posted on the magazine's website ahead of its 30 July print publication date, has drawn criticism and stirred debate online.
In a letter to The Nation, Paul Rieckhoff, executive director of Iraq and Afghanistan Veterans of America (IAVA), called the article "horribly inaccurate" and accused the reporters, Chris Hedges and Laila Al-Arian, of misrepresenting their purpose and taking veterans' recollections out of context.
IAVA was one of several veteran organisations that the reporters contacted for help in finding veterans to speak on the record about their experiences in Iraq. According to the article, they also relied on referrals from veterans they had already spoken to.
Rieckhoff described the article as "journalism at its worst", and urged all veterans from Iraq and Afghanistan to exercise extreme caution before working with The Nation.
"Much as the Bush Administration cherry-picked intelligence to make the case for this war, The Nation cherry-picked the stories it reported to support predetermined conclusions", he wrote. "Your readers, our veterans and the Iraqi people deserve better."
In a reply to the letter, Hedges and Al-Arian assert that they were clear with cooperating organisations that the focus of the article was Iraqi civilians and that fact-checkers reviewed transcripts and confirmed the context of the interviews with the subjects.
"The article presents the unvarnished testimony of veterans", said the letter. "The killings and abuse of Iraqi civilians, nearly all veterans said, was perpetrated by a minority. The problem is that the culture of the occupation has allowed this minority to act with impunity and without constraint."
The article has attracted dozens of web letters to the editor, some congratulating the reporters and the magazine and others condemning them.
But despite the surrounding attention and controversy, or perhaps because of it, the report has received very little coverage in the American media.
Amid rising debate on The Nation's website, US troops launched a new offensive south of Baghdad yesterday, intended to prevent militants and weapons from entering the capital city.
The new sweep is part of a series of coalition operations around Baghdad, fuelled by the surge of 28,000 US troops that arrived recently.
Also yesterday, a triple bombing that included a massive suicide truck blast killed at least 76 in the Iraqi city of Kirkuk, and police warned that the death toll could climb higher. 
Ethnic tensions have been building in the oil-rich northern city as a referendum approaches that will decide if Kirkuk will join semi-autonomous Kurdistan.
More: http://www.thenation.com/doc/20070730/hedges