The State's missing children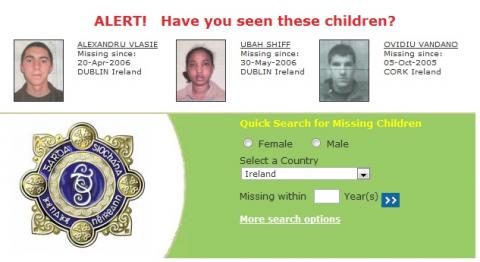 Recent steps by the government toward greater levels of child protection have focused on children who have suffered from abuse – in particular at the hands of institutions such as the Catholic Church. Often overlooked or forgotten is the issue of children going missing form state care. By Bernard O'Rourke.
Unaccompanied children who come to Ireland seeking asylum without a parent or guardian are at risk of being overlooked by the state. More than 500 of these children have gone missing from State care since 2000.
Almost all of these cases involved the children disappearing from the care of the Health Service Executive after being placed in private hostels. The majority of these hostels are located in Dublin, and have continually been described as having "inadequate" facilities and staff.
In 2006 Village magazine reported that the HSE was "concerned about the vulnerability of unaccompanied minors seeking asylum under its care, the quality of service it gives them and the lack of resources allocated to these children."
Children seeking asylum in Ireland are among the most vulnerable children in the care of the state, and often require a high level of care. Between 2000 and 2004,136  unaccompanied minors seeking asylum reported allegations of abuse – 60% of these were confirmed. 66% related to sexual abuse.
In addition to this it has been suggested that children who go missing in these circumstances are victims of exploitation for the purposes of prostitution.
According to internal HSE documents seen by Village in 2006, children who go missing from HSE care "end up in very risky situations" including becoming vulnerable to "being trafficked or put into prostitution." The HSE also expressed concerns about the quality of services they give them and the lack of resources allocated to these children.
At least 11 unaccompanied children seeking asylum went missing from State care in 2010, while 47 went missing in 2009 and 22 went missing in 2008.
In 2007 of a total of 32 went missing and in 2006 18 asylum-seeking teenagers disappeared from HSE care.
The majority of children who disappeared have never been found. In 2010 the Irish Times reported that just 67 of the 501 children who disappeared between 2000 and 2009 had been located (subs required). By the start of 2011 the number of children who had disappeared had risen to 512, 72 of whom were reportedly found.
Speaking in 2010, Amnesty International Ireland Executive Director Colm O'Gorman said that while Ireland has "ratified the International Convention on the Rights of the Child… hundreds of children have disappeared. Irish governments have a very long tradition of big promises on human rights and no follow through."
Following major concerns about the safety of unaccompanied asylum-seeking minors residing in hostels it was agreed in 2005 that these hostels would be required to meet the same standards as required for all residential units housing children in State care.
These precautions did not result in any major improvement in standards, as in July 2006 the main accommodation centre for unaccompanied children aged 12 to 16 seeking asylum in Ireland was deemed "inadequate" by the HSE.
The report, seen by Village following a Freedom of Information request in 2006, found that the hostel did not meet the minimum standards that all accommodation providers for Irish children in state care must meet, as had been made a legal requirement the previous year. It said the hostel was "inadequate and does not provide sufficient care and protection for this particular vulnerable group of people... At no time could the staff exactly say how many children were in the centre, or indeed where the young people had gone." The inspector noted that there are times when the children go to school and do not return until 9.30pm.
Additional reports showed that the majority of children's residential centres in the HSE Eastern region failed to meet national standards for children's residential services in 2005.
One of the major problems at these hostels was a lack of supervision. An internal HSE report on the missing children from 2004 said, "We are clearly not meeting our responsibilities to these children, as required by the Child Care Act 1991, in placing children in hostels staffed by security people, cooks, cleaners and 'managers'…like all other children in the care of the State they require 24 hour care and supervision… until this quality of service is in place, children in our care will be at risk of disappearing."
The government took additional steps in 2009 following publication of the Ryan Report. It made a commitment, according to then Minister of State with special responsibility for Children and Young People Barry Andrews, that "separated children will be accommodated in mainstream care instead of hostels by December 2010." He said that the HSE had begun the process of phasing out the hostel arrangements in favour of residential and foster care, saying this "should help to ensure that fewer children go missing".
In January 2011 the HSE announced that it had finally closed the last two remaining hostels for unaccompanied minors. It said that "all children are now being cared for in foster care placements or in residential units", and also promised access for each child to a "dedicated social worker".
The fact that only 11 children disappeared in 2010 may be seen as an indication of the effectiveness of this new policy. However the Irish Times reported that in January 2011 440 of the 513 children who disappeared between 2000 and 2010 were still missing, with seemingly little progress having been made to locate them.
Another problem yet to be addressed is the fact that only a fraction of separated children who go missing are listed on An Garda Síochána's missing children website. According to Barnardos "outside of practitioners working in this area, there is not much publicity about these missing children except for the occasional media article."
Barnardos have praised the HSE for closing the hostels, and noted early figures for 2011 which "show that no separated children have gone missing from care so far" should mainly be "attributed to the closure of these hostels".
However Barnardos were also quick to point out that "There are still concerns about those separated children who went missing from care and are still not accounted for."
The HSE maintains that it "takes every incident of missing children extremely seriously and is committed to ensuring that any vulnerable children are not exploited or ill-treated" which is part of the HSE's "responsibility to provide care for any children in the state who are deemed not to have appropriate or satisfactory care arrangements."  The HSE says that its staff are doing their utmost to "ensure that all children and young people receive the same level of care as that afforded to indigenous children. Appropriate care services at local and national level are being developed working in partnership with NGOs, private agencies and HSE staff."
Image Top: missingkids.ie