Deposit retention 'single biggest issue' for tenants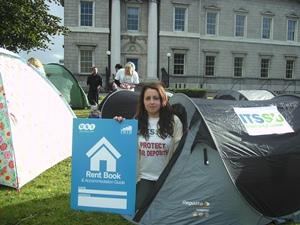 Third level students are highly vulnerable to unfair tratment from landlords, particularly during their first year. The USI has called for a deposit protection scheme to be introduced to protect them. By Bernard O'Rourke.
The Union of Students of Ireland (USI) has called on the government to introduce a deposit protection scheme for third level students living in rented accommodation.
A survey carried out by the USI in April revealed that 40% of students lost their deposit while over 60% had €200 or more "unfairly" taken off their deposit.
The call comes as thousands of new third level students seek out accommodation of the first time, having received their CAO offers two weeks ago.
According to Gary Redmond, president of USI, it is these first year students who haven't lived away from home before who are most likely to be exploited.
The survey questioned 1,000 students and found that the statistics were fairly balanced between colleges and universities throughout the country, but that first year students were at particular risk of losing their deposits.
The USI has launched a new Rent Book aimed at protecting students like this from exploitation. "Our aim with the rent book is to let students know their rights and responsibilities," says Redmond, "in particular students who are 17 or 18 who have just done the Leaving Cert. They tend to be more trusting, to take landlords at their word and end up losing their deposits."
While the USI is setting its sights firmly on unscrupulous landlords, it is also reminding students that they have responsibilities as well as rights. "For example if somebody signs a twelve-month lease and leaves after nine months, the landlord is perfectly entitled to keep the deposit," says Redmond.
The USI Rent Book provides students can with an inventory of all the utilities and furnishings in the house, "so they cannot be accused of breaking something that was never there. They also have a signed record of when they paid the rent and how much was paid."
However Redmond and the USI admit that the rent book alone is not enough to adequately protect students. The USI have called on the Government to introduce a deposit protection scheme. According to Redmond this would mean that "an independent body, such as the Private Residential Tenancies Board (PRTB), held the deposit, and could resolve any disputes which are involved in its return. This is how it is in the UK and New Zealand and it works there.
"There is no way a landlord can exploit anyone if they don't hold the deposit themselves."
In an attempt to bring this issue to the attention of the government, several members of the USI – led by Redmond himself – staged a campout protest outside the Department of Education last week. While the issue of deposit protection was raised in a Dáil debate in April by junior minister in charge of housing at the Department of the Environment Willie Penrose, Redmond has accused the government of putting the issue "on the long finger", as did the previous government. He said that "heavier fines for offending landlords" would not work as a substitute for deposit protection because it would still "take a long time for students to recover their deposits".
Although young students are particularly at risk of being targeted by unscrupulous landlords, withholding of deposits is a problem across the rental sector. Bob Jordan, Director of housing charity Threshold, says that landlords withholding deposits is the "single biggest issue" they deal with, and accounts for "half of all cases brought before the PRTB". While the landlord is justified in retaining a deposit only when a tenant is an arrears or where damage has been caused to the property, according to Jordan "hundreds of thousands of cases where the landlord has retained the deposit are reported every year".
Jordan says that Threshold supports the idea of deposit protection. He says that "the fairest way is if the deposit is held by a third party" so that the tenant is able to access money which belongs to them when their tenancy comes to an end, unless there is a real problem, in which case the landlord can apply to retain the deposit to cover legitimate costs.
Students or people on low incomes are in particular need of such protection, as a deposit of €1,000 can represent a significant amount of money to these people, says Jordan. Students and their parents are "already cash strapped", and the effect of losing a large deposit is that they "have to forgo other things in order to pay their education fees".
A number of students' unions around the country have highlighted this issue in the past. Louisa Miller - Welfare Officer with TCD students' union – explained that she's had "quite a number of students coming to me in relation to disputes with their landlords. A significant number of them are in relation to landlords retaining deposits unfairly. So many students are already struggling to get by and when landlords withhold hundreds of euro unfairly it just makes their lives so much more difficult."
Students have a reputation for misbehaviour, but Miller says that most students "aren't living the drink filled lifestyle that a lot of people think they are because they can't afford to. I've literally had students come in to me to get financial assistance for food," she says.
Image Top: Bernard O'Rourke