Walks: Powerscourt, Enniskerry, Co Wicklow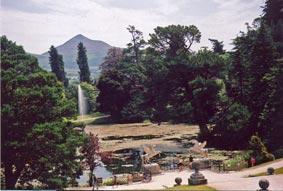 Superbly set, classically designed and carefully maintained, Powerscourt gardens suit various categories of walkers. An information leaflet for visitors includes a map with a choice of routes, including one suitable for wheelchairs and baby buggies.
The classical house is being restored after a disastrous fire. Now a major tourist attraction, the house includes a heritage exhibition, shops and cafes.
Starting from the house, stroll above the formal gardens to the Tower Valley, named after the distinctive Pepper Pot Tower. From that vantage point, the 8th Viscount Powerscourt, a patron of scouting groups, surveyed their camps in his fields. Decades ago, I sheltered on wet days in scouts' huts with other young hikers.
Japanese Gardens were created on reclaimed bog. Follow paths around the garden to the pagoda, stone lanterns and bridges over a stream. Inner circles symbolise personal awareness while outer rings indicate wider wisdom.
Continue by the dolphin pond and walled gardens. Tread carefully down the steps into the formal gardens. From the terraces enjoy views towards the Sugarloaf. Winged horses guard the lake. Statues and vases evoke a continental ambience.
TONY QUINN
?More www.powerscourt.ie Admission charges apply.