Walks: Kindlestown Wood, Greystones, Co Wicklow

East of the Glen of the Downs near Delgany, Kindlestown Wood is a public amenity. Because of inadequate signposts, we got lost on the way. Negative reactions to our enquiries for directions showed that many locals do not know about the wood.
Coillte forest manager Con Nyhan led a heritage walk organised by the Society of Irish Foresters and funded by the Deptartment of Agriculture and Food. Kindlestown Wood is being developed as a public amenity in a Neighbourwood Walks project with State support. There is a balance between commercial and recreational use of forests. Young people learn about nature on woodland walks.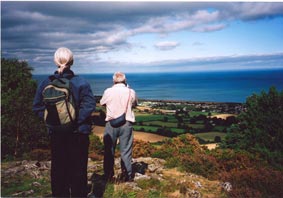 Kindlestown, called after Albert de Kinley, a 14th-century sheriff, was in the La Touche Bellevue Estate until 1930. The forestry department then planted Sitka spruce and Scots pine. Mature Sitka spruce was replaced with Douglas fir from Oregon, USA and other species including Corsican pine, sessile oak and beech.
You may glimpse red and grey squirrels, foxes and badgers. A new path rises to the granite outcrop and viewing point over Greystones and the Irish Sea. Lower paths are accessible for buggies. Thanks to Ann, Con and Norman.
TONY QUINN
?More www.coillte.ie Discovering Ireland's Woodlands, Coillte 1992; map OS Discovery no 56; access from N11, exit at Glenview Hotel, go east past golf links, turn right to carpark on left