Walks: Glendalough, Co Wicklow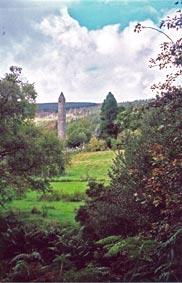 At the heart of the Wicklow Mountains National Park, Glendalough is a scenic amenity and heritage site. There were monastic settlements in the valley since St Kevin's time in the early Christian era. The OPW administers the interpretative centre and the historic core which attracts visitors to the national monuments, including the Round Tower.
The Heritage Service is responsible for conserving the natural environment in the National Park, including Glendalough's scenic area. Self-guiding trails include easy strolls, woodland rambles and hill climbs. Access to some lands is with Coillte's permission.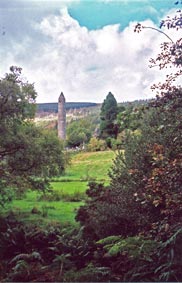 The Green Road, an easy walk past oak woodlands, is ideal for autumnal strolling. From the boardwalk by the Lower Lake, there are great views up the valley. Watch for lizards, dragonflies and frogs. From the information office, ascend the track past Poulanass waterfall for a longer hike. A boardwalk and steps lead to the Spinc. From the viewing point above the Upper Lake, descend into Glenealo Valley where deer roam. Return by Prezen Rock and the Wicklow Way.
On remembrance hikes, we recall the names of deceased members of the Irish Ramblers Club including JB Malone, who designed the Wicklow Way.
TONY QUINN
More Walking Trails of Glendalough, National Park leaflet. www.heritageireland.ie. The Wicklow Way, Jacquetta Megarry. www.rucsacs.com. Maps: OS Discovery no 56. From N11m, exit Kilmacanoge and continue via Roundwood