Walks: Bruges, Belgium

The capital of West Flanders, Bruges, is accessible from Brussels on Belgium's excellent road and rail network.
Ornate Flemish buildings and churches in Bruges are within easy walking distance in the old city. It attracts artists and authors. Wordsworth found deep peace there. Longfellow wrote, "In the marketplace of Bruges, stands the belfry old and brown." Chesterton described the belfry as "an unnaturally long-necked animal like a giraffe." Chimes of carillon concerts now echo on the cobbled streets.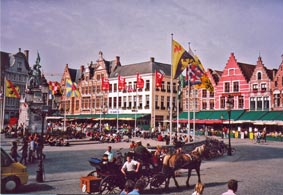 Medieval Bruges, an important business and cultural centre, was renewed during the 19th-century Gothic revival. The main interest is the elegant historic core. Wander past ornate guild houses. In Burg Square, the Basilica of the Holy Blood contains relics venerated by pilgrims. We savoured serendipities such as the Monastery of the Vineyard. That former beguinage for lay sisters is a Benedictine convent and retreat centre where white gabled houses face peaceful gardens. In an open doorway, a lace-maker displayed her inherited craft.
After strolling on narrow lanes, we dined near the romantic Minnewater park along a canal bank frequented by geese and swans. Horse-drawn carriages ferried visitors from the city centre to relish the peace. We walked back to Bruges train station along a long-distance GR path which continues further into West Flanders.
TONY QUINN
More: The Rough Guide to Bruges and Ghent, P Lee; Eyewitness Guide, Brussels, Ghent and Antwerp; www.aerlingus.com, www.ryanair.com