Walks: Blackrock, Co Dublin

During short winter days, suburban walks help to maintain personal fitness. Blackrock is an interesting place for strolling. Sea views, parkland and Georgian and Victorian architecture contrast with modern shopping centres.
Near the Dart station, look seaward to the site of the public sea baths, popular with swimmers until the 1980s. Pause at Idrone Terrace, a complete streetscape lit by Victorian-style lamps. There are extensive views across the bay to Howth and back to Dún Laoghaire.
James Joyce's Portrait of The Artist as a Young Man mentions St John the Baptist church.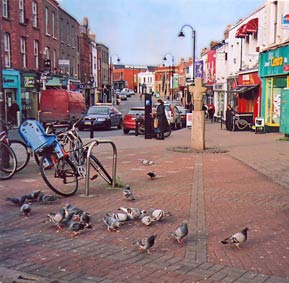 The novelist Brian O'Nolan, aka Flann O'Brien, lived in the area. The old granite cross marked Dublin city's former boundary limits. Continuing up Main Street beyond the shopping centre, enter Blackrock Park by the main gate notable for granite pillars and iron lanterns. The Methodist preacher John Wesley described the fine house to the left, Elmcliff, now called Lios an Uisce, as "one of the most pleasant places he ever visited". Park attractions include a lake and also an amphitheatre used for concerts.
Paths suit wheelchairs and buggies. The lane by the railway leads back to the station.
TONY QUINN
∏More The Dun Laoghaire Way, walk 2, Blackrock, Valerie Smith and Peter McLoughlin. The Book of Dun Laoghaire, Blackrock Education Centre. Between the Mountains and the Sea, Peter Pearson. www.dlrtourism.com, www.dlrcoco.ie
Tony Quinn will give a lecture on 'Wigs and Guns, Irish Barristers in the Great War' on Thursday 14 December in the Davis Lecture Theatre, Arts Building, Trinity College, Dublin. Admission is free