Walks: The Basin, Blessington St, Dublin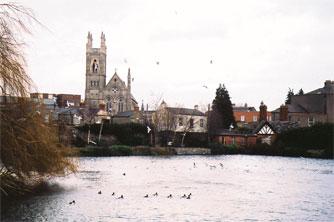 'The  Secret Garden' north of Parnell Square near Berkeley Street is within walking distance of the city centre. Two centuries ago, the Basin supplied water to the city from Lough Owel via the Royal Canal. Later, water was provided exclusively to whiskey distilleries. In the 1990s, spurred by a local action group, City Council refurbished the Basin. The parks department installed new railings, seating bays, mural sculptures and old-style lampposts.
As a boy, the poet Austin Clarke lived in the area as recalled in Twice around the Black Church. 'A quiet oasis, far from the blare of city strife', lines from Noel Manley's poem are inscribed on the park wall. The central island is a wildlife habitat, with herons, mallard and moorhens. The City Council's parks department tend 1,200 square metres of trees, shrubs and herbaceous borders.
 The Basin has a timeless ambience. Cranes on the skyline contrast with surrounding Georgian and Victorian buildings. Adults stroll and children play. I am a child again visiting the place with my maternal Granny who lives nearby. Christened in the local St Joseph's Church, I was baptised to the wonders of nature and the outdoors by the waters of the Basin.
More Dublin City Parks & Gardens, Moira Bowers, 1999; Secret Dublin, Pat Liddy, 2001, www.dublincity.ie