Walks: Avoca, Co Wicklow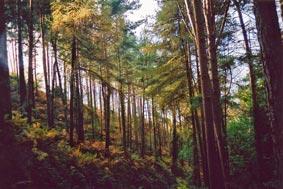 Renowned from Tom Moore's melodies and the TV series Ballykissangel, the Vale of Avoca is a pleasant place for walking.
Start at the village car park near the church. Left of the National School, follow a laneway into the woods. You will soon have a choice at a junction. For a trek of about two hours, the path to the left above the river climbs into the forest through deciduous woodland and conifers. After more climbing, the track reaches a public road.
Return to Avoca by retracing your steps through the forest or by turning left onto a public road.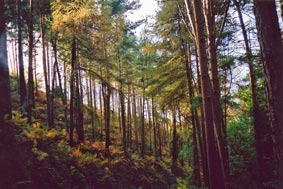 For a shorter walk, turn right near the starting point above the school. Stroll on a wide path past oak and beech trees. If you see stripped pine cones, watch for busy squirrels. Abundant beech mast is a source of their winter hoard. Look down over Avoca village. After a car barrier, the forest path meets the back road from Arklow into Avoca. Follow the footpath by the road past the bridge into the village.
Relax in Fitzgeralds pub of TV fame. Visit the café, historic mill and tweed shop at Avoca Handweavers.  
TONY QUINN
∏More Wicklow Walking Guide, Wicklow County Tourism & The Adventure Agency; www.wicklow.ie/tourism, www.avoca.ie. Map OS
Discovery no 62. Access from