"They wouldn't leave him alone"; The Death of Michael Lynagh
Part 1: "You can see he's still hot'
Michael Lynagh lay on a bed in a cell at Mountjoy prison. His mouth was almost but not quite closed. Both eyes were bulging, the right one barely open, the left closed. His chest was very much enlarged. On his left wrist there was a straight and narrow line of dark red blood, almost brown. There was no sign of any flow from the cut on the wrist. Michael Lynagh, aged 27, had hanged himself in the cell an hour previously. It was about 3:15 pm on Friday, September 10.
A doctor entered the cell, followed by Finbar Lynagh, Michael's brother, aged 20. As the doctor spoke, Finbar, shocked by events, stared at the doctor's open hand as it moved in a flowing manner, pointing from one thing to another. There, on the table beside the bed, the remains of the chips and chicken which 'Michael had half eaten at 1.30. A knife and fork lay on the plate. There, the hand moved on, the mark where Michael had tried to cut his wrist. The hand swung up, pointing at the window from which Michael had hung himself.
"What did he hang himself with?"
The hand pointed to a white sheet on the bed, which seemed to be uncreased. Then the doctor said, "You can see he's still hot" and put his hand on Michael's forehead. Finbar stood there for a minute, then turned and left the cell. A priest shook his hand and said he was sorry. "He had a lot of harassment", Finbar said, "they wouldn't leave him alone. I could tell you why, Father." Finbar went into the Governor's office and said, "I want to know, now, why Michael was in here." Someone said, "You will know." Someone else said, "This is not a coverup."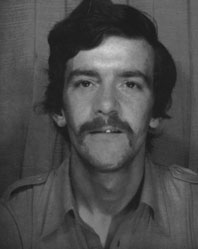 Michael Lynagh was born in Monaghan, the second eldest of twelve children. He was a quiet boy at school, was interested in sports and joined the Boy Scouts. He attended Monaghan CBS but didn't want to go to secondary school as he wanted to get a trade. He left school at 16 and did an AnCO course in welding. He worked for a firm in Clones and then moved to a job in Monaghan.
Although both the Lynagh parents were strongly anti IRA, as were several of their children, one of their sons, Jim, became an important figure in the Provisional IRA in the Monaghan area. Jim, who was three years younger than Michael, joined the IRA in the early 1970s. On October 3, 1973, he was badly injured when a car bomb exploded prematurely near Moy, Co. Tyrone. Jim Lynagh was convicted of being in possession of ex-plosives and was sent to Long Kesh for five years. When he was released in October 1978, he was served with an exclusion order from the UK for life. In 1979 Jim Lynagh was elected to Monaghan Urban District Council.
From the time of Jim's return from Long Kesh the Lynagh family was subjected to harassment from the Gardai. The Monaghan IRA were at the time extremely active and are suspected of having been involved in the murders of several members of the UDR and the Stronge family murders. In April 1980 Jim Lynagh was charged with membership of the IRA and was held in Portlaoise prison for four months before being acquitted. Three months later he became the first person to be charged under the Criminal Law Jurisdiction Act. He was again held for four months, this time for the murder of UDR man Henry Livingstone, in Tynagh, Co. Armagh in March 1980. Again, Jim was acquitted.
Sixteen months later, in November 1981, Jim Lynagh was again arrested and charged with membership of the IRA. While out on bail to attend the wedding of his sister Mary to Seamus Shannon, Jim went on the run. The Lynagh house in Monaghan had been the target of police attention. Both Michael and Finbar had also suffered harassment, though neither were members of any organisation or political party and neither had been engaged in any illegal activities.
Michael had two brushes with the law. Once he was fined for urinating in a car park. The other mark on his record was an incident in a Monaghan hotel when a Garda knocked over his drink. Michael believed the drink had been knocked over deliberately and a row followed. He was arrested and fined. Apart from Jim, one other Lynagh brother, Colm, had association with the IRA and was involved with the police. On New Year's Eve 1981 Gabriel Murphy of Emyvale, Monaghan, was shot in the leg. The wound was severe and Murphy died.
On June 16 of this year at the Special Criminal Court Colm Lynagh was found guilty of the shooting. Gabriel Murphy had been a bouncer at the Hillgrove Hotel and it is alleged that several of the bouncers there had beaten up Jim Lynagh. The Lynagh family still claim Colm, aged 17 was innocent. Colm Lynagh had recently joined the Provisional IRA in Monaghan. Subsequent to the killing the leadership of the Provisional IRA held an inquiry into the mur· der, as they have a policy against using arms in a personal vendetta. They say the shooting was not a Provo operation. The court judged that anyone who took part in the shooting was guilty of murder and that Colm Lynagh had assisted in the shooting and knew of the intentions of the attackers. Colm was sentenced to life imprisonment.
At the beginning of this year both Michael and Finbar Lynagh moved to Dublin and shared a flat in Terenure. Michael got occasional casual work, Finbar worked in a supermarket. Neither had the slightest association with crime or with political activities.
Part 2: Section 30
March 9 was the day Charlie Haughey was elected Taoiseach in the Dail. While Fianna Fail was still celebrating and Fine Gael fulminating about "the Gregory deal", Michael Lynagh was preparing to move from his Terenure flat to a flat in Belmont Avenue, Donnybrook, which again he would share with his brother Finbar. At about 8.45 pm Michael arrived at the old flat in Terenure with a friend, Alan, who was helping him move his gear. They found three men searching the flat. The three were detectives from Dublin Castle and Michael and his friend were arrested under Section 30 of the Offences Against The State Act.
Under Section 30 the Gardai can arrest anyone they have reason to believe may be about to commit a crime. In practice the Section is used to pull in not only those suspected of preparing to commit a crime but anyone the Gardai want to question, inconvenience, intimidate or harass. The Gardai did not then, nor at any other period in his twenty-seven years, have any reason to believe that Michael Lynagh was about to commit a crime.
During that period, Michael Lynagh was unemployed. He whiled away his days by going to the Manpower office in D'Olier Street in the morning and in the afternoon might visit the Municipal Gallery or the National Museum. He also frequented the National Library, where he was studying material on Blueshirt activity in Monaghan during the 1930s. Like many people from the Border counties, Michael was sympathetic to republican politics. Several of his friends and associates in Monaghan were linked to Sinn Fein or the IRSP. However, he had never been a member of any organisation or played any part in their activities and was not in favour of violence. For some years Michael had suffered from a psychiatric illness and had been confined several times in St. Davnet's psychiatric hospital in Monaghan.
He had received electric shock treatment and was receiving medication to cope with depression. His last confinement in St. Davnet's was around Christmas of last year, shortly before he went to Dublin. (Michael's father had worked at St. Davnet's.) On moving to Dublin Michael attended a psychiatrist at St. Patrick's. He had begun drinking heavily since about 1979 and appeared to have a drink problem.
A couple of hours after Michael's arrest in Terenure, Finbar arrived at the new flat in Donnybrook. The flat was next door to that of his sister Mary and her husband Seamus Shannon. Another sister of Finbar's, Carmel Lynagh, who is a nurse in London, was visiting the Shannon flat at the time, as were two friends of the family.
There were a half dozen detectives in the Shannon flat. They demanded details of the names, addresses, ages and occupations of all present. Finbar came in from next door and asked his sister Mary what was going on. He was promptly arrested under Section 30. Seamus Shannon, brother-in-law of Finbar and Michael, was also arrested under the Section.
As the two were taken away, Carmel Lynagh pleaded with the detectives to tell her why the men were being arrested and where they were being taken. The detective who appeared to be in charge, and who was arresting two people supposedly because he had reason to believe they were about to commit crimes, replied, "He'll probably be back in fortyeight hours."
Part 3: "I just have to look into your eyes"
Where's your brother Jim? What are you doing in Dublin? How long have you been in Dublin? We want the names and addresses of your brothers, sisters, your friends and associates. How much do you get on Social Welfare? Sometimes there were three or four detectives asking questions in the interrogation room at Rathmines Garda. Station, sometimes there were six. Michael answered as many questions as he could, except the one about Social Welfare. He told them they must have access to that information and could get it themselves.
"You're a different kettle of fish to your brother Jim." At this stage Jim Lynagh was still on the run. The questions were asked over and over again, the detectives coming in and out, but the questions staying the same. And the insults. "I know you're mad. I just have to look into your eyes to see it. Your father was a psychiatric nurse - could he not have given you something for your madness?"
Michael's friend Alan, who was being questioned in another room, is a Protestant. One of the questions to Michael was, "What are you doing driving around town with a leftfooter?" The questions kept coming back to the shooting of a Garda in Tallaght. They also ranged over membership of the IRA, the INLA, the gaelic language, industry, agriculture, poverty, the Middle East, the Gardai, the legal system, the British army, the RUC, what life was like in north Monaghan and south Armagh, emigration, abortion and de Valera.
Amid the questioning came the remark, "Nobody is afraid of you Northerners anymore. What will happen to you is what's happening in other countries - you will be driven out the road some night and won't be heard of no more." Michael was questioned until about I am and then put in a cell until approximately 10.30 next morning, at which time the questions began again. About the shooting of the Garda in Tallaght, the bomb which injured a I Garda forensic expert, and the shooting in the High Tide pub of IRSP man Harry Flynn.
Part 4: "Dealing with your type"
Meanwhile, Carmel and Mary Lynagh and a friend of Alan's had left the Donnybrook flat about an hour after Finbar had. been arrested. As Michael had not come home they feared that he too had been lifted. They went to Donnybrook Garda Station where they were politely received by an elderly garda. He made. a phone call and then told them that Michael and Alan were being held at Rathmines and Finbar and Seamus at Crumlin. The three women went by taxi to Rathmines and the Garda on duty confirmed that Michael and his friend Alan were being held. When the sisters asked if they could see the men the Garda went back and consulted a red-haired Garda who was sitting at a desk. He came back and said they could not visit.
Carmel explained that Michael had suffered a depressive illness and was only a short time out of hospital and needed medication. No.
Carmel was insistent. She explained that she was a nurse and that Michael needed the medication. If they would let her see him for a few seconds he could tell her where the medication was and she could fetch it. The red-haired Garda looked up and said, "Get out of here and go home. The people dealing with this will be back at nine o'clock in the morning."
In the background Carmel could hear men's voices shouting and doors banging. She begged again that she be allowed in. The red-haired Garda shouted, "Get out! I'm sick of dealing with your type!" The three women took a taxi to Crumlin Garda Station and had no problem in being admitted to see Finbar and Seamus for a few minutes. Carmel then phoned St. Davnet's hospital but was unable to reach Michael's psychiatrist, Dr. Owens. The doctor on duty seemed annoyed at being disturbed at that late hour and hung up twice. After a third phone call the doctor shouted that Carmel should ring in the morning.
Part 5: A routine incident
It was 11 am next morning before Carmel Lynagh got in touch with Dr. Owens. Michael's psychiatrist. She told nim about Michael's arrest and Dr. Owens promptly rang Rathmines Garda Station. The three women were allowed in to see Michael and Alan. Both appeared badly shaken, especially Michael. He repeatedly asked Carmel if she was okay and asked her not to worry their parents with this thing. He told Carmel where his medication was and she brought it to the station along with some cigarettes and newspapers. Carmel, a nurse, thought that Michael was on the verge of a breakdown.
The four arrested men were released later that day. Finbar had been subjected to the same repeated questioning. When he finally refused to answer, a detective told him he'd be a sorry boy that he ever came to this town. The Gardai would make hell for his sister and would never leave her flat alone.
The incident was a routine one. Neither brother was physically assaulted and they received what many a hardened republican would consider a mild interrogation. They were not, however, hardened republicans, just related to one. And, as one of the detectives had pointed out, they were a different kettle of fish. The experience left marks on both brothers. They talked about it and decided that the best response was to answer all questions as politely as possible and hope that this would show they had nothing to hide. The harassment continued, with police visits to the flat.
During a subsequent raid every flat in the house would be searched, disturbing and frightening the other tenants and causing trouble for the brothers. They began to suspect that they were being followed by the Special Branch. There were several visitors to the flat inquiring about vacant flats, rent and the like. The brothers suspected that some of these might be Special Branch. There were indications that some at least of the suspicions that they were being followed were warranted. However, it is also possible that the brothers were experiencing fear and paranoia that built any unexpected incident, however innocent, into a suspicion. What seems clear is that the arrest and interrogation had left them frightened and shaken. And one of the brothers, Michael, was a very sick man.
Part 6: Strip and swab
On Saturday April 17 of this year a number of Special Branch officers surrounded a house at Newbliss, in Monaghan. At around 3 pm Jim Lynagh, still on the run, emerged from the house, saw the Gardai and made a run for it. He was carrying twelve rounds of ammunition but no gun. The Gardai opened fire, Jim was not hit but was arrested. He was held in Monaghan Garda station for two days and was subsequently sentenced to five years in prison for possession of ammunition. He is now in Portlaoise prison. During his two days in Monaghan Garda station he was never once questioned. His brothers Michael and Finbar were not so lucky.
Michael was sitting in the flat reading a book at around 1 am on April 18, only hours after Jim's capture, when five Special Branch officers arrived and began searching the flat. They arrested Michael under Section 30 of the Offences Against The State Act. The Gardai asked where Finbar was, did Michael have any guns? Finbar arrived at the flat ten minutes later and was also arrested under Section 30. He appeared stunned and one of the detectives remarked that he seemed like' a junkie. He was made roll up his sleeve to show that his arm didn't have any tracks.
Michael had a silent ride to the Bridewell, sandwiched between two detectives in the back of a car. Finbar, in another car, received remarks that he must be doped to the eyeballs. A detective told him he was as mad as a hatter, but then, weren't all the Lynaghs mad? He was asked if he knew where Jim was. Finbar didn't reply. "We have him, the dirty bastard!" The detective asked, "Do you hear me?" He flashed his torch in Finbar's eyes, knocked his arm. "Do you hear me?"
At the Bridewell Michael told the sergeant in charge that he was under medication. He had taken the tablets with him from the flat. He said he didn't feel well and wanted to see Dr. Hoben of Morehampton Road. He asked the sergeant what were his Constitutional rights. The sergeant replied that he had been arrested under Section 30 and that was that.
Michael was taken through the Bridewell and as he looked at the walls, iron bars and gates it occurred to him that this was just like the kind of prison you see in a movie. He was scared. He was taken down a maze of corridors and he was looking at steel doors and bars and he could hear the echo of his footsteps. He was put in a cell, and about an hour later a Garda told him that Dr. Hoben could not be contacted. During the night, both brothers were questioned aboutwhere Jim was. The questions continued for several hours, with relays of detectives. Michael was called a dog and a Northern bastard. The detectives were shouting, sometimes, one by one, sometimes all together. It occurred to Michael that something terrible had happened or was about to happen. He was confused and frightened.
Next morning, after a breakfast of a slice of bread and a plastic beaker of tea the interrogation continued. Finbar was fingerprinted and had a swab test. After a couple of hours he was told to strip. When his clothes were taken away he refused to wear clothes which he was told were his brother's, as his brother would need them, and returned naked to his cell. He didn't want to use the urine-stained blanket or mattress, so he lay naked for five hours on the wire mesh of the bed. Several detectives came to the cell during this time. One walked around Finbar, looking him up and down, and asked "are you a homo?", and would he like someone to move into the cell with him. "At least he has balls, it's more than his brother has." (In the 1973 explosion the insides of Jim Lynagh's legs had been badly injured but his genitals were not damaged. However, such remarks appear to have been standard in-jokes among the Special Branch.)
About an hour after breakfast Michael Lynagh too was told to strip in his cell. He recoiled from this and lay on the bed and curled himself up, wrapping his arms around his legs. Detectives began pulling at his arms and legs to no avail. After a while two of them began twisting his feet inwards. The pain was extreme and Michael cried out. The detectives eventually forcibly removed his boots, socks and jeans. After a few minutes his jeans were thrown back to him.
Later, Michael was taken to an interrogation room where he met an inspector. Another detective took a swab test, rubbing Michael's hands with cotton wool and liquid and combing his hair with a comb which had cotton wool attached. The detective carrying out the swab test had a holstered gun at his hip, a big gun with a brown handle. As the detective kept pulling his coat back from the gun Michael wasn't sure if the detective wanted to have the gun ready for trouble or if he was just showing off. Michael felt sick.
He inspector pointed out a pile of clothes which he said had been brought from the flat. Michael was to strip and change into these. His clothes were wanted for forensic testing. Michael examined the clothes, then sat down. The inspector asked, Michael what he was doing. "I was thinking." The inspector told Michael he had one minute to think. The detective who had arrested Michael was in the room and offered to strip him. The inspector said no. Michael's head sank down to his chest. He was tired. He had decided that he wasn't going to strip himself or answer any more questions, but he wouldn't resist when they stripped him.
Part 7: The blanket
The two brothers would spend another night -and most of the next day in the Bridewell. On the Sunday morning Michael had asked for his medication. A detective told him he'd get a tablet when he started talking. He got a tablet two hours later. At one point Michael had been lying on his bed in the cell when one of the teams of detectives that periodically visited the cell lifted him up "to get a look at you". Michael felt weak and fell on the floor. One of the detectives threw a toilet roll at him and told him, "You've shit yourself."
The brothers' exit from the Bridewell was as traumatic as their entry. Before Michael was released he was told he was going to be charged with refusing to strip, refusing to account for his movements, and membership of the IRA. Fifteen minutes later he was released. He refused to sign for his property on the grounds that it was his and he didn't see why he should sign anything to get it back. There was only one set of keys to the flat and Michael asked for them as Finbar was still in custody. The Gardai said they had no keys. Michael refused to leave the station. He was dragged out, trying to hold onto the door, being pulled by the arms and hair.
At about eleven that night, in Donnybrook, two Branch men returned two bags of clothes which they had taken from the flat. And the keys. Finbar, who had still refused to wear Michael's clothes and had insisted that clothes of his own be brought, was now wearing the urine-stained blanket in the cell. This was what he wore when he left the Bridewell. One detective threatened to take the blanket away and throw him out on the street, naked, so that he would be arrested and sent to Dundrum Mental Hospital. Another detective offered Finbar a lift home, which he refused.
As Finbar left the Bridewell dressed only in the blanket he saw four detectives standing by a mini-bus outside. Saying they would take him home in the mini-bus, they grabbed him, and there was a struggle and Finbar received several punches to the stomach. Another detective ran up and shouted, "Stop it, stop it!" Finbar was released and went to a pub where he rang a friend who came and collected him.
Part 8: "I can do what I like"
The next day the brothers decided to seek help in stopping the harassment. They went to Amnesty but were told that the organisation does not deal with events in its home country. They went to the Irish Council for Civil Liberties and made statements. They went to the Sunday Tribune and made a statement. They went around the corner to Gardiner Street, to the offices of the IRSP paper The Starry Plough, but were told that the paper wouldn't be coming out for a while yet. They went up to the Sinn Fein office in Blessington Street to make a statement to An Phoblacht, but these two supposed desperados didn't know that the An Phoblacht office is in Parnell Square. A woman from the Sinn Fein office offered to take them to An Phoblacht.
As the three walked across Dorset Street and into North Frederick Street a number of detectives jumped out of a car. Michael was grabbed by the lapels and thrown against the wall. Finbar was also pushed against the wall. A detective began searching Michael's pockets. When Michael objected the detective said, "I can do what I like. I'm not looking for money, I'm looking for guns." There was the usual crowd of shoppers in the area and the police eventually seemed embarrassed, got into their car and drove off.
The brothers continued their rounds of the newspapers. They made a statement to a Sunday World reporter but nothing appeared. It seems the notebook with the statement was lost. The Irish Times carried an account of Finbar's exit from the Bridewell in a blanket. Nothing appeared anywhere else.
Michael and Finbar went to see Tony Gregory TD and asked him to help stop the harassment. Gregory wrote to the Minister for Justice, Sean Doherty. In his reply, Doherty correctly pointed out that Michael Lynagh had received visits from a doctor and solicitor during his stay in the Bridewell. His explanation of the Garda behaviour however, entirely avoided the allegations of what happened in the Bridewell.



I have been informed by the Garda authorities that when Mr. Lynagh was arrested he was asked if tablets on a chair beside his bed belonged to him - that he refused to answer the question but that in spite of that the arresting members gave the tablets to him.

The statement correctly points out that Michael was allowed bring the medication to the Bridewell - it neglects to deal with the deprivation of medication for a period within the station.



Part 9: The death of Michael Ferguson
After his release from St. Davnet's psychiatric hospital last Christmas Michael had seemed in good form, appeared to be coming out of himself. However, his depressive illness was severe and there was no full recovery in prospect. He had attempted suicide several times, or had cut his wrists in apparent suicide attempts. He failed to establish a relationship with the psychiatrist he was seeing in St. Patrick's, in Dublin, and on August 28 he returned to Dr. Owens in St. Davnet's. Owens prepared a course of therapy. Michael had less than a fortnight to live.
Whatever the origins of Michael's illness, it had emerged before the serious Garda harassment began and could not have been caused by the harassment. The depression, however, made him more vulnerable to the Special Branch antics. When Michael left the Donnybrook flat on the evening of Saturday September 4 he was in a good mood, didn't seem depressed. He spent the evening drinking with a friend named Anthony Ballantine and stayed the night at Ballantine's flat. The drinking resumed on Sunday morning and continued on Sunday evening, by all accounts a major bender. Michael spent Sunday night at Ballantine's flat. He now had a job, and Monday morning he set off apparently for work.
Michael was arrested some time that afternoon and charged with being drunk and disorderly and resisting arrest. According to the prison authorities he gave the name "Michael Ferguson" and a Belfast address and appeared in court the next day before Justice Delap, where he was remanded in custody for psychiatric examination. No one knows why he gave a false name when arrested. It may have been that he was scared of identifying himself as a member of the Lynagh family for fear that it would draw the same kind of harassment he had experienced in his previous arrests. Nor do we know what fears arose during the four days in Mountjoy.
Whatever the reason, Michael Lynagh was going down for the third time. When Michael had not returned home by the Tuesday Finbar became worried. He went to Michael's workplace and was told he had not turned in. He went to Anthony Ballantine's flat and found no one there. On Wednesday he again went to the workplace and from there to the Ballantine flat, where he was told that Michael had left the flat on Monday morning.
On Thursday evening, on returning to his own flat, Finbar found a letter from Joan O'Brien, a probation and welfare officer at Mountjoy prison. It said that Michael Lynagh was on remand, was anxious about having clean clothing for his court appearance on September 14 and was anxious to see Finbar. The next day, Finbar arrived at Mountjoy between 2.15 and 2.25 pm. Afternoon visiting began at 2 pm. He was kept waiting for about forty-five minutes and eventually allowed inside. He was met by several casually dressed people who asked him a series of questions about whether his brother used the name Michael Ferguson, had he a flat in Belfast, had he had psychiatric problems?
Finbar became agitated as it became clear that something was wrong. The letter had mentioned Michael Lynagh, so he must be here. He was told that Michael Ferguson had hung himself an hour earlier. The death would have occurred while Finbar was waiting or shortly before he arrived at Mountjoy. He was told that Michael Ferguson might be Michael Lynagh. A man who had introduced himself as a doctor led Finbar to the cell.
Part 10: "Are you up for the oul funeral?"
When Finbar Lynagh left Mountjoy, having identified his brother's body, he went immediately to the workplace of Seamus Shannon, his brother-in-law, and told him of Michael's death. A workmate of Shannon's drove the two towards Balbriggan, where Shannon and his wife Mary Lynagh live, to inform Michael's sister of the death. At Glasnevin they were stopped by an unmarked police car. The three had their names and addresses taken by detectives and the car was searched thoroughly. They were held by the side of the road for between thirty and fortyfive minutes. Eventually they were released and drove to Balbriggan to tell Mary Lynagh of her brother's death.
That night, Finbar and Seamus drove to Clones to tell the Lynagh parents that their son was dead. The parents had received no official notification of the death. They still haven't. On Sunday, two days after the death, Finbar and Seamus were walking through Clones Diamond when three detectives jumped from a car and stopped them. The detectives began searching the two men. When Finbar objected, he was made stand with his legs apart, leaning forward against the roof of the car. One of the detectives asked, "Are you up for the oul funeral?"
Part 11: "With due regard to their provenance"
The story of the intimidation and death of Michael Lynagh as told here is based on a number of statements made by Michael, Finbar and Carmel Lynagh and a number of interviews with others involved. We asked a series of questions of the Department of Justice. Their entire reply was:



As required by law, in the case of persons who die in prison an inquest will be held into the death of Michael Lynagh. Meanwhile any specific allegations concerning his death will be examined with due regard to their provenance.

On September 23, at about 7.20 in the morning, a number of detectives arrived at the home of Seamus and Mary Shannon. Mary was out at the time. The Gardai proceeded to search the place, poking through her personal belongings, asking where she was.



While it might be thought that statements made by members of Michael Lynagh's family following his death were made in a time of emotion and bitterness - it is essential to point out that most of the statements made to the Irish Council for Civil Liberties were made prior to the death. In particular it is worth noting that the accounts of Michael's arrests and interrogation are based on a detailed and moving statement which Michael himself made to the ICCL within days of the events described.