Skype Phones and Airless Tyres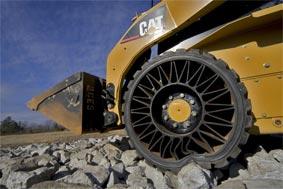 Malachy Browne on VOIP telephony, cardboard pissoirs and innovative wheels.
Mouse Phone 
The VAIO VN-CX1 is Sony's attempt to capitalise on the latest internet trend – Voice over Internet Protocol (VoIP) telephony. In technologically advanced contries, individuals and organisations are increasingly making free online calls to friends and colleagues anywhere on the planet.
Even if a friend or colleague is not regularly online, internet telephone providers are offering very competitive rates for mobile, domestic and international calls through their applications. Skype is by far the most popular provider and Sony's latest gadget interfaces with this application.
The VN-CX1 functions as a normal optical mouse, with both a flashing LED and an optional ringtone to indicate an incoming call. The scroll wheel doubles as a volume control once the mouse is flipped open to accept a call.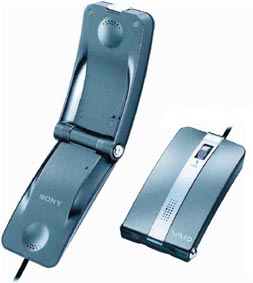 The mouse-phone is a neat unit that offers an alternative to cumbersome headsets while maintaining privacy on internet calls.
An obvious limitation of the mouse-phone is that it renders the mouse useless while being used as a VoIP phone. However, Sony have allowed the mouse-phone to be set up in hands-free mode.
VoIP as a cheap alternative to mobile and landline telephony has yet to
become widely used in Ireland, largely because of a dawdling broadband rollout and uncompetitive broadband rates.
Ranking 24th of 30 OECD countries in 2005, Ireland's broadband penetration reached 4.3
per cent last year, compared with 25.5 per cent penetration in Korea.
More: The Sony VAIO VN-CX1/W retails for ?74 on Amazon.co.ok
Fallic feminity
A phallic affront to feminist perspectives? An original stand for gender equality? Or simply a practical alternative to pungent portaloos? P-Mate provides women with "the freedom to discreetly... and neatly urinate while standing up'. Campers, backpackers and festival-goers are lauding the P-Mate experience, though certain hygenic issues spring to mind.
P-Mate is made from a folded cardboard panel that cannot be flushed and "should be thrown into a bin at [one's] nearest convenience". Carry a soiled urine dispenser around? Hardly convenient. P-Mate will most likely be discarded in the immediate undergrowth. Thankfully, P-Mate is biodegradable and is manufactured from recycled materials, completing the product's evocation of an organic experience.
More: P-Mate can be purchased for £3 at www.pmate.co.uk
Reinventing the wheel
Qwik-fit beware! Michelin's Tweel, the integrated tyre and airless wheel combination, is likely to render puncture-repairs a redundant practice when it becomes commercially available for cars in the next decade.
Tweel is a novel innovation that improves upon the traction, malleability and load-capacity of present-day pneumatic tyres through a redesign of the early spoked-wheel. The design fuses flexible polyurethane spokes to a deformable wheel case enabling the wheel to comfortably absorb shocks and respond to road hazards.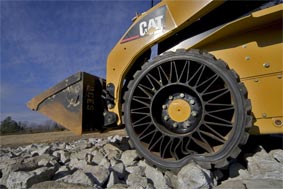 Tweel's advantages over the conventional pneumatic tyre are many, including cooler running temperatures resulting in less wear, lower rolling resistance amounting to a reported 10-per-cent decrease in fuel consumption, and the ability to produce a complete tyre within a few minutes – significantly simplifying and reducing the cost of the manufacturing process. Suspension and
handling would also be improved.
The tweel is still too noisy for widescale automotive use but it has found an immediate application in lower-speed, lower-weight vehicles such as iBOT, the robotic wheelchair that reportedly negotiates stairs and handles uneven ground with ease. Initial tests on the wheel's military uses have also been positive.
More: www.voipcentral.org