Singing in tongues

The birds aren't all gone! There are plenty of avian visitors who just love our soft winter weather, says Éanna Ní Lamhna
Tá an geimhreadh ann, an geimhreadh / An geimhreadh brónach garbh / Tá na héin i bfad thar sáile / Is na duillí glasa marbh
The author of the above quotation is right in saying that winter is here and the situation is sad and rough and that the green leaves are all dead. But, in the interests of scientific accuracy, I have to point out that all the birds are not gone far away over the sea. There is a whole constituency of birds that make it their business to be in Ireland during the winter. We have one of the best climates in the world. You might not think so as you endure 50mm of rain in one day or wind speeds of over 100km an hour, as happened on the last day of November this year. But, from a wildlife point of view, our temperate, moist climate is the business. No extremes of drought in summer but, even more importantly, no long periods of sub-zero temperatures in winter, when the ground and the surface fresh water is frozen and snow covers the vegetation for weeks at a time.
Ireland provides a suitable ecosystem at this time of year for birds from several different trophic levels in the food chain. Herbivorous birds fall upon our unfrozen grasslands with glad cries. Wet grassland at this time of year will be home to flocks of Whooper swans from Iceland, Brent geese from Canada, White-fronted geese from Greenland and Greylag geese and Barnacle geese.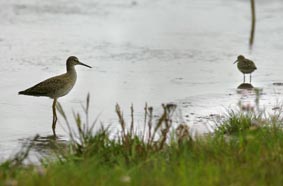 The carnivores are delighted to find unfrozen mud to probe with their long beaks to winkle out the rich food crop of worms and shrimp that live there. Salt-marsh mud flats at this time of year ring to the calls of waders such as the Dunlin, Curlew, Black-tailed Godwit, Red Shank, Sanderling and Knot. Our freshwater inland marshes are the restaurants of the Snipe, Golden Plover and Lapwing.
The unfrozen seas around our shores can be scanned for Great Northern divers and Red-throated divers, Shelduck, Red-breasted mergansers and common Scoters – all carnivores. These dive in our winter coastal waters to collect mussels, bivalves and sand eels as well as sprats, herring and codling in the case of the divers. Our lovely unfrozen fresh-water lakes are sought out by such species of duck as Teal, Wigeon, Mallard, Pintail, Shoveler, Tufted duck as well as Little Grebe and Great Crested grebe.
And of course our ordinary garden birds receive visits from their continental cousins from Germany, Poland and Russia who can find no food in the frozen wastelands created by the severe cold of a continental winter. If you, like Doctor Dolittle, could understand what the birds were saying, you would realise that in your garden you had starlings twittering in Russian, thrushes singing with Scandinavian accents, blackbirds issuing alarm calls in Hungarian and robins singing in diverse tongues. The poet quoted above may have been good at words, but he definitely needed to get out more. Tá na héin i bfad thar sáile – my granny!