Shell offers Mayo farmers €10,000 compensation

Shell E&P has offered farmers with land along the proposed Corrib gas pipeline compensation of €10,000 each. By Frank Connolly
Farmers along the route of the proposed Corrib gas pipeline in Co Mayo have been offered €10,000 each by Shell in compensation for the loss of cattle-grazing rights on land given to the multinational or acquired under the controversial compulsory acquistion orders granted by the government.
In a letter handed to a number of farmers in recent weeks, although not on Shell E&P-headed paper, the company said farmers who own land close to Sruhwaddycon Bay, where the gas pipeline travels en route to the proposed terminal at Bellanaboy, would receive an immediate payment of €10,000.
The letter promised the first payment in compensation for the loss of grazing land in November 2006 with a further payment of €10,000 in November 2007.
A number of those who agreed to sign over their land to Shell some years ago have since changed their mind and have joined the daily protests outside the terminal site which have seen angry confrontations between a large Garda force and hundreds of local residents since the company resumed work two weeks ago.
A spokesperson for Shell said a compensation scheme for local farmers who suffered disturbance or crop loss had been developed and that the company's community-liaison officer had been in contact with farmers along the original route of the proposed pipeline.
The disclosure of the promised payments follows the claim last week by a local businessman, Ciarán Ó Murchú, that Shell officials offered him €15,000 to support the controversial pipeline and terminal project. Ó Murchú told a rally at Bellanaboy on 16 October that officials asked him how much he was planning to spend on a climbing wall for his adventure centre, Coláiste Uisce at Elly Bay in Co Mayo.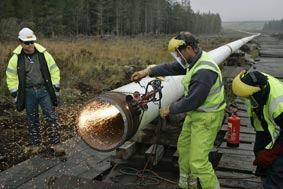 "I was asked how much it would cost and I said it would cost €15,000. I was told the company would pay for it and that materials could even be delivered in the middle of the night if it was a problem." Shell has denied that it made the offer.
After the rally the Socialist Party TD, Joe Higgins, and Independent deputy Tony Gregory complained about gardaí filming the protest. RTÉ crews have recorded the daily early-morning scenes where residents were physically removed by gardaí after blocking roads leading to the terminal site.
Shell to Sea campaigner Maura Harrington was hospitalised with a head injury after she was knocked down during one confrontation on 13 October. Erris resident PJ Moran told Village that he had been threatened by a Belmullet-based sergeant after a recent protest at the terminal.
"I was threatened by a garda sergeant who used very aggressive language to me. He said he was going to close my big mouth and that he had my number and my time was up," he said.
A number of those arrested in recent weeks, including Peader O'Donnell, who runs a local shellfish company and is a member of the Erris Inshore Fishermen's Association, also complained about alleged garda abuse.
Peader O'Donnell, whose organisation issued a statement of support for the Shell to Sea campaign a day previously, was taken from his car when he and his wife went to Belmullet Garda station to visit his son, Jonathan, who had been arrested during an earlier protest at the terminal site on 12 October.
"Twelve to 15 police surrounded my car outside the station and placed me under arrrest. They accused me of assaulting a garda during the protest that morning," he told Village. He said that on 13 October he was surrounded by a group of gardaí at Bellanaboy and his legs were stamped on.
"They had me surrounded out of sight of the cameras and were stamping on my feet and legs. I was out of work for the day and had to go for treatment. I have lodged a complaint with the Garda Complaints Board in Dublin. If they think they will smash the Shell to Sea campaign they are certainly going the wrong way about it."