Seamus Sherlock, Independent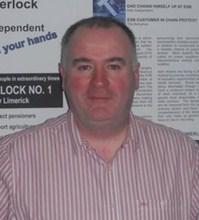 Seamus Sherlock, Independent
Constituency: Limerick
Personal Details
Address: Feohanagh, Co. Limerick
Year of Birth: 1966
Email address: seamussherlock@live.ie
Phone Number: 087 2930464
Twitter account: @ESBProtestor
Facebook Page: Seamus Sherlock ESB Protestor
Occupation: Unemployed
Previous Occupation: Self-employed
Financial interests: None
Income (aside from income derived from political office): Only income is social welfare
Political Details
Are you an outgoing politician? Not a politician
Information on political career to date: I have not had a political career as such. However, I have publicly represented many ordinary people who were struggling with ESB disconnections last summer.
How much money do you expect to spend in the election campaign? >2000
What will be the sources of this finance? Family, friends & supporters
Record and Manifesto
Personal election manifesto: To oppose cuts to and protect our elderly citizens, to strongly encourage education and facilitate employment initiatives in our communities - we cannot simply wait for the next Dell to arrive in Limerick and to nuture nature and support agriculture.
What in your record distinguishes you above the other candidates in your constituency? I recognise many issues which affect everyone. My ESB protest ensured that people who were making a genuine effort to pay their power bill were given a fair and realistic chance to do so. I am not a single issue candidate but when I take on a single issue, it is a single issue which affects the entire population. Electrical power is a basic need which we all have.
What do you consider to be the main election issues in your constituency, and where do you stand on these issues? Lack of employment is the prime one. I am focused not just on job creation but also job retention. Many small businesses are being strangled by red tape instead of being facilitated by our state agencies. This is a ridiculous situation. Many of our youth feel hopeless at the lack of job and education opportunities. Past studies have shown that there is a two to threefold increase in the rate of suicide amongst the unemployed. There are so many reasons to promote employment other than economic gain.
What do you believe are the national priorities, and what do you propose in this regard? Employment - I propose to get the agencies of the state to truly support business here, particularly small and medium enterprises, who unlike large corporations do not repatriate their profits abroad. Elderly - our elderly citizens are suffering, many through fuel poverty and indeed just poverty in general. Like many ordinary people, they did nothing to contribute to the demise of our economy and should not be forced into worse living conditions as a result of the mismanagement of past public representatives.
Specific Policy Questions
Do you support political reform, and why? What measures would you introduce to reform local and national politics? I do believe in political reform, our present political system is broken. *The first measure I would introduce would be to massivly cut all TDs and professionals incomes across the board *I would streamline the local Councils as there are too many councilors representing a small amount of people. *There is a need for more accountability, transparency and Honesty. *The party Whip System is totally undemocratic and i would fight to have it abolished.
Should Church involvement in provision of education and teacher training continue? If no, what measures do you propose? Yes
Do you support Freedom of Information reform, and why? What measures do you support in this regard? Yes i do it is practically impossible for the ordinary person to access general information. Sex Offenders and Peadophiles and Drug dealers there whereabouts should be made public knowledge.
Where do you stand on the EU/IMF bailout? This country cannot pay back its existing loans, nevermind the massive EU/IMF bailout. It is only a matter of time before we default, you cant take blood from a stone, We have to be given time to get back on our feet. If not the contagion will spread and the single currency will crash
Would you support holding a referendum decide the question of making any further payments from the citizens to bank creditors? Absolutly, this debt is not ours.
What job creation initiatives do you propose? *Investment in renewable energy projects,wind and wave our west coast is the envy of europe in relation to that
What measures do you propose to provide adequate housing and security of tenure to every Irish citizen? Eliminating "Ghost Estates" by making these units available to citizens who are willing to pay a reasonable rent/mortgage. We do own them afterall.
Questions from Politico Readers
How would you ensure greater transparency and communication to the public when in government? (Martin Byrne) Having and maintaining an open door policy to all, getting irish citizens more involved in the running their country
Would you support capping TD & Minister salaries at twice the average industrial wage, with €10,000 per annum expenses? (John Murphy) Yes
Will you support root and branch reform of all levels of the public service? Starting with the top earners, including politicians. (Terri O'Brien) Absolutley