Roslin, near Edinburgh

Rosslyn Chapel near Roslin village featured in both the book and film versions of The Da Vinci Code. The medieval chapel was reputedly linked to the Knights Templar and the Freemasons. There are remarkable decorative stone carvings and symbolic images in the chapel. Sir William St Clair founded it in 1450. In the Victorian era, his descendants added to the enigmatic building. It is now managed by a trust, boosted by extra tourism income because of worldwide interest in the bestselling novel.
The chapel and village names are spelled differently but both derive from Celtic words: ross, a rocky promontory, and lynn, a rushing stream.
There are scenic rambles around Roslin village and glen. From the car park near the chapel, walk for about three hours along the River North Eske to Polton and back. The ruined castle was a battle site. A monument recalls the Scottish victory over the English in 1303. A variety of wildlife lives in the majestic woods.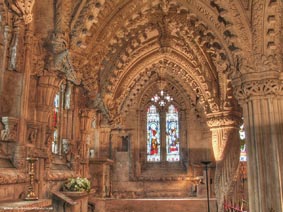 The route continues through the village back to the car park.
There are restaurants in the village and a café at the chapel reception centre. Scotland's impressive access regime encourages and facilitates walking tourism.
TONY QUINN
More Roslin Rambles, local Heritage Society. Rosslyn Chapel, Earl of Rosslyn. Explore Midlothian walks booklet www.outdooraccess-scotland.com, www.visitscotland.com, www.Rosslyn-Chapel.com. Access from Edinburgh, 7km by A701 road, bus 15a or 62