The return of 'Big D'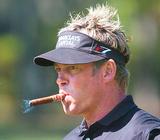 Darren Clarke's flamboyant style has been missed on the competitive circuit since his wife died of cancer. He returns to action for the Ryder Cup, where he will battle his friend Tiger Woods. By Arthur Sullivan.
When Darren Clarke returned to the locker room after beating Tiger Woods for the $1m prize in the final of the WGC World Matchplay Championships in 2000, there was a surprise waiting for him. Scrawled on the Ulsterman's locker was a note from Tiger Woods. "Congratulations. Be proud. PS You're still a fucker."
Few golfers are as popular as Darren Clarke, nicknamed 'Big D', on either side of the Atlantic. American David Duval credits Clarke with helping him to rediscover his "passion" for the game after the two had spent the night drinking after the Ryder Cup in 2002. Davis Love, another member of that same American team, said, "If it wasn't for Ryder Cups, I wouldn't have Darren Clarke for a good friend." And when Clarke's wife Heather died of cancer on the eve of the US PGA championships this year, a number of other players offered to pull out of the competition as a mark of respect.
He is one of the most flamboyant players on the tour. He acknowledges that his fondness for pints during tournaments may have cost him a few titles. He smokes cigars as he stomps around between shots. He owns three Ferraris, dresses in gaudy outfits and castigates himself for his hot temper ("my petulance is ridiculous"). English cricketer Andrew Flintoff, former Irish footballer David O'Leary and sports agent Andrew "Chubby" Chandler are among his friends. And when he puts his mind to it, he is one of the most talented golfers playing today. He has won 10 times on the European Tour and was the first player on the tour to shoot 60 twice, once in 1999 at the K Club. He has been a key part of the European Ryder Cup victories of 1997, 2002 and 2004.
Paul Casey, who will play with Clarke in the Ryder Cup this year, says, "All I know is that when Darren Clarke is on form he is one of the finest players in the world – an unbelievable golfer."
Clarke was born in Dungannon in 1968 into a Protestant family. He played rugby as a youngster but when his father took up golf the young Clarke caddied for him and soon developed a flair for the game. Within two years he had a handicap of three. His family moved to Portrush, where Clarke further honed his game on the local links.
Although he grew up amid the Troubles, Clarke has no political sympathies and says he has more Catholic friends than Protestant. He speaks of himself as Irish.
Since the death of his wife some weeks ago, Clarke has not played any competitive golf and his participation in the Ryder cup was in some doubt until he made himself available for selection. Tiger Woods, whose father died from cancer this year, says playing could help Clarke get over some of the pain, while one of his closest rivals for a wildcard pick, Thomas Bjorn, said if Clarke was willing to play, he had to be selected.
Darren Clarke's value to this year's European team is undoubted because of his talent, experience and the relationships he has with the players. But the value of the Ryder Cup itself is questionable. Despite having the best golfers in the world over the past 12 years, the Americans have won just one Ryder in that period.
The suspicion is that many of the players don't take the competition seriously enough. Tiger Woods and Phil Mickelson have been accused of being overly-focused on their individual games. And as for Clarke – he says the most fun he ever had on a golf course was when he and Lee Westwood took on Tiger Woods and David Duval at Brookline in 1999.
"We were trying to win," said Clarke, "but that side of things can get lost. We had a great time, telling jokes, all sorts of stuff. That's the spirit in which I think the Ryder Cup should be played. Not all that other nonsense."
As the golfing world gears up for Darren's return to action, it is unlikely that "that other nonsense" will interfere.