Profile of Mrs. Lemass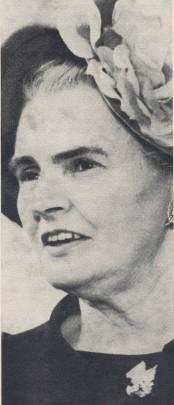 Photographs show her always smiling, her eyes alive under the magnificent hats which appeared in so many pictures. The image is of warmth and easy friendliness.
Mrs. Kathleen Lemass has contributed immeasurably to her husband's happiness and peace of mind and thereby to his success in public life. Unintellectual and placid by temperament, she balances his drive and dedication.
"He was always very serious-minded," she remembers. "But I was fond of dancing and the gay life." She laughs. "But they say opposites attract, don't they? "
She cannot remember when she first met Sean Lemass. Their families, the Hughes's and the Lemasses were very friendly and used to go on holidays together to Skerries. When Sean was sent to prison, she wrote to him and that was how it all began.
"I knew him all my life, but I never thought we would be married." The pretty shorthand-typist from Ranelagh was not at all interested in politics. She studied singing under Vincent O'Brien and won prizes at the Feis Cheoil. She sang duets with her father at the musical evenings, so popular in the Dublin of the period.
At first the marriage was opposed, because, it was felt, that the young Sean Lemass had been spending so much time in prison that he could not make a proper home.
But in 1924 the marriage took place and over the years provided a warm and stable background to Mr. Lemass's public life.
Did she realise at the time that her husband was to become so prominent? "Well, I wasn't really surprised. He always had such good ideas, and he was in it all from the beginning, he knew what had to be done." When her children-three girls and a boy-were young, Mrs. Lemass did not go out much, but devoted herself to her family. But they were all grown up when her husband became Taoiseach and she was free to join in his official life.
"I enjoyed it all immensely," she says." I always loved going out and meeting people, and my husband likes me to go everywhere with him."
And her enjoyment showed in her smile, communicated itself to ail she met. Easy to talk to, and totally without pretension, she is remembered with affection by so many people from Heads of State to her local dressmaker.
Now nearly seventy, she is a remarkably good-looking woman with an expression of contentment. She remembers only one bad periods in her married life. "My three daughters all got TB at the same time. My eldest, who was eighteen or nineteen, was very bad and she had to spend two years in hospital. It was before they had discovered the drugs to cure TB easily and people were dying in their thousands from it in this country at the time. It was a real killer, and I was worried to death . . ." Mrs. Lemass kept her two younger daughters at home and nursed them herself.
For over a year they lay in bed upstairs in the big house in Palmerston Road. "I wouldn't let anybody else look after them. It was such a terrible disease at that time, I was really down and out for a year or two .. But they got better, thank God."
And they are all married now Maureen to Charles Haughey, Minister for Justice, and for Agriculture, in her father's Cabinet, and now Minister for Finance. Noel, the only son, is Parliamentary Secretary to Mr. Haughey. And with three daughters and a son married, the Lemasses have fifteen grandchildren. When his own children were growing up, Mr. Lemass was preoccupied with politics and the struggles of the early State, but now he has more time for children.
The immediate impression on meeting Mrs. Lemass is that she is a person whose life is, and always has been, secure and happy.
"I never worried about anything.
It wasn't in my nature to fret over things, and besides, if my husband had problems and upsets, it was better for me to be calm and not be adding to his worries."
But it seems that, apart from the social occasions attached to it, she was rarely involved in the political side of her husband's life. At the time of the Lemass meeting in 1965, Mrs. Lemass was as surprised as anyone. " I would be the last person he'd tell," she said.
Nevertheless, in conversation she is loyal to Fianna Fail, stressing the positive aspects of the party's rule and speaking enthusiastically of the men now in charge.
Plump, dignified, motherly, with her warm, uncomplicated personality, Mrs. Lemass softened the image of the Lemass era.