Profile: Off the Hook

For much of his life, George Hook was a struggling businessman. But in 1997, aged 57, an RTÉ appearance launched his career as a rugby pundit, eventually leading to his own show on NewsTalk. By Colin Murphy.
Tom McGurk is coy about whether George Hook is a "difficult" colleague on RTÉ's rugby panel. "There's always difficulty with genius," he says, chuckling. "How the hell could you shove egos that size into a studio? It's like trying to get four rhinos into a bath."
Before the Ireland-Australia match, the atmosphere in RTÉ's Lansdowne Road studio seemed strained. Hook, bellicose, had cut across Brent Pope to observe that Ireland needed more "fatties". Popey had demolished Hook's argument with cutting efficiency. Such conflicts may be grist to the mill of RTÉ's rugby panel, but this one seemed to have a bit more of an edge to it.
"It was a genuine argument," says Pope. "George and I don't socialise together. Anything that's an argument on the day is never pre-rehearsed."
The panel trades off their "clash of personality styles", he says. So does that clash ever spill over into acrimony?
"There's no falling out. If we do have a heated discussion, and sometimes it can go on after the discussion on the panel, it's never disrespectful."
To Tom McGurk, Pope is the straight man to balance Hook's flamboyance. Hook is "a wonderful grumpy old bollocks", he says. Together, they make for "very male TV", he continues, relishing it.
"We're the last lunatics left who haven't been tamed by political correctness."
The three have become a fixture on RTÉ since their debut as a threesome in 1999, in a conscious effort by the station to mimic the success of its regular soccer panel – Bill O'Herlihy, Eamon Dunphy and John Giles.
McGurk describes their act as "like a soap" – and it has pulled in ratings to match. Average viewership for the Six Nations rose from 211,000 in 2004, to 227,000 in 2005, to 286,000 last year. A record 643,000 people tuned in for the whole of Ireland's Six Nations victory against England last year. Anecdotal evidence suggests that, for many, the panel is a crucial part of the package.
Hook manages the tricky act of being respected for his analysis and notorious for his inaccurate predictions. Rugby writer Ed Newman says one of the reasons he's so popular in Munster is because "he always says something that Munster fans can come along after and say he got wrong". Yet, in the press box at Lansdowne Road, after a match, the room goes quiet when Hook comes on the TV as the journalists gather round to listen.
Hook owes his fame, his financial stability, and possibly his life, to rugby. For much of his adult life he was a shockingly bad businessman, leading him, in 1989, to the end of Dún Laoghaire pier, where he stripped to his underpants and shirt and contemplated throwing himself in.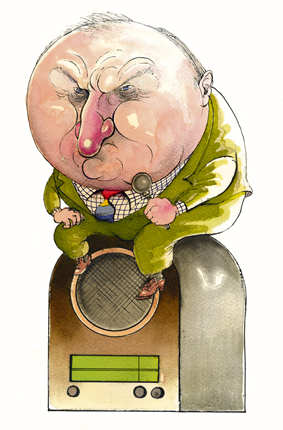 Through the bad times in business, he had always sought refuge in rugby: playing for St Mary's, then moving into coaching, taking on a succession of clubs and sides, eventually coaching Connacht (where he brought Eddie O'Sullivan in as his assistant).
The fact that he never went bankrupt was largely due to his rugby pals extending him ever more credit. Then, aged 57, his career finally came good. He had done a handful of TV appearances over the years and was invited to be the sole panellist for a low-key Ireland v Italy friendly in 1997. He arrived at RTÉ six hours early and immersed himself in preparation. The game was to be one of a number of events on that afternoon but, due to bad weather, all of the others were called off.
The producer came to him just before they went on: "George, can you talk for four hours?"
"That won't be a problem," he replied.
By 2001, he was well established as a pundit and was asked to try out for NewsTalk 106, which was planning its launch as a new Dublin radio station.
The station crafted an image around him of a pugnacious broadcaster and found a name to fit: The Right Hook. That image has proved misleading: Hook is not a hardhitting or controversial broadcaster. He doesn't believe in "asking the hard question". He explained his approach in an interview with Village last year:
"We are not in the business of changing the world. We are not in the business of feeding the hungry or clothing the naked. We're not in the business of finding out if a politician has a mistress... or an Ansbacher account. I don't think our job is to scoop."
According to one former colleague, his strengths on air are that "he'll never pretend he understands things he doesn't understand" and that "he doesn't go in for the kill or grilling".
And his audience seems to like this: he has slowly but steadily built a listenership in Dublin of 39,000 – just ahead of his main rival, Matt Cooper on Today FM.
"When I sit there [in studio], in my head I've a picture of a person stuck on the M50, he's giving out yards, it's two hours to home and he says, 'I've got Hooky to bring me home,'" Hook has said.
For all that geniality, behind the scenes has been a different story. He has a reputation for being difficult to work with, for not appreciating the support work done for him, for not brooking criticism kindly. One former colleague at NewsTalk recalled regular periods "where he'd come into a meeting, put his head into his hands and sigh for the whole of the meeting", and occasions when "he wouldn't speak to a member of the team for extended periods of time". Another described him as having "an enormous ego" and being "extremely sensitive".
That said, it would be difficult to trump Hook's own portrayal of himself in last year's autobiography, Time Added On. For a long period of his life, he was a liar, a fraudster, a Revenue cheat, a coward and an absent husband and father.
He was born in 1941, in Jew Town in Cork, where his parents saved money to send him to the private Presentation Brothers, but couldn't afford to send him to college.
After early business success as a salesman, he went into the catering business, where he passed up an opportunity to take on the McDonald's franchise, but got into film-location catering – "an element of the business that nobody else would touch", according to one caterer, because of its high overheads and awkward logistics.
He was "brilliant at borrowing money" and found himself juggling loans, credit and bad cheques as he failed to get a grip on his business and his losses mounted. He was on the cusp of a nervous breakdown, but never quite went over the edge.
At its nadir, he was afraid to go home in the evening because there would be creditors demanding payment. Instead he would have dinner in some anonymous hotel and drive for hours around the city.
The success of his rugby punditry rescued him from all that. He repaired his marriage to Ingrid, paid off his debts and started a new pension plan two years ago, at the age of 63.
He says he will retire in 2008 – if he makes it till then. If not, he says, "I'd like to bow out like Tommy Cooper did... live on air, maybe at fulltime during a Six Nations broadcast, preferably after I've offered my analysis of the match and before Popey has given his."
His autobiography closes with a telling observation: "I can't understand why Greta Garbo wanted to be alone. I make no bones about it: I love the attention; even if people are telling me they thought I was wrong about something. It means they watch me, read me or listen to me."