Pictures of Clarence Hotel redevelopment released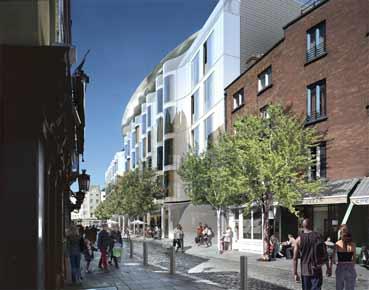 Plans for a 'dramatic redevlopment and expansion' of the Clarence Hotel, situated in Dublin's Temple Bar, will soon be submitted to the Dublin City Council for consideration. Computer-generated images of the finished development have been provided to Village by the architecture company leading the redevelopment, Foster and Partners.
The proposed project involves the restoration of the existing facades on Wellington Quay and Essex Street East. The development plans to incorporate the former Dollard printing works and four Georgian buildings on Wellington Quay. However, the facades of these protected buildings will be retained.
At the centre of the development, an atrium-like "skycatcher"  will pull daylight 'deep into the base of the hotel' and will 'embrace' the main public space at ground level. This area will be publicly accessible from both the riverfront and Temple Bar, and will house restaurants, shops, cafés and bars.
The new hotel will have a total of 12 storeys; eight above-ground floors with a total height of 34 metres, three basements and a lower-ground floor where a spa (1,360 square metres), swimming pool, conference and banqueting facilities will be housed. A 'sky room' and viewing terrace will be construced atop an elliptical canopy at roof level.  
The number of rooms will increase from 34 bedrooms at present to 140 rooms including 12 suites and 14 superior suites.  
The hotel is owned by Bono and the Edge from U2 and property developer Paddy Killen. Some estimates place losses for the Clarence over the past 10 years at almost €12m.
More: www.fosterandpartners.com; www.theclarence.ie.
Images above provided by Foster and Partners and below by the Clarence Hotel