Oscar Shooter

He wrote seven plays in nine months in 1994, and has spent the years since receiving awards and plaudits – but not writing. Now his first foray into film has won him an Oscar. Ailbhe Jordan profiles Martin McDonagh.
Martin McDonagh's Oscar acceptence speech was short and precise, with just a touch of irony. Addressing one of his cast, Rúaidhrí Conroy, who had been refused entry to the US because of a past visa problem, McDonagh said: "I'm sorry that you couldn't be here tonight, but I hope next time they let you into the country."
McDonagh was accepting the Best Live Action Short award for his cinematic debut, Six Shooter, which he wrote and directed. Nervous, and leaning awkwardly to one side, he gave his thanks and wished good luck to the cast and crew of his play, The Lieutenant of Inishmore, which is currently playing on Broadway.
McDonagh's grey hair adds to his 36 years, but his twinkly blue eyes and gap-toothed smile suggest an underlying mischief. He is difficult to read, as are his plays, though not as difficult as they are to watch. The Lieutenant of Inishmore, for instance, opens with two men holding up a dead, almost beheaded cat, as its insides spill loudly onto the kitchen table.
His films will be similarly macabre, if Six Shooter is any indication. The film stars Brendan Gleeson as a man who boards a train on the day of his wife's death, only find himself in the company of an apparently psychotic young man.
It is appropriate that this, McDonagh's biggest accolade to date, is for his first work in film, given that he learned everything he knew about writing from watching television.
From the age of 16, when his formal education ended, McDonagh immersed himself in pop culture, watching films, television programmes, soap operas and listening to music of The Clash and The Pogues at home in Camberwell, where he lived with his parents and older brother, John.
McDonagh's father, a native Irish speaker from Galway, and his mother, from Sligo, raised their sons in an Irish community in London, encouraging them to embrace their heritage by playing hurling, learning Irish and listening to Irish music. McDonagh was not interested.
"I was never any sort of nationalist," he said in an interview with the Irish Times in 1997. "It always struck me as kind of dumb, any kind of pride in the place you happen to be born in. Even culturally, I don't think you can take too much pride in what your predecessors in your country have written. If you haven't written it yourself, you're as close to it as an Eskimo. You hear people saying, 'we have got the greatest writers in the world'. When I hear that I want to ask, 'did you write anything lately? What have you got to be proud of?'"
Leaving school, McDonagh had no notions of doing anything more productive than collecting unemployment benefits, which he did for a number of years between working in menial jobs.
However his older brother, John, had notions of writing – he is now a successful screenplay writer – and Martin took to reading the books his brother would bring home. He was particularly fond of the fabulist writings of Jorge Luis Borges. Around this time, Martin McDonagh started to compose his own short stories.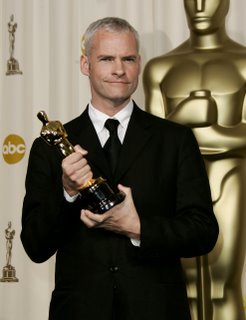 When John moved to California in 1994 to pursue a fellowship in Screenwriting, Martin had the family house to himself (His parents retired to Spiddal in 1992, where he is still a frequent visitor). He started writing plays, sometimes scribbling furiously to keep up with the rush of characters' voices as they came to him, breaking only to watch the afternoon soaps.
Nine months later, he had written seven plays: The Pillowman, the Leenane trilogy and the Aran Islands trilogy, which includes The Banshees of Inisheer, the only McDonagh play that has not been staged.
He sent the script for The Beauty Queen of Leenane, the first play of the Leenane trilogy, to theatre companies all over Ireland and the UK. In Galway, Druid theatre company's Garry Hynes spotted its promise, and took it on. That debut production, in 1996, was an immediate hit: The Beauty Queen stormed its way from Galway to Dublin, to London, and then to New York, where it won four Tony awards (in 1998).
By 1997, aged 27, Martin McDonagh had become the first playwright since Shakespeare to have four shows showing simultaneously in London. He won consecutive Olivier awards for The Lieutenant of Inishmore and The Pillowman in 2003 and 2004.
The Pillowman received six Tony nominations after it debuted on Broadway last summer, but ultimately lost out to John Patrick Shanley's Doubt for the big awards, picking up awards for lighting and set design.
The juxtaposition of violence and comedy in McDonagh's plays has led to comparisons with Joe Orton and Quentin Tarantino, who McDonagh counts amongst his main influences. But it's a delicate balance that compels some audiences and upsets others.
"If Monty Python had ever tackled the issue of Irish terrorism, they might have created something as wild, as brilliant and as weirdly exhilarating as The Lieutenant," Howard Kissel wrote in the New York Daily News.
Irish-American theatre critic Joe Hurley described The Lieutenant as "the most unrelentingly cruel play on any New York stage within memory".
The awards and acclaim have flowed steadily since his debut production in 1996, but the plays have not: aside from those nine months of extraordinary creative output in 1994, McDonagh has never written another play, and has said he does not know if he ever will.
What he does with his free time is anyone's guess. He is single, said to be deeply shy, and does not appear in public very often. His occasional public forays have sometimes ended in disaster; at one awards ceremony in London's Savoy Hotel in 1997, he reportedly told Sean Connery to "fuck off".
Last summer, the New York Post's gossip column gleefully insinuated that McDonagh had sneaked off to the Bahamas with a mystery woman after the Tony Awards celebrations.
"He's a very polite guy, very gentle. This image he got of being a sort of drunken, aggressive Irish playwright... in the 1990s, that itself came out of shyness," says Fintan O'Toole, who interviewed McDonagh recently for a piece in the New Yorker magazine.
"He adopted this persona to some extent. He has told me this was a way of dealing with the world that allowed him to function as a very shy person. He's actually very likeable."
McDonagh's Oscar win will undoubtedly open doors for him in the film industry. Next year he will direct a feature length thriller set in Belgium, entitled In Bruges. But hopefully, his speeches will remain short.