Old railtracks in Donegal

This walk follows bog roads and a dismantled railway. Trains served Donegal's north coast, linking Letterkenny with Burtonport, until the line closed in the 1940s. We parked the car at McCarry's bar, Kildarragh, near Creeslough, and followed signs to Lough Agher below Muckish mountain.
Mountain sand was exported to England to make glass. Tall Muckish grand with glistening sand: words from Neil McBride's song, 'The Hills of Donegal', seem to echo over the stony byroad beside the lake. From Lough Agher, we followed the dismantled rail route along an embankment and avoided wet patches by taking narrow tracks through the heather.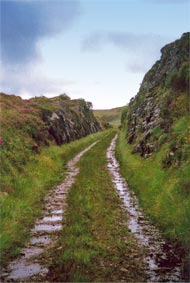 The rail route crosses bog roads and continues by stepping stones over the Agher River. Two hours after starting out, we reached a tarmac road near Fiddler's Bridge. The former Falcarragh station is now the Gallagher brothers' home. In their back yard hens peck on the old station platform. Visitors respect the privacy of the people living in former railway property.
Thanks to Brian Moriarty, walk leader, and to David for the lift back to McCarry's where we had tea, scones and music at Kildarragh Fair.
TONY QUINN
?More Maps, OS Discovery nos 1 & 2. Railway Heritage Centre, Donegal. That old sinner, Letterkenny and Burtonport Railway, Frank Sweeney, 2006. Access from N56, between Creeslough, Dunfanaghy and Falcarragh. Description of routes does not imply that rights of way exist