The nouveau-Mod intent on shaking the system

Most of those who know Dylan Haskins found him through the now infamous Youtube video that launched his campaign as a candidate in Dublin South-East. The short video showcasing the articulate nouveau-mod was an instant hit and has clocked tens of thousands of hits (video is embedded below). Interview with Eamonn Costello.
Indeed, it was his catchy video - named "It Starts Here" - along with Haskins' articulate voiceover that caught the attention of many in media circles and helped Haskins raise his profile to one of the most recognised Independents in the campaign. Last week he was one of the panellists at Republic2011 in the Button Factory, he has featured on several broadcast outlets, he is described as a 'New Statesman' as the coverboy of the latest edition of Dubliner, and later today he guests on TV3's 'Tonight show'. All very impressive for a guy who weeks ago was unknown in political and media spheres.
It is immediately noticeable in speaking with Haskins is that he is not relying on the predictable protest vote. Nor is he a single issue candidate that many expect Independents to be. He is seems genuinely passionate about politics, Ireland and reforming 'the system'.
He is one of the youngest candidates in the election and in a minority group – only 33 of the 566 candidates in this election are younger than 30 years of age. Perhaps his youth explains the fresh ideas and thinking that sets Haskins apart, ideas he says are badly needed in the next Dail.
"I started in local activism at the age of15 when local politicians ignored my contacts for some assistance," he says. "Since then I mobilised and organised within the creative sector."
"I don't see real reform coming from any of the main political parties," he says, and this is one of the strengths of Independents. Others, however, might argue (as blogger Suzy Byrne did on RTE's Frontline this evening) that exposure to the party system is necessary to hone the legislative nous required to implement real reform.
One edge Haskins' has on most of the political parties is transparency in his political funding – all fundraising and expenditure is listed on his website. True to form, his funds were raised through online donations and fundraising at gigs which have also helped energise his campaign.
He believes this is an example where new politics starts - to raise the bar in terms of openness and transparency and points out that Fine Gael blankly refuses to disclose the sources of its donations.
On political reform he believes abolishing the Seanad is a red herring, and that a scaled down Seanad is needed "to keep the Dail in check". "Political reform needs to start at the local level," he says. To do this he proposes a cross-party citizens' forum involving TDs and councillors, where local people can raise issues. Where local issues are not being handled - the TDs ask the councillors why the job isn't being done, akin to public shaming. He believes that when local people see there is a method and a forum to handle local issues, this will help end the clientism of constituency politics.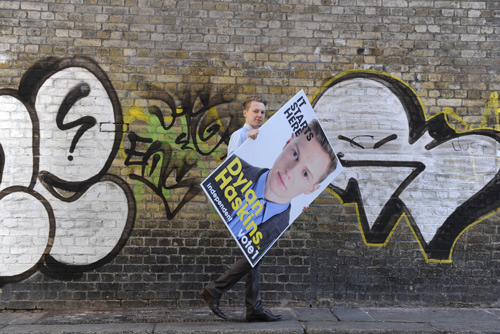 He believes that while there needs to renegotiation of the banking debt, the massive structural deficit is at least as big an issue. He proposes wide scale public service reform and gives an example of having a public service procurement agency which would go through spending with a fine-tooth comb to ensure every area of the public service was getting the best value for money. He is not alone in this belief; the prominent political academic Elaine Byrne said at the #WikiPol event on political reform in Trinity College Dublin on Saturday that the single most important issue to regain public trust in politics is transparancy on donations. 
Local reform aside, these principles are broadly in line with many other Independents and political Parties. The difference with Haskins is that he is believeable. Although he said in the Dubliner interview that he is running on adrenalin at this point in the campaign, he certainly sounds energised to bring about real change in this interview with Politico over the phone.
With four seats up for grabs and with high profile candidates such as Lucinda Creighton, Ruairi Quinn, Paul Sommerville and John Gormley, there will be a battle for the final seat in Dublin South East. Regardless, Haskins is a name to watch as the ballots are returned this weekend, and for the future.