No hard questions asked of Charlie Haughey, then or now

It was obvious throughout the period when he was Taoiseach and leader of Fianna Fáil that Charles Haughey could not possibly have financed his lifestyle from his official salary. And yet the media and the political establishment did not want to know. By Vincent Browne
When Charles Haughey first entered politics in the 1957 general election, he and his family lived in a modest, middle-class home in Raheny, Dublin, a house probably worth around €4,000 at the time. By the time he became Taoiseach in 1979 he was living in the Gandon mansion on 260 acres at Abbeville, Kinsealy, then worth probably £12m (since sold for €40m). In addition he was living a lavishly expensive lifestyle – frequent meals in the poshest restaurants, designer shirts, shoes and suits, a yacht, a helicopter at his command, an island home off the coast of Kerry, racing horses in his stables, fine paintings. (In an exchange during the McCracken tribunal hearings he said: "I didn't have a lavish lifestyle. My work was my lifestyle. I worked every day, all day. There was no room for an extravagant lifestyle.")
The question of where he came by such wealth dominated private discussions but almost never was it raised in public, either by the media or by his political associates or opponents. The prevailing media and political culture deemed such public questions and speculation impolite, even though there was an obvious potential conflict of interest.
When a few journalists attempted to raise questions about Charles Haughey's wealth at press conferences, they were shouted down by political correspondents and other political reporters, as well as by party activists who attended such events. On the last occasion this occurred, at the final press conference of the 1989 general election campaign, one of the best-known political correspondents at the time cut across a line of questioning about Haughey's finances by asking: "Taoiseach, how do you think you will do in the marginals?"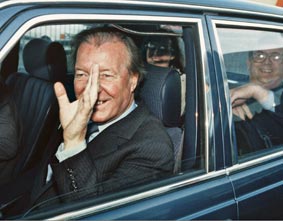 And the very time that he was answering questions – or rather refusing to answer questions – about his personal finances at that press conference, £150,000 from Ben Dunne was weaving its way through Swiss and London bank accounts towards his coffers, then supervised by the late accountant Des Traynor.
The question that was pushed on him again and again by a few journalists at such press conferences was: "How is it that, when you entered politics in 1957 you were a man of modest means, you are now a man of lavish means? How did it happen?" The question was obvious and the refusal to answer suspect. And yet it was an issue never pursued at any time in the mainstream media. Only when he was out of power and close to death was the media emboldened to raise such issues. (The very political correspondent who cut off questions about Haughey's finances in 1989 has been on television in the last few years speaking about Haughey's unexplained wealth.)
The following is what is now known about Charles Haughey's wealth.
Mansions, mares and Matt Gallagher

In 1960 he sold the modest semi-detached home in Raheny and bought a considerable mansion, Grangemore, for around £10,000. He was a parliamentary secretary (ie junior minister) at the time on an income of £2,000. There is no suggestion he obtained this property other than legitimately.
In 1962 he bought his first race horse, Miss Cossie. He was then Minister for Justice on a salary of £3,000. He may still have had an income at the time from the accountancy firm he and Harry Boland established in the early 1950s, Haughey Boland.
In 1968 when he was Minister for Finance on a salary of around £5,000 he purchased Rath Stud in Co Meath – 130 acres. In February 1969 he purchased Abbeville, Kinsealy for £120,000. He paid for the Rath Stud and Abbeville from the proceeds of his sale of Grangemore for £204,000.
There was a suggestion that he purchased Grangemore in 1960 on an assurance from Matt Gallagher, the late builder, that he would purchase the property from him later. But it seems unlikely Matt Gallagher could have expected any favours in return as Haughey was then only starting out in politics. In any event, the purchases of Abbeville and Rath Stud seem to have been unexceptional because of the funds that were available to him at the time from the sale of Grangemore. The Revenue commissioners in recent years examined the financing of the Rath Stud and, apparently, found nothing.
Almost 30 acres of the Kinsealy estate once belonged to Roadstone Ltd – one of the precursors of the Cement Roadstone Holding (CRH) company which came into being following the merger of Irish Cement and Roadstone Ltd in 1970. Haughey's father-in-law, Sean Lemass, was the company's first chairman and Haughey's accountant, Des Traynor, was one of CRH's first directors and a later chairman.  
According to one of the folios relating to Abbeville, Roadstone Ltd owned 30 acres of the Kinsealy Estate from 1964 until October 1968, when it sold the property to a company called Farm Equipment (Eire) Limited, which sold it on to Abbeville Ltd four months later. Abbeville Ltd was the company Haughey used to purchase Abbeville.
It was stated that in 1975 Haughey sold a number of acres back to Cement Roadstone for more than £120,000 – the original price he paid for the entire Kinsealy estate in 1969.
Abbeyville Ltd was liquidated (voluntary) in 1975 and the legal ownership of Kinsealy estate was transferred to the names of Charles and Maureen Haughey. The liquidator of Abbeville Ltd was Jack Stakelum, a former colleague from Haughey Boland and the person who managed Haughey's household expenses between January 1991 and December 1996.
In 1970, the year of the arms trial, Haughey used Rath Stud and Abbeville as collateral to raise a £200,000 loan from the Munster & Leinster Bank.
His next big expenditure occurred in 1975 when Haughey was a TD earning a salary of less than £10,000. Using a company called Larchfield Securities Ltd, Haughey bought the island of Inishvickillane, off the coast of Kerry. While it reputedly cost him only  £20,000, hundreds of thousands pounds more were spent on the building of a holiday home on the island, with solar panels, its own telephone line and windmill for electricity generation.
In the same year (1975) the Munster & Leinster Bank loan  of £200,000 was cancelled. At the same time, the Rath Stud and Abbeville were used for yet more borrowings – this time £247,000 from the Northern Bank Finance Corporation and £179,000 from AIB.  
In 1976, the AIB loan was extended – initially to £190,000 and again in 1977 to cover advances up to £350,000. There were two small acquisitions made in 1977: three acres in Wexford (via Larchfield Securities) for an unknown sum and an additional eight acres to Abbeville for £22,500. Later in the year, Haughey sold Rath Stud for an estimated £300,000.
The following year he bought a trawler for £35,000 and had it refitted for family use for a further £15,000.  
By the time Haughey was 50 (1976) he was obviously a wealthy man. His estate in Kinsealy was home to pheasants and racehorses. In 1979 the Irish Times reported there were as many as 30 racehorses, including 10 brood mares on the estate.  
The 12-bedroomed Gandon mansion, including the 16-foot high ballroom, was completely refurbished and housed a valuable collection of Irish art and antiques. The wine cellar was reportedly stocked with prestigious wines. Outside, there was a swimming pool, a large fountain, a helicopter hanger, a lake, a small farm and woodlands containing a rich variety of precious trees.
Evidence given at the McCracken tribunal suggested the upkeep of the property and household was almost £300,000 a year between 1988 and 1991.
In the red
In September 1971 he owed the bank £244,000. He owned shares in Tara Mines and in another mining company, Whim Creek, worth £23,000. He had an interest in Simmonstown Stud, valued at around £50,000. He also owned Rath Stud valued at around £100,000.
In an interview with this journalist in 1978 he was asked about his finances. He said he financed his lifestyle through bank borrowings. He said he was able to do this because of the value of his property in Kinsealy. It has transpired that was true. At the time he was running up a huge overdraft with his bank, AIB on Dame St, Dublin, to the consternation of bank officials.
On 1 October 1976 the bank sought to take his cheque book from him. He was indignant. They ended up giving him more facilities on the understanding he would sell 150 acres at Abbeville.
Once back in office in 1977 (Minister for Health and Social Welfare from 1977 to 1979, when he became Taoiseach) his finances got into a deeper mess. This was in part attributable to the cost of building a holiday home on Innisvickillane. By July 1979 he owed AIB £913,279. At the time the interest rate was 26 per cent.
It meant that at the time he became Taoiseach in December 1979 he was in serious financial trouble, that is, if he insisted on keeping Abbeville, which even then would have been worth a multiple of his borrowings. There is no indication he gave any thought to selling Abbeville at the time to sort out his financial problems. Instead he compromised himself two days after he was elected leader of Fianna Fáil and two days before he was appointed Taoiseach – this was on 9 December 1979 when he was at home in Kinsealy thinking of the formation of his cabinet.
On that day he met with Patrick Gallagher, son of property developer Matt Gallagher. Patrick Gallagher was then a precocious young man in his 20s. He agreed to give Haughey £300,000 as a non-refundable deposit on the purchase of 35 acres at Kinsealy for £1.325m. The purchase was never completed and is regarded as a cover for the gift of £300,000.
Des Traynor did a deal with AIB, whereby Haughey was to pay a total of £750,000 but was to continue to owe the bank £150,00 as a "debt of honour" (incidentally, never honoured). The £300,000 from Patrick Gallagher went towards this and Des Traynor raised £450,000 through Guinness and Mahon of which he was then a director. But the scale of Haughey's expenditure remained undiminished and his borrowings increased and it is with his finances during the period 1979 to 1992 that the Moriarty tribunal has been concerned.
The following are some of the discoveries made by the tribunal:
• Sums in excess of £1m intended for Fianna Fáil were diverted to his personal accounts.
• There was a surplus of around £70,000 on the monies received from donors who wanted to finance the late Brian Lenihan's liver transplant in the Mayo Clinic in America and the expenses that were paid on behalf of Brian Lenihan. The inference is that this surplus was were diverted to Charlie Haughey's personal accounts.
• He received a total of £1.93m from Ben Dunne, some of this (stg£250,000) received after he ceased to be Taoiseach.
• He received several million pounds from other donors during the period.
But a crucial issue is whether he did anything in return for donations and the evidence is at worst inconclusive.
He arranged for passports to be supplied to a Saudi Arabian family, the Fustocks, and they paid him £50,000, allegedly for a horse. And he arranged an interview for Ben Dunne with the then chairman of the Revenue Commissioners, Seamus Paircear. But there is no evidence that Ben Dunne or his family benefited at all from that introduction.
A further question that arises in connection with his finances and the donations he received is why did any one think he was ever in financial trouble since at all times that he was Taoiseach and leader of the opposition he owned that hugely valuable asset at Kinsealy? π
...No hard questions now
The media and political establishments continue to refuse to ask the obvious hard questions, this time of the current Taoiseach, Bertie Ahern. These questions include:
Fianna Fail monies
1. Charles Haughey diverted well over £1m of monies intended for Fianna Fáil to himself. We have known about this for several years now. As leader of Fianna Fáil with a duty to look after the interests of the party, why did you not insist on the return of those monies to the party?
2. We know that Tom Gilmartin gave £40,000 to Padraig Flynn in 1989 and intended that to be given to Fianna Fáil. Why have you not insisted on that money being paid over to the party?
3. We know from Ray Burke himself that he retained up to £100,000 monies intended for Fianna Fáil. Why have you not insisted on that money being repaid?
4. Is it not obvious that your failure to pursue these issues arises from an apprehension on your part that the pursuit of these monies might uncover other scandals concerning the party that you deem best left uncovered?
5. You were told that Mark Kavanagh, the property developer, gave monies to Charles Haughey in June 1989, intending those monies to be lodged with Fianna Fáil and that Mark Kavanagh never got a receipt in connection with that donation. How is it that when you heard of this you made no enquiries about the amount involved, the circumstances in which the money was paid and the reasons a receipt was not sent to him?
6. Even when you discussed the issue with Mark Kavanagh you ask us to believe that in the course of that discussion no mention was made of the amount or of the circumstances in which they monies were paid?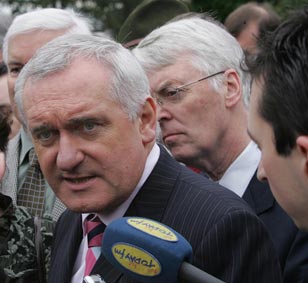 Ray Burke inquiry
7. Why, when you claimed to have been undertaking thorough enquiries about the fitness of Ray Burke for ministerial office in June 1997, arising from reports that he had received £30,000 from the construction company JSME, you made no enquiries of your party officers, including the former finance director, whether they had any information concerning payments made to Ray Burke or donations made to the party via Ray Burke?
8. Why did you appoint Ray Burke to the position of Minister of Foreign Affairs in June 1997, knowing that he had received £30,000 from JMSE?
9. Why did you pretend to send Dermot Ahern on a fact-finding mission to JMSE to discover whether JMSE had paid Ray Burke £30,000, when you know already, from Ray Burke, that the payment had been made? What was that elaborate charade all about?
10. How can you explain that when Ray Burke told the Dáil on 3 September 1997 that he had handed over £10,000 of the £20,000 he received from JMSE, nobody among your party officials told you this was untrue – that the £10,000 he handed over had come not from JMSE but from Tony O'Reilly's Fitzwilton?
Tony O'Reilly and Eircom
11. Why did the government secretly support the bid by Tony O'Reilly's Valentia for the purchase of Eircom, knowing that an inevitable consequence of the manner in which he was proposing to finance that bid would be a failure to invest in broadband (the government gave a secret undertaking to Valentia SOP – the employees' trust – that tax legislation would be amended to protect them in the event of they accepting the O'Reilly offer, an undertaking not disclosed to the other bidders).
Personal finances
12. Where and how did you save £50,000 between 1987 and 1993, when, according to yourself, you had no bank account?
13. Why would friends of yours have given you £16,000 in October/November 1994, a year after your marriage separation was formalised and some 10 months after the £22,000 "whipround" in December 1993 to help you in difficult circumstances?
14. How do you explain the extraordinary coincidence that when your Manchester friend, Mícheál Wall, first viewed the house which he subsequently purchased and then later sold on to you, he did so in the company of your then partner, Celia Larkin?
15. You have stated that you rented that property with an option to purchase. When you agreed on the purchase option, what was the price agreed?
16. What evidence can you offer that the purchase of your house did not derive from a prior arrangement with Mícheál Wall, whereby he would assume ownership of the property, rent it to you for a few years and then sell it on to you at a prearranged price?
17. And if that latter is the case, why would you enter into such an arrangement?