Natural born presenter

RTÉ presenter Derek Mooney, innovative, humorous and talented, has made a wildlife show one of the most popular radio programmes in the country. By John Byrne
Before the tabloid press, with the unthinking help of Ray D'Arcy and Des Bishop, intruded to make his private life front page news, Derek Mooney was best-known for what he does worst: presenting Winning Streak on RTÉ television. But although this no-brain gig has made him a household name, along with You're A Star, it doesn't tell the real story: according to critics and friends alike, Derek Mooney is one of the most original and creative people working in Irish media today.
He has made a wildlife radio programme, which is broadcast during off-peak hours, the eighth-most popular radio show in the country. Mooney Goes Wild on One, which can be heard at 11am on Saturday mornings recorded 257,000 listeners per quarter hour in the recent JNLR listership figures, beating Marian Finucane, Ian Dempsey, Five Seven Live, Marty Whelan and Ray D'Arcy. It receives 150 emails a week and a huge number of telephone calls. Critics love it. It is hosted by Mooney, and with regular guests Eanna ní Lamhna, Richard Collins and Terry Flanagan, he has created an accessible, anarchic, humorous and massively entertaining show about Irish nature, which is driven by his enthusiasm and ideas.
"Derek has huge intelligence and wit," says Helen Shaw, who was head of Radio at RTÉ while Mooney Goes Wild was growing its audience – she gave him his first contract at the station. "He's very bright, he has a good voice and he has the ability to make the abstract interesting. He's never afraid to ask a stupid question, never afraid to stop an expert and go, 'hold on, what do you mean by that?' He has got people excited by nature. He created the panel with Eanna [ní Lamhna] and Richard [Collins] – it was all his creation. It's accessible, popular and family-orientated. Grannies and children love it. It has made a difference."
When Derek Mooney was a child growing up in Donnybrook, it wasn't nature that attracted him – he wanted to be a broadcaster. He saw the Late Late Toy Show and decided that he wanted to be either one of the children playing with the toys, or he wanted to be Gay Byrne. School didn't suit his energetic persona, or his low boredom threshold – although he excelled at English and science, and was a champion high jumper – and he didn't mix much with other pupils. By his mid-teens he was working as a runner in the national broadcaster.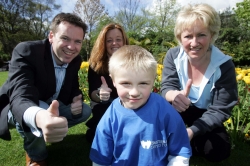 After he left school in 1986, he worked part-time for RTÉ, and supported himself by working as a sales rep with the sports company Puma. He went wherever the work was in RTÉ, working on religious shows and children's television.
But Derek Mooney knew he needed a niche if he was to make it as a broadcaster. He was interested in nature, and RTÉ were doing very little of that kind of thing, so he made up a pilot and begged the radio authorities to give it a go. After he'd harangued them enough, they gave in.
"He came up with the idea for the nature programme, and we were happy to go with it," says Kevin Healy, who was then in charge of RTÉ Radio. "It was educational and it was an area we were not really covering. But he was so enthusiastic and hardworking that anything that he did would have been a success, so we had confidence in him. He was constantly coming up with ideas that weren't on the radar, that other people weren't coming up with. He had some really innovative ideas, and wasn't afraid to suggest we dump the whole schedule for his programmes."
In May 1995 the first Mooney Goes Wild was broadcast. However, it was in a much shorter format than the present hour-long incarnation and was constantly moved around the schedule. This gave him time to work on other projects in RTÉ: he presented and produced Liveline among other things. It wasn't until four years ago that Mooney Goes Wild was given a regular weekend slot.
In the meantime, Derek Mooney's television career began to take off. Mike Murphy, who was the regular presenter of Winning Streak, was out of work with illness, and Mooney was asked to deputise. It wasn't until six months later that he was asked to take over full time. "It's money for old rope, and it's easy, but I've become attached to it," he told Village. After that, he did Celebrity You're A Star, and had a near miss with the Rose of Tralee. Recent figures released by RTÉ show he was paid €162,95 in 2003.
Although he enjoys his other work, Mooney Goes Wild is his main focus, and he would do it seven days a week if he was allowed. The most important thing about Mooney Goes Wild is that it be entertaining, he believes. He has purposefully avoided getting involved in what he calls "aggro" – ie environmental campaigns and lobbying.
As for the future, he would love to do a chat show which covers broader material. He'd love to do the Late, Late Show too, although he knows he wouldn't be offered it. But he will stick with Mooney Goes Wild. "It's like a child to me," he says. "We spend hours chatting about it every week. I wouldn't give it up. I love that programme."