Moyross ready for regeneration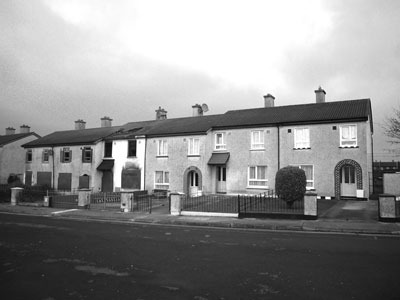 The dereliction of estates in Moyross is shocking. The segregation of the community from adjoining estates and the Limerick Institute of Technology by high, razor tipped walls is striking. But there is a buzz to the place, an active community and people are optimistic about regeneration.
Maurice Quinlivan, a local Sinn Fein representative, said that the Fitzgerald report brought a massive change in residents' attitudes to Moyross. A Sinn Fein poll conducted in February 2007 showed that nearly all the residents there wanted to leave the estate; a poll conducted after the publication of the Fitzgerald showed that the vast majority wished to remain.
Indeed, regeneration is progressing. Some estates are still unkempt, but 50 derelict houses have been demolished since November, graffitied walls are being freshly painted and proper lighting installed.
Policing is a still an issue and intimidation remains, though the problem has vastly improved since 2006. On a visit by Village, a squad car and two pedestrian garda patrols were seen, and two members of the Northside Regeneration Agency (NRA) were seen visiting houses to conduct surveys. Residents associations are in place. They visited regeneration projects in Dublin and have recommended that an that equine facility be built for the teenagers who own hundreds of horses, many of whom roam free at present. An order of Franciscan Brothers from New York refurbished three houses in Dermerge Park where they now live. Rugby, hurling and and other sporting activities have begun for children and teenagers at weekends. Plans are underway to build an alley for the children who play handball against the walls of the newly opened NRA offices. A scramble track was built by the Gardaí and probation services on land provided by a nearby business, Speedline Engineering.
Businesses have expressed an interest in establishing themselves within Moyross. Ray Halloran, the owner of Speedline (the only business to operate in Moyross for the past 30 years) told Village that he has been approached by construction businesses who would like to employ 10 early school leavers per year as apprentices. He believes this presents an opportunity for early school-leavers in Moyross who "fall under no banner" and become embroiled in criminality. Several young people from Moyross have ideas for small enterprises - tyre changing centres, building sulkies - but Mr Halloran says that there is no support structure for young entrepreneurs in Moyross.
Brendan Kenny also believes there is a "willingness of businesses to invest" and envisions a "plethora of businesses" occupying the vacant land surrounding Speedline in five years' time. He is pressing the government to introduce tax incentives for businesses to operate in the area and for property developers to build communities there. He says the onus is now upon the employment agencies to organise themselves now to supply skilled and semi-skilled workers that will be required in three to five years.
Satellite Views of Moyross and Southill (provided by Google Earth). Click to enlarge.