Morning Blog - 07 December 2010
Criticism, analysis, response: The BudgetJam live blog. Email your comments here or comment below.
 12.15 Handing over to the highly capable Harry Browne who'll take you through the afternoon...

12.05 Carl Cullinane sent this, offering us some levity before the bloodletting begins. Cheers Carl!
11.55 Minimum wage cut expected to be in Emergency Financial Measures Bill to be forced through tonight.
11.50   The Guardian is also live blogging our budget today.
Found this there - the two Brians, seen on a mural in South Dublin: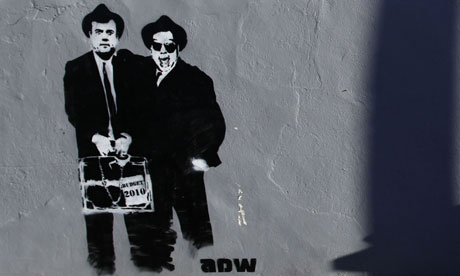 Brian Lenihan coming in for paricuar criticism of his performance: - quoting Press Association's Colm Kelpie:
"Unveiling Budget 2010, he gave an ill-judged upbeat assessment of the state's finances, telling the Dail the country had turned a corner. The remark has come back to haunt him as the state is saddled with the highest Budget deficit in Europe and tied to an 85 billion euro (£72 billion) rescue deal from the International Monetary Fund/EU."
Check out the Guardian blog here.
11.20 Nice variation on the WAWWA theme: 'We are where Fianna Fáil have taken us' - texter to Pat Kenny

11.12 Pat Kenny was just speaking to Aidan McLoughlin of ITC about public sector pensions. The fabulous pensions of ministers headed up the discussion. The conversation segued in and out of the specifics of those pensions and the general pinciples of public sector pensions without distinguishing between the costs and benefits of average public sector pensions - a very different thing. Pensions are for it this afternoon for sure. PK playing his part in creating general perception that public sector pensions are generally lavish? Not a exactly new media theme, but there it was, up for discussion yet again on the morning of the budget.
10.55 This just in from Eoin O'Mahony:
Speaking of default:
http://www.moneyweek.com/news-and-charts/economics/icelands-economic-thaw-51518.aspx
via @smccarron
10.30 The cherrypicker, denuded of its government-critical signage now resting forlornly on the side of Kildare Street.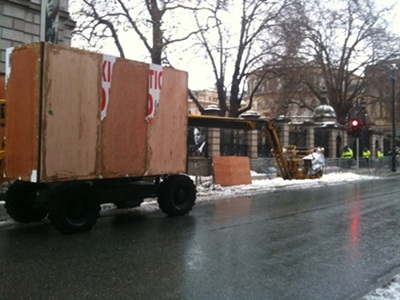 Courtesy of @redmum on twitter.
10.20 The parsimony of Irish Times readers never ceases to amaze. The paper's daily poll this morning asks ' Do you agree with cuts in social welfare?' YES! Screech a staggering 62% of them so far... If anyone has nothing better to do, maybe they would schlep over to this link and inject a little humanity into that poll result. Page back on your browser to vote.

10.05 There are protests a-plenty happening today. Here on BudgetJam we're putting together a list of the various demonstrations taking place during Budget Week. If you want to let us know about a protest we're missing or send photos or comments from demos you've attended contact us at budgetjam@gmail.com

09.45 Nicholas Daly sent us this:
Independent Newspapers never tires in its quest to prove that it is the public sector and not the banks that are the real cause of Ireland's financial problems. On Sunday we were treated to Senator Eoghan Harris urging us to "stop worrying about the bank debt" and focus instead on the overpaid public sector that is bleeding the country dry. Even the IMF could not tackle these vampires, he assures us, because of their "powerful friends". So the real problem with the deal negotiated with the ECB, the EC, and the IMF is not that it sticks us with a crippling rate of interest on sovereign debt to prop up the banking sector; oh no, it is that it does not crush the public sector, with its sinister protectors. This is presumably the kind of grippingly paranoid plot that has made the Senator such a successful screenwriter.
In today's Indo the shape-shifting monster that is the public sector appears in another guise, the Teachers. Readers of Kevin Myers will be surprised to learn that the real reason that schools have been shut has not been the arctic weather conditions. No, they have been closed by Lazy Teachers. (If Senator Harris is to be believed, happily for this latter group, their "powerful friends" will presumably spare the education sector from any cuts in today's budget.)
It is easy to dismiss these pieces by professional controversialists, who are, after all, paid for generating outrage. It would be easier still to undermine the position of the writers. Senator Harris, after all, seems happy enough to draw his (public-sector) salary as a senator while working as a columnist, and he seems happy enough to, work part-time for a numbers of (public-sector) colleges. But the sheer relentlessness of the campaign in recent weeks is of interest as a symptom, because it suggests that what Independent Newspapers is really afraid of is the possible end of the low-tax, centre-right consensus that has dominated Irish politics for many years.
09.30 Restoring 'Sanity' - Irish Examiner-style
Irish Examiner playing both ends against the middle this morning. The paper has relentlessly campaigned for cuts. Day after day for months on end it has sermonised from its editorials and elsewhere about the 'grim necessity' for 'savage' and 'devastating' cuts. It has thundered about the 'profligacy' of the public sector, excoriated even the mildest of trade union resistance, thrashed teachers' pay and conditions and talked endlessly of the need for 'competitiveness' and 'flexibility'.
A Fine Gael newspaper to its core, this morning its editorial tries very hard not to reveal its delight at what is about to happen but it hopes that the government together with the IMF and the ECB will 'restore sanity'.
"None of this is as anyone would wish, indeed the sense of inequity and failure it will probably provoke may polarise society even more at the very moment when a sense of common purpose is essential."
Translation: actually this is exactly what we have been asking for all along, thank god the day has finally come and this is going to hurt you more than it is going to hurt me.
"Each and every one of us, every family and business, must hope that their proposals work."
They won't work, Mr Vaughan, Editor (who told Vincent Browne on television that he favoured Colum McCarthy for Man of the Year in 2009). Not least because editors like you have ruthlessly refused a serious discussion of alternatives to what is being done.
Read more here.
09.26 Miriam here now, taking over from Therese.
09.00 The protester in the cherry picker blocking Kildare Street reached roof height of the National Library, stayed up there for an hour and twenty minutes, played Coldplay while there and at 8.40am lowered himself and was promptly arrested. Fair play!
08.26 Eadaoin caught this on Morning Ireland: 'Some traders in New York said [the European bailout fund] should be a thousand billion euro at least, to reassure the markets'
Translation: 'We'd like a thousand billion euro, please. Thanks.'
And Eoin says RTE reverts to economists and men! Orthodoxy restored.
Thanks guys, keep it coming.
08.15 Can Eric Cantona bring down the financial system? He thinks so as he urges a bank run. Today, he'll be going to his local ATM to withdraw all his money. Do the same, he says. French Finance Minister Christine Lagarde counters with "I think it's best for everyone to stick to their own speciality." Vive Eric. Et le footie...
08.00 Newsflash: a cherry picker crane festooned with slogans is blocking the entrance to Leinster House. The gardai are there. Hope they're having fun...
07.55 Which brings us on to "All in this together". Really? Don't think so. The UK's Women's Budget Group of almost 100 female academics and policymakers finds that cuts to public services are pushing the fight for gender equality into reverse. Sounds familiar as our coalition plans slashes to welfare, the minimum wage, child benefit, the community sector, the public sector. While the UK's Fawcett Society, which promotes gender equality, has lost its court challenge to the legality of the UK budget (the judge found the application was "unarguable or academic" – and too late), it raises the issue that Mary Murphy and Ailbhe Smyth refer to: some sectors of society are affected more by the cuts than others.
07.45 On Morning Ireland, Mary Murphy of NUIM forecasts social welfare cuts today of 5 per cent – on top of the €8 last time round she says the cumulative effect will be to bring those on a basic living standard to below the poverty line. So-called "activation" – getting people off the Live Register will cost money, not save it, she says. And merging all social assistance payments into one will result in a revising downwards rather up. Meaning more misery for those most vulnerable. Socialist feminist Ailbhe Smyth tells us that "all over the country, ordinary working women are bearing the brunt of the recession, dealing with families' loss of income and debt – women's organisations have identified Sexually Transmitted Debt as a major stress factor in women's lives. – social welfare cuts and cutbacks in public services, and they're taking the pain too. In Donegal, for example, the women's community network has identified a dramatic increase in violence against women:
10% increase in Helpline calls;
68% increase in accommodation requests;
22% increase in reporting of domestic violence to the Gardai, who acknowledge that this is just the tip of the iceberg.
These facts and needs must be as central a part of our politics and of the public discourse at the present time as any other issues".
07.40 Morning Ireland's Tony Connelly on the Merkel/Schauble euro bond story reminds me of Colin's questions: Who is having a good recession? Who is profiting from the so-called bailout? Germany, says a blog on EUObserver  which makes for interesting reading on the European Financial Stability Facility. Closer to home, the latest Phoenix reveals "the outrageous terms" inflicted on Ireland, in particular the €17.5bn from the EFSF. According to Goldhawk, "[Klaus] Regling and his sharks in Luxembourg will be ripping out €4bn of the €17.5bn before it even gets to Dublin, while charging interest on the full whack!" You couldn't make it up!
07.30 Welcome news in the Irish Times where Martin Wall reports that ambulance paramedic staff and firefighters have left SIPTU to join forces with the Psychiatric Nurses Association. Why? To protect frontline services to the public which they believe are under huge threat. Siptu president Jack O'Connor regrets the move and says its sour grapes over the Croke Park deal. But he would say that, wouldn't he. John Kidd on Morning Ireland repeated that his members were better served by representing themselves and that their concern was always protecting frontline services. In the North, there are 2000 firefighters serving a population of 1.7m. Down here, 1500 full-time and 2000 part-time firefighters serve a population of 4.7m. Says it all.
07.15 Will the coalition get the budget through? The Irish Times thinks so and so does the Guardian after Michael Lowry looked into his heart and said yes, yes, yes (casinos had nothing to do with it – honest!) and his pal Jackie Healy Rae doing the same. Why? Because it's in the national interest, of course. Meanwhile, Independents Finian McGrath and Maureen O'Sullivan are still pinning their colours firmly to the fence. They say they're adopting a wait-and-see approach. Most likely in the national interest...
07.00 Therese here to take you through the morning. Budget blues and icy roads, says Aine Lawlor as the Big Day arrives. Therese with you until 9am, eagerly awaiting your insights, comments, links. Feminist sociologist Anne Good reminds us that today's budget is more than a financial exercise. It will also make clear our values as a society and the power structures of our polity. The Examiner heralds D-Day  It suggests 58,000 people are going to emigrate in the next year. Bleak news.
The Indo reports that John Wolfe failed to get permission to bring a High Court challenge to the €85bn Government bailout. A bid by banks and building societies to water down a code protecting borrowers in arrears on their mortgages has been rejected by the Central Bank
Down south, a pair of musicians strike a determinedly positive note in Cork this morning as the most savage cuts in the State's history trundle down the tracks.