Miriam and the wooing of Charlie
She spent years wooing Charles Haughey to get his support for her television series about him, but can she make the transition from current affairs to chat show? John Byrne profiles Miriam O'Callaghan.
Miriam O'Callaghan was not the first or only supplicant to the door of Charles Haughey's mansion at Kinsealy, seeking THE interview, the final revelation by the most intriguing figure of Irish politics since de Valera. Noel Pearson had been out on several occasions, felt he had got a promise and then nothing. Cathal O'Shannon likewise. Several others. Miriam O'Callaghan seemed likely to be the successful one. For a start, she is better looking than Noel Pearson and Cathal O'Shannon. She is also more persuasive, more charming, more relentless. But there was a problem.Charles Haughey did not, does not, want to be interviewed. The "owe it to history" line has no currency with him. History doesn't matter. "Setting the record straight" gets no purchase. Anyway, he remains distrustful of journalists. The only spur is the family. The family would like for him to go on record somehow. But the family also understands his reluctance and buys into it.
Miriam tried all the lines. PJ Mara was supportive, which was a strong advantage. There were times when she left Kinsealy thinking he would do it, but realistically there was never a chance. How could he be giving interviews to a television company at a time when he was telling the Moriarty Tribunal he was too ill to be interviewed further by them? Then, of course, there is the fact that is/was actually too ill to give an interview. Although his intellect remains sharp and his memory clear, he tires easily. A series of interviews for television would have been beyond him physically.
There was also the problem of what he could say about his financial arrangements that would not compromise him with the Tribunal. If he were to say something he had not said to the Tribunal or at variance with what he said to the Tribunal, however trivial, he would be compromised. If he got something wrong, however innocently, the phalanx of his detractors again would be blubbering with outrage. Inevitably, too, Miriam O'Callaghan would want to ask him about his private life. So there was never a chance he would do an interview. Perhaps about the Erne canal, or law reform in the 1960s, or the artists' tax exemption, or memories of Francois Mitterrand. A broad-ranging interview? Never.
But alone among the supplicants of the 13 years since he left office, she got somewhere. She got him to agree to encourage family members and friends to talk about him.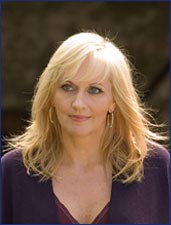 She made endless trips to Kinsealy, turning left after the small church on the way into Malahide, down the narrow private road, left under the trees, past two cannons to the Gandon mansion, Abbeville. Then the ring at the doorbell, Charlie invariably answering the door himself, then either into the study on the left or down, past the drawing room, to the pub at the back and bottle after bottle of white wine.
Miriam would have flattered. The man who dominated Irish politics for 40 years, the most intriguing personality in Irish public life since Parnell, the man who brought us the Celtic Tiger and the Peace Process, the most attractive man this side of the Urals. He would have liked the flattery, but he is far too cute to fall for it.
But unquestionably, Miriam O'Callaghan was the driving force on this Haughey series. She is the executive producer of the television production company, Mint Productions. It was she who made many of the calls to the people they very much wanted to be on the programme. She did the arm twisting. The producer of the series, Niamh Salmon, was also centrally involved of course, but Miriam came in when heavy lifting was needed.
RTÉ had wanted to do this series on Charles Haughey for more than six years. Joe Mulholland, then head of television, started the initiative. He approached a few journalists to spearhead the project but indecisiveness on RTÉ management's part stalled progress for years. RTÉ never really thought Charles Haughey would do an interview for the documentary series but it remained convinced that, as the public service broadcaster, it owed it to the viewing public to bring together the strands in the career of Charles Haughey.
After all, it had done a four-part series on the relatively minor figure, Desmond O'Malley. That had been commissioned by Joe Mulholland before he was eased out from RTÉ. It was a fiasco, just sheer hagiography with a virulent anti-Haughey agenda, untainted by any of the objectivity which RTÉ is expected to bring to coverage of public affairs.
Mint Productions did do the four part series on Fine Gael, A Family at War. It was skillfully done televisually. It recalled events many of its viewers would have forgotten or missed in the hurly burly of daily life. Good political television drama but no new facts, which some found disappointing.
Steve Carson, Miriam O'Callaghan's husband and partner in Mint Productions, had done a mini documentary on Charles Haughey for Prime Time – hired in as a freelancer and one of the best current affairs producers around. That played to the anti-Haughey agenda, even with reconstructions of Haughey handing in money at a bank, without them being billed as reconstructions. There was the now obligatory accompanying mood music, to heighten sensation when the facts don't do it for themselves (nobody in RTÉ current affairs television thinks there is any problem with that). Charlie Haughey apparently did not make the connection between Mint Productions and that mini documentary, if he ever saw it.
Miriam O'Callaghan would have been crucial to getting the likes of Dermot Desmond, an old family friend, involved in the documentary series. She also would have had clout with other participants such as Bertie Ahern, PJ Mara, Albert Reynolds, Des O'Malley, Charlie McCreevy and Fr Alec Reid, one of the facilitators of the Peace Process and the link between the IRA and the Irish government for many years.
Charlie Haughey encouraged his priest brother, Fr Eoghan Haughey, to take part, and also his three children, Eimear, Sean and Conor. His encouragement would also have been crucial to the participation of his former secretary, Catherine Butler.
Another interviewee is Padraig Faulkner, who was a minister in various Fianna Fáil governments under Jack Lynch. Crucially, he was a member of the Cabinet Committee established in 1969 to deal with issues to do with the relief of distress in Northern Ireland. It was in part because of his membership of that Committee that Charles Haughey became involved in the attempted importation of arms in 1970, for which he was dismissed from the cabinet and prosecuted in the criminal courts.
Miriam is very much the behind-the-scenes person in this production, very much the in-front-of-the-scenes person in RTÉ's Prime Time.
"I never wanted to be a presenter myself. I come from a conservative background and I liked security. I felt, and still feel, that presenting on its own is very fickle, vulnerable and insecure," she said in a recent, rare press interview.
Yet she is rated by critics and colleagues as one of RTÉ's most talented broadcasters. The public loves her. Audience research regularly confirms this and she was voted Irish television personality of the year by viewers at the 2003 Irish Film and Television Awards, beating Hector Ó hEochagain, comedian Patrick Kielty and Sky's Gráinne Seoige.
Aside from Prime Time and the Haughey documentary series, she is also engaged in preparation a new Saturday night chat-show, presented by herself, for broadcast later this summer on RTÉ. How she will make the tricky transition from current affairs presenter to chat-show hostess is unclear. Pat Kenny, who was an excellent current affairs presenter, has always looked awkward as a chat show host. Miriam may experience similar difficulties.
She was born in 1960 (is now 45) and grew up in the south Dublin suburb of Cornelscourt. Her father, Gerry, originally from Kerry, was a civil servant, and her mother, also Miriam, the daughter of a garda, was a national school teacher.
She had three sisters – Margaret, who is older, and two younger ones, Anne and Kathleen – and a brother called Jim. Margaret teaches politics at Queens University Belfast and is a formidable academic. Jim is a rising barrister and would-be politician – he will contest the Fianna Fáil nomination for Dublin South East for the next general election.
Miriam went to St Anne's school in Milltown, later UCD and Blackhall Place, where she qualified as a solicitor. "I chose law because I got very high points in my Leaving and I couldn't stomach the sight of blood," she said in a newspaper interview last year. "That ruled out medicine and veterinary studies. It wasn't such a hot career plan."
After a year working in a solicitor's office, which she found dull, she left Dublin for America with the man she would marry, future RTÉ personality and newspaper columnist Tom McGurk, who was many years her senior. The couple stayed there for a year, and then moved to London where they stayed for about ten years.
It was in London that she got into journalism. Her introduction to the media came by accident, and dates back to her time as a lawyer in Ireland. The BBC were making a documentary about the Stardust nightclub disaster of St Valentine's night, 1981. They needed a solicitor who knew something about planning to speak on television, and she ended up being interviewed by them. "That kind of sparked things off," she said some years later.
Her career in London began on the This Is Your Life programme in the early 1980s, where she worked as a researcher. People like Bob Geldof and Pat Jennings appeared on the show, and she loved it. About two years later, she did a BBC trainee programme and worked with Robert Kilroy Silk on his hugely successful daytime chat show – he famously once described Ireland as "a land of pixies, peasants and priests". In the late 1980s, she worked for Newsnight, Britain's leading political television show.
"She was very, very well-regarded at the BBC," says Martha Kearney, the political editor and occasional presenter of Newsnight. "She was always so enthusiastic and really on top of the story."
She moved up the ranks at Newsnight, to become a producer. Her reputation was that of a very capable journalist who was popular with her work-mates.
In the early 1990s, after the break-up of Today Tonight, the Irish equivalent of Newsnight, She returned to Ireland to present Marketplace, an economics programme. This was the first time she would become known as a front-of-house personality, having primarily made her name as a producer in the BBC.
"The BBC were very disappointed when she decided to go back to Dublin," says Martha Kearney. "They were very keen for her to stay."
A friend of hers from within RTÉ remembers her arrival at the Irish national broadcaster. "She was young, talented, looked great, and had a very good name from the BBC," says the friend. "The view was that she was going to be great.
"At the time in RTÉ, however, the atmosphere wasn't great in RTÉ News and Current Affairs. Everyone was uneasy, and nobody felt particularly safe with the contracts they were given. There was a little bit of a feeling of everybody being pitched against each other. So she kept her options open with the BBC, and kept doing work for them."
Martha Kearney confirms this. "The BBC did give her a special contract to stay on doing pieces, so I imagine that was an attempt to keep her."
"It was an interesting challenge for her," says a friend, of Marketplace. "But she rose to it, and it quickly became apparent that she was the real broadcaster on the show."
She moved from Marketplace to Prime Time, which provided her with more diverse material to work with, and this suited her better than the narrow financial remit of the former. Smart, humorous and attractive, her aggressive interviewing style owes a lot to famous BBC attack-dogs such as Jeremy Paxman.
She was utterly committed to her career. "I remember a while after she came back to Ireland, she discovered she was pregnant with twins," said a friend. "It didn't phase her, though. She had them, and was back in work shortly afterwards – a few days afterwards, I think – and not a bother on her."
Although her career was progressing well in Ireland, in the mid 1990s a number of personal tragedies befell her. The one that has had the most significant effect was the death of her younger sister, Anne, from cancer, in February 1995. Anne was a very popular woman who worked in PR for Bill O'Herlihy, Ryanair and the Abbey Theatre, and was "even more attractive than Miriam, if that is possible," according to one person.
"Anne O'Callaghan was a very beautiful woman," says Frank McGuinness, who wrote a poem to commemorate her death. "She worked in the Abbey and that's where I met her. I only knew her for a small period. She was full of energy, ideas, and was a joy to be around. She got on so well with everyone... And then the terrible illness happened. It was awful."
Anne was Miriam's closest friend, and she was devastated by her death. It is the most serious personal setback she has received, and for years afterwards she kept a photograph of Anne on her desk in RTÉ.
"Miriam and Annie were extremely close," says Anne O'Neill. "Anne was diagnosed in August, and she died in February – it happened awfully fast. For those few months, Miriam spent an enormous amount of time with Anne. I think that Miriam was the only person that Anne would talk to about her illness. Annie's death devastated Miriam. It devastated everyone, but Miriam and Anne were best friends, and their children were the same age. But I think that things like that can focus you to do better, and I think that's what happened with Miriam. But she hasn't forgotten Anne. We had a dinner recently to celebrate Anne's life. Miriam's like that."
But more sadness was to come. Shortly after Anne died, her father passed away. Then her marriage to McGurk, with whom she had four children, collapsed. It was well-known around RTÉ that the situation had deteriorated between the two, and their split was acrimonious.
"But she dealt with the break-up very well, and did not let it interfere with her work or bringing up her children well. They are the most grounded children I have ever seen," says Anne O'Neill.
The difficulties in her private life did not intrude on her working life, and she continued to present Prime Time, approaching the job with a professionalism that has been consistent throughout her career.
Some time afterwards, she began dating Steve Carson, who worked in the BBC.
"Steve Carson is a lovely, charming man," said one person. "He's many years younger than Miriam, is a unionist from the North and is always a pleasure to meet". She married Carson in 2000.
Miriam O'Callaghan has become one of RTÉ's top earners, coming seventh in the top ten for 2003, when she earned €144,432. She also earns money doing conferences outside of RTÉ, and of course is a director and executive producer of Mint Productions, one of the country's leading independent documentary and film-making companies.
She now has seven children from her two marriages. Many in RTÉ marvel at her ability to balance a hectic family life and one of the busiest broadcasting careers in the country, and at the same time project a bright, friendly persona. One RTÉ employee tells the story of seeing her bustling into the RTÉ canteen with her current husband at one end of the room, her ex-husband at the other, and organising the child-minding duties amid some commotion, before gliding out again.
"She is extraordinarily bright and cheerful," says Michael Heaney, a senior producer in RTÉ who has worked with Miriam O'Callaghan for years. "You always know she's entered the office because you can hear laughter and good humour coming from the corner she's in. She's thoughtful, and remembers everybody's name. You'd find it difficult to find anybody to say a bad thing about her.
"She wears her knowledge lightly, and she knows how to speak to people without being condescending. She's a joy to work with."
Other RTÉ staff members reflect this view. "She's very, very easy going, very open, she has a big personality around the office," says one RTÉ insider. "She's friendly to a fault."
"She's very good, very impressive," says one media commentator. "What she sometimes lacks is a certain amount of authority, as if she's trying too hard. It's a general kind of problem in there – the Paxmanisation of RTÉ."
And few colleagues will claim that she has the reserves of political knowledge that other broadcasters have, such as Sean O'Rourke. "You don't get the impression that she is a politics junky, and sometimes that comes across – you feel other people might be able to pull out facts from years ago that she just doesn't have.
"But despite that, she does have a particular quality about her – she steps out as a person while doing the current affairs material, there is a warmth to her. She was particularly good with the parents of Brian Murphy – she appeared to be genuinely affected. She's not one of these news bunnies that TV3 churn out."
She has a good, but not especially friendly, relationship with current co-host Mark Little, whose foreign-news focus contrasts with her home-news interests.
Although current affairs presenters do not usually get the same critical beatings from pundits that entertainment ones do, most seem to think she does a good job on Prime Time – with some qualifications.
"She's pretty good," says Liam Fay, television critic for the Sunday Times. "She's got a good personality and she comes across quite well on television. But you sometimes get the impression that she's kind of bored when she is talking about things like Northern Ireland. She gets this pleading tone in her voice, kind of like 'why can't you all just get along?' kind of thing. But I don't blame her, with the amount of Northern politicians that she has to talk to, though.
"I'm not surprised she wants to make the move to lighter territory. You can tell that she has a wider range of interests than just politics. She's very good at the free-ranging kind of stuff, and she does human interest stories very well.
"But she's no Pat Kenny. He's excellent on the radio doing current affairs, and sometimes he can get away with doing some human-related stuff, but most of the time people end up watching him in horror, through their fingers, on the Late Late Show. He's just somebody who shouldn't have made the switch."
Will Miriam O'Callaghan succeed where Kenny and others have failed, and make it as a Saturday night chat-show host on RTÉ?
"It's difficult to tell, pretty much impossible. There are so many other factors – what the production team are like, for instance. But there have been glimpses of her weakness on pop culture, and that's a worry if she's going to be covering that kind of material. But speculation is pretty much pointless at this stage."
Additional reporting by Vincent Browne and RuairÍ McCann