Michael Winterbottom: Political preacher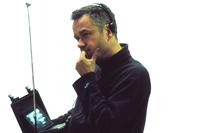 Eoin Ó'Broin talks to film director Michael Winterbottom about his cinema, politics and desire to tell good stories 
Michael Winterbottom is one of the most important film directors working in the English language today. Having directed 15 feature films in 11 years he has produced a body of work that is thought provoking, original and challenging. His work continually breaks new ground both socially and cinematically.
His most recent work, A Mighty Heart, which opened in Ireland in September, is a powerful and unsettling film based on French journalist Mariane Pearl's autobiographical account of the kidnapping and brutal murder of her husband Daniel in Pakistan in 2002.
Daniel Pearl, a New York Times reporter, was abducted while seeking out an interview with the controversial Muslim cleric Sheikh Mubarak Ali Shah Gilani. After three weeks in captivity he was beheaded, the brutal killing video recorded and broadcast across the world via internet.
In 2002 Omar Saeed Sheikh, a British born jihadi militant, was sentenced to death by hanging in Pakistan's anti-terrorist court for his part in Pearl's abduction. Two others were sentenced to life in prison. The killers, however, have never been found and the role played by the Pakistani ISI intelligence service has yet to be fully explained.
Published by Virago in 2003, Marianne's forensic account of the kidnapping, her detailed chronology of the police investigation and her own personal and emotional journey is faithfully captured in Winterbottom's film. So too is the intensity, colour and confusion of life and politics in Karachi, Pakistan.
For Winterbottom the attraction of A Mighty Heart lay in the power of the story itself: "I think when you're making a film you're trying to tell a persons story... in a way that feels truthful to you or honest to you in some way."
For Winterbottom this meant not just working with Mariane Pearle and her story, but meeting and interviewing many of the people who were central to that story and whose versions were at times different to hers.
Winterbottom's previous film, The Road To Guantanamo, tells the story of the Tipton Three, Ruhal Ahmed, Shafiq Rasul and Asif Iqbal, British born Muslims arrested in Afghanistan, jailed in the infamous Camp Delta, denied access to family or lawyers and after several years released without charge. The film, shot in a similar docu-drama style to A Mighty Heart, reveals the impact of the "war on terror" not just on these three young men, caught in the wrong place at the wrong time, but on civil liberties and human rights more generally.
Comparing A Mighty Heart to The Road To Guantanamo, Winterbottom feels that; "it's a different story and in some way it's the other side of the coin... I'm telling two different stories and trying to tell both of them as honestly as possible."
When asked why he makes films, Winterbottom is decidedly understated, describing it as "a habit". "Its an enjoyable thing to do", he ponders, "you have different phases of the work, its not that every day your doing the same thing". Indeed his body of work is eclectic to say the least, ranging from the gritty contemporary tragic realism of The Kiss (1995) through period drama Jude (1996), The Claim (2001), A Cock And Bull Story (2006) to the surreally beautiful sci-fi love story Code 46 (2003). Generating his enthusiasm and ideas from the work itself he says; "you're working on one film and you start thinking about other things you'd like to have a go at, things that you feel are interesting or different ways of treating the same problem... the more you work the more ideas you get for other films you want to do".
Winterbottom describes this restless search for new thematic and cinematic ideas as "conscious" but not "deliberate", "I'm just trying to find something that's interesting" he says.
Not surprisingly he resists being placed in any particular cinematic tradition as "restrictive". "Of course you are aware of the different traditions of cinema," he continues, "and the different connections your film might have to other films... you are conscious of those things but I don't think it's a question of being part of the British or European tradition, that would be boring".
Commenting on his 2002 release, In This World, a powerful and at times brutal account of the journey made by two Afghani child refugees to Britain, Winterbottom describes wanting to make a film about the issue of refugees, but also wanting to develop the genre of the European road movie, experimenting with new technology. It is this innovative approach to subject matter and the film making process that makes his work so potent and engaging.
Describing himself as a "filmmaker not a politician" Winterbottom states that he "would never make a film just because these are my politics and this is what I think about this issue so let's make a film." Rather he argues that in "any story you tell you can find political connections. When you're dealing with someone's individual story clearly it has connections to the social context and that has a political dimension". Even his most political films, "those most overtly connected to political issues" he asserts, "were made because I was interested in making that particular film".
When asked if he believes whether film can play a role in raising awareness or addressing important social and political issues his answer is again understated. "I suppose so" he almost hesitates to offer, "film can do that to a certain extent but so can books, journalism or television". Indeed believing that "these days people get more from TV or newspapers than from films" he accepts that film is "part of the same conversation" but less so than other media.
Whatever about his own reticence there is no doubt that Michael Winterbottom is one of the most consciously political film directors working today. Social and political themes such as asylum (In This World), civil liberties (Road to Guantanamo), war (Welcome to Sarajevo and A Mighty Heart) and sexual power (Butterfly Kiss, 9 Songs, Jude) provide the fulcrum around which his brilliant, independent and experimental cinema pivots.
Currently working on two projects for projected release in 2008 and 2012 Winterbottom continues to push the boundaries of contemporary cinema. Seven Days is an ambitious project being shot over five years and aims to tell the story of four young children growing up with a father in prison.
Genova, the shooting for which is ongoing, is a story of a family coping with bereavement whose young daughter who believes that she is responsible for the death of her own mother.
Innovative, challenging, forceful, uncomfortable and inspiring are all adjectives that roll from the tongue after watching any of Michael Winterbottom's films. That he has so far failed to get the degree of international attention and acclaim is as true as it would be unimportant to him. An
important social commentator and film-maker, Winterbottom's work deserves to be seen widely.
Eoin Ó Broin is a political writer and activist based in Dublin.