McDowell's 'blatant electioneering' backfires


A claim made by Táiniste Michael McDowell that plans for an incinerator in his local constituency of Dublin South East had 'collapsed' has been refuted by Dublin City Council (DCC) and An Bord Pleanála, and dismissed by fellow constituency candidates as irresponsible, misleading and 'blatant electioneering'. (Picture: An Phoblacht) 
In a statement released yesterday, Minister McDowell said that the Poolbeg Incinerator project board had agreed to terminate the procurement procedure for the incinerator, and that the Department of the Environment had been told this by DCC assistant city manager, Matt Twomey, on February 19th. McDowell concluded, "it's fair to say that the agreement has collapsed."
However, Mr. Twomey disputed this information yesterday afternoon saying that the project was still on track and that changes to the commercial arrangements with DCC partners Danish Oil and Natural Gas (DONG Energy) were still being discussed. An Bord Pleanála said that the plans for the incinerator, designed to dispose of up to 600,000 tonnes of waste a year, have not been withdrawn.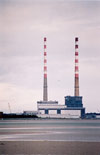 Yesterday's refutation by the DCC and An Bord Pleanála prompted harsh criticism of McDowell's statement from contending constituency candidates in Dublin South East. Speaking on RTÉ News yesterday evening, local Labour TD Ruari Quinn described the statement as "another rush of irrationality by the Minster of Justice" and said that the McDowell had "tried to present himself as the saviour of the residents of Dublin South East". John Gormley, Green Party TD for the area said that it was "grossly irresponsible... to give people false hope". Fine Gael candidate, Councillor Lucinda Creighton accused McDowell of "blatant electioneering…in an area where he has lost all political credibility".
It is unclear how the information regarding the incinerator was leaked to an Táiniste before Dublin city councillors were informed, or indeed why the Department of the Environment did not directly issue a statement regarding the incinerator when it received the information two days before passing it to McDowell. It is suggested that the information was leaked and subsequently used by McDowell to 'curry favour' ahead of a general election that will be hotly contested in Dublin South East. Mr. Quinn has asked Minister for the Environment, Dick Roche, to explain how McDowell obtained the information ahead of Dublin city councillors.
Rory Hearne of the People for Profit Alliance and candidate for Dublin South East has criticised McDowell for not doing enough to prevent the development of the incinerator. Mr. Hearne said that "it was the active campaigning by the people of Ringsend/Irishtown and Sandymount who scuppered the government's plans to put an incinerator on the Poolbeg peninsula." According to Hearne, "the community lodged over 3000 objections in October last year and are planning for more action in the coming months."  He added: "despite Michael McDowell's claims that he opposed the incinerator it was his government that voted for the incinerator in the Dáil in June 2006. McDowell didn't bother to turn up for the vote."