Martin O'Neill: The ultimate outsider

The first Catholic to captain Northen Ireland and the last man to shy away from a row, Martin O'Neill is poised to make his mark in the Premiership, says Ken Early.
Aston Villa's new manager, Martin O'Neill, does smiles and sunshine better than most, but he is not a man you let down twice. By now, the Villa squad will have heard a version of what he told his players on his first day at Wycombe: "I may not be successful here – but if I'm not, you will all be gone before I will."
Villa's players shuffled through the last few months of the O'Leary era as though in the pits of depression. Voluble and passionate, O'Neill knows how to get jaded professionals excited about football. Those who don't respond will find him hard to work with. A few games into O'Neill's tenure at Celtic, Jackie McNamara told reporters, off the record: "The difference is remarkable. Nobody dares to fuck him around."
O'Neill was born in Kilrea, Co Derry in 1952 and attended the same Catholic grammar school as John Hume and Seamus Heaney. He was an outstanding GAA footballer as a youth but eventually was made to choose soccer because of the ban on participation in "foreign" sports. He studied law at Queens University, but dropped out in 1971 to join Nottingham Forest.
He met his wife Geraldine in 1967, aged 15; they eventually married in 1979 and have two daughters in their early 20s. Since May 2005 he has been on sabbatical to care for Geraldine, who has suffered with lymphoma, but recently her health has improved enough for him to return to work.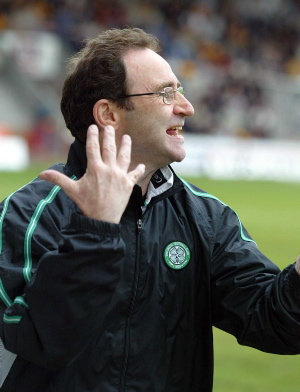 From 1975 he played under Brian Clough, who influenced his managerial approach considerably. Clough never gave O'Neill praise, which hurt him at the time, especially as Clough always lauded his more skilful team-mate John Robertson, now O'Neill's assistant. But this helped him understand that players respond to different styles of motivation.
Like Clough, he is not squeamish about confrontation. On TV he delights in winding up his fellow pundits. He has tangled with Alan Shearer, Johan Cruyff and Marcel Desailly, but his proudest moment came at France '98 when he leaned over to place a patronising hand on guest pundit Robbie Williams' knee, saying, "Can I just say you've done terrific since Take That split, seeing as you don't write the songs or play an instrument or anything. We all thought Gary Barlow was the one with the talent. We thought you'd just disappear, but that 'Angels' record is terrific."
His deadpanning is not always meant to be funny. Shortly after taking over at Celtic, he took the Brazilian defender Rafael Scheidt aside and explained: "I like players who play well, who concentrate and keep the ball. I like players who are not like you."
But if O'Neill is sometimes harsh, he's never boring. At Leicester, O'Neill once spent five half-time minutes verbally battering his players before turning his back on them in exasperation and walking, fully clothed, into the showers. Upon meeting Jimmy Johnstone at Celtic he threw himself to the ground and kissed Johnstone's feet. He throws the occasional tantrum to keep people on their toes, claiming: "In a fit of pique I have threatened to dismiss every single player I have ever worked with and most have said good riddance."
In some ways O'Neill is old-school, at least compared to the technocrats running Chelsea, Arsenal and Liverpool. He is often absent from training – that's what assistants and coaches are for. And while the likes of Arsene Wenger encourage their players never to touch alcohol, O'Neill is relaxed about what they do in their spare time. "Did he mind us having a pint? He signed Neil Lennon for Celtic didn't he?" says Steve Claridge, who played under O'Neill at Leicester from 1996-1998.
Yet Claridge insists there is nobody more astute about the game. While everyone admires O'Neill's motivational powers, Claridge says his ability to make match-winning tactical changes is what really sets him apart.
As a player with Forest, O'Neill won the League and two European Cups and became the first Catholic to captain Northern Ireland, leading them to their best-ever result – the 1-0 defeat of hosts Spain in the 1982 World Cup. At Celtic he won three championships and four cups in five years. His haul of nine major trophies is just short of the 10 won by Graeme Souness, another tough-guy manager, yet O'Neill commands greater respect because, even in defeat, the courage and pride of his teams linger in the memory.
His career has been the story of an outsider who succeeds in spite of the odds. That makes him perfect for Villa, who look years off challenging the Premiership's big four. Yet, with an American billionaire poised to take over, they may be on the point of getting the cash to catapult themselves in among the big boys. Chelsea, Liverpool, Man United and Arsenal will be tough nuts to crack, but O'Neill has never failed yet.