Marian Finucane profiled

Activist, architect and editor turned broadcaster, Marian Finucane's gravelly voice is gaining radio listeners for RTÉ on weekend mornings. Profile by Colin Murphy.
'I hate doing interviews. I dread these things." Marian Finucane is uneasy being on the other end of the questioning. She won't talk about her faith, if she has one, or about which political parties have approached her to run for office ("I suspect it's a secret"). Asked whether her job is easier now she is broadcasting just two days a week, instead of five, she demurs. Asked whether she is paid any less, she won't say. ("You can say I'm 'well paid'.")
Moments after our telephone interview concludes, the phone rings. It's Marian Finucane. "I meant to say, my alarm clock is set for 7am every morning, for Morning Ireland. Just in case anybody thinks that I'm sitting around, having a nice time, only working at the weekend. I'm working seven days a week!"
Minutes after that, the phone rings again. It's Marian Finucane. "My two 'advisors' here have just been giving out to me for not telling you I have two doctorates." One from the Dublin Institute of Technology, one from University College Galway. She pauses. "I'm mortified." She laughs, a little nervously. "So there you are."
Marian Finucane's rise in listeners (in the latest Joint National Listenership Research) is a significant success, both because weekend radio has traditionally been neglected by management at RTÉ Radio One, and because Finucane was supposedly shafted to make way for Ryan Tubridy in the more prestigious weekday morning slot.
Though Finucane doesn't see it that way: the idea to move to the weekend was a long-standing one, she says; when the timing was right, she suggested it and RTÉ took her up on it.
Marian Finucane has been with RTÉ since 1974. Her education was at Scoil Catríona in Dublin and then, because she was still young, and perhaps a bit wild, a second Leaving Cert at St Louis Convent in Monaghan, which she hated.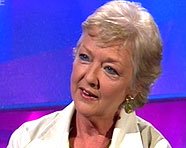 Then Bolton Street DIT for a degree in architecture. A break in the middle to go to New York. She thought about changing to an Arts degree, but came back and finished the architecture. She was a champion debater and very involved in the Hume Street sit-ins. She worked for a while as an architect, and then did an audition for RTÉ. She was "awful", but "it was like a switch had been flicked in my head". Another opportunity came along, and this time she got a job as a TV continuity announcer.
Her "big break" was in 1978, as a reporter on a new current affairs show being tried out for a summer, Day by Day – Pat Kenny's first job as a presenter. But it was Women Today, a new early-afternoon programme on women's issues, that made her name. One of their most controversial and successful programmes was a discussion on the ability of women to have orgasms. Ructions. Complaints from above. The switchboard was jammed.
"We were nearly permanently on a high. The more trouble we got into, the more fun we had," says Marian Finucane.
She did some other jobs, including editing the women's magazine, Status, and a stint in religious programming. Meanwhile, Ed Mulhall, Michael Littleton and Hilary Orpen were working on a new concept of "access programming" involving participation by listeners. Liveline was born. Marian Finucane presented it for 13 years.
Along the way, there was a failed marriage, and then two children with her partner, John Clarke. Their daughter, Sinead, developed leukaemia, and died, aged eight, in 1996. Marian Finucane worked almost entirely through Sinead's illness. "She would come in straight from the hospital and go straight out to studio because she couldn't face anyone in the office. But as soon as that mic lit up she was absolutely on the ball," recalls Betty Purcell, a friend and Radio One producer.
Marian Finucane is a very private person, say friends and colleagues. Businesslike, courteous, considerate. Sociable at times. She comes in, does the job, and goes home, says one producer who has worked with her. Doesn't impose her own ideas, or expect them to be given more weight than those of her production team, unlike some of her fellow presenters.
When Gay Byrne retired in 1999, she moved from Liveline to the 9am slot, sandwiched between Morning Ireland and Today With Pat Kenny, and from there, last year, to the weekend 11am to 1pm slot. Her move to "make way" for Ryan Tubridy was long anticipated in the media, and it appears to have worked for RTÉ: Ryan Tubridy has held the listenership steady, and Marian Finucane has brought new listeners to the weekend morning.
She has other interests outside radio: a number of Government-appointed quangos, including the Commission for the Support of Victims of Crime – unpaid, and more work than expected, but very rewarding. And the charity she and her husband, John Clarke, started, after visiting an Aids hospice in a township outside Cape Town, Friends in Ireland, has taken a huge amount of their time and energy. She talks about this with hectic enthusiasm, enumerating their plans for new orphanages in the desolate Eastern Cape region of South Africa. Many of the big Irish charities started out as such local initiatives... is this what lies ahead for Friends in Ireland? "We're not going there," she says, exasperated at the amount of work involved, but clearly consumed by it. "We keep on saying to each other, we've got to focus on our own business, and lives, too."