The man of Monte Carlow


The Bishop of Cloyne has said that Greencore's failure to implement a redundancy package for its former sugar workers "cannot be morally justified" and Siptu's general secretary accused the company of having "a voracious appetite for greed". Justine McCarthy profiles Greencore's chief executive, David Dilger
David Dilger enjoys plush holidays but even those resorts with five-star cachet that he favours cannot legislate against unexpected circumstances. Two years ago, he broke a leg on the ski slopes during a post-Christmas family sojourn in Aspen, Colorado. Then, last July, while soaking up the Riviera sunshine in the south of France, his phone rang, bearing news that would dramatically alter his future. The call sparked off such a flurry of consultation and excitement among corporate players in Ireland and Britain that Dilger's mobile phone bill for the month of July amounted to €970.
The news relayed to the ginger-haired, Limerick-born chief executive of Greencore as he lolled on his lilo was that one of Ireland's billionaires, Dermot Desmond, had sold his 22-per-cent share of Greencore to the property developer Liam Carroll, of Zoe Developments, at a profit of €40m. While the Irish farming community was quivering in its boots at the prospect of Carroll steering Greencore away from its core agri-food business towards the infinitesimally more lucrative lure of property development, Dilger was texting his congratulations to Desmond who was, at that moment, playing golf with Darren Clarke at the K Club.
If such Lives-of-the-Rich-and-Famous-style networking seems fabulously remote to most people, for David Dilger it is to the manor born. Educated at Trinity College and the Jesuits' Clongowes Wood College, the private academy for future leaders where Ryanair's Michael O'Leary was four years behind him, he is a director of Ibec and a member of the court of the Bank of Ireland, where he is tipped to succeed the recently departed Denis O'Brien as deputy governor. Home is a secluded house with large gardens in the rustic back-hills of Killiney, though he still has family living in Caherdavin, Limerick and his mother's relations are in Hospital, where one of his uncles was a Fine Gael councillor.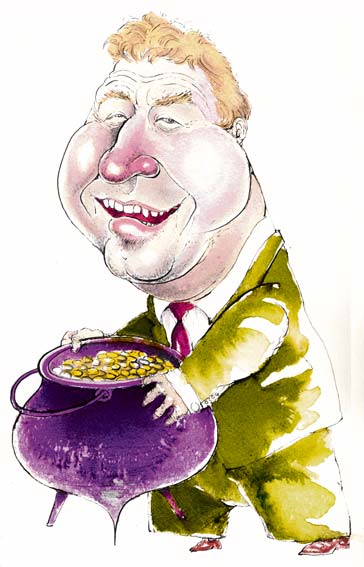 Not a flashy parvenu to monied success, the sharp-suited, 50-year-old Dilger seldom features in the social columns, though he accepted a Commander of the British Empire title from the Queen of England for his service to the British food industry. His annual remuneration of salary, perks and bonuses comes in at over €1m but he drives "a sensible Merc", according to one of his friends, who adds: "He's your typical family man." He lists golf, rugby and skiing as his hobbies in Angela Phelan's Who's Who In Ireland, where she describes him as: "A clinical accountant, not likely to be deemed one of the lads."
From the perspective of trade union and farmers' leaders, Dilger is not exactly Mr Popularity either. "He's a hardliner," says former Irish Farmers' Association (IFA) president John Dillon. "He's out to do a job for the company and he's going to make money for that company, no matter what. There are no sentimental values. Anything that has to be done will be done."
In the first week of December, Greencore Group Plc announced annual profits of almost €100m to the end of September 2006, including €22m pre-tax profits from its discontinued sugar operations. The company is now the world's biggest sandwich-maker, churning out 200 million sandwiches a year for clients that include Tesco, Boots, Virgin, KLM, Safeway, Sainsbury's and Shell. The company is currently before the high court in Dublin for a judicial review of the €98m allocated to it by agriculture minister Mary Coughlan from the €145m EU restructuring fund meant as compensation for the closure of the formerly state-owned Irish Sugar. Greencore claims it is entitled to 90 per cent of the total package, rather than the two-thirds it has been allotted. Its Carlow beet-processing plant was shut down in March 2005, followed by the closure of the Mallow plant on 16 May last. The vast majority of Greencore's 10,000-strong workforce is now employed outside the Republic of Ireland, as is the bulk of its business, though it continues to keep its headquarters at Earlsfort Terrace in Dublin.
Farm and union leaders have long been suspicious that Greencore might use the closure of Irish Sugar as a strategy to become, primarily, a property-development company in Ireland. "We believe the real reason the decision was taken has to do with the value of the site," Jim O'Regan, then chairman of the IFA's beet section, told the Oireachtas committee on agriculture in February 2005, referring to the Carlow closure.
Greencore owns 900 acres of land in Carlow, Mallow, Athy and Littlehampton in the south of England valued at €187m. The company has applied for planning permission to build a €1.1bn "Carlow Gateway", modelled on the Dublin Docklands and the Digital Hub, on its 333 acres, incorporating commercial, residential, education and amenity structures, including a cinema complex and hotel. The proposal, with a projected full employment target of 2,000 jobs, has earned the town the new moniker 'Monte Carlow'.
A similar vision is expected for Mallow where former sugar refinery workers have not received an improved severance package, up-dated from the Carlow closure deal and approved by the Labour Court. The Bishop of Cloyne, Dr John Magee, whose diocese encompasses Mallow, has said that the situation in the north-Cork town "cannot be morally justified". The company says "a substantial number" of former workers has taken the smaller financial package on offer.
David Dilger, a reformed cigar-smoker who works 16-hour days and still manages to play off a golf handicap of four, is a tough negotiator. His peers and admirers in the business world praise him as "progressive" and "the brains behind a highly profitable international company". His acquisition in 2001 of Hazlewood Foods, an American convenience-food producer at the forefront of sandwich-making, is cited as evidence of his verve and foresight.
Siptu and IFA officials have another view. While admitting that he is "very sharp" and "had a very good education", they point to Greencore's disastrous €38m purchase in 1996, under Dilger's management, of a 27 per cent stake in Imperial Holly, one of the biggest sugar companies in the US. It filed for Chapter 11 bankruptcy five years later. Irish beet growers, anticipating the demise of their native sugar industry, were incensed that nobody in management publicly accepted blame for the bad investment.
Following the closures in Carlow and Mallow, IFA officials are worried that Greencore ultimately intends shutting down its barley malting arm as well. The malt industry has shrunk in Ireland and the company has already closed some of its depots and small sites around the country. Greencore's main malt house is in Athy, located on about 70 acres of highly desirable land within the ever-widening Dublin commuter belt.
"From a farmer's point of view, David Dilger would certainly be held in very low esteem," says Peadar Jordan, current chairman of the IFA's beet section. "As the biggest buyer of wheat for milling in the country and the overseer of Ireland's exit from the sugar industry, his decisions have a huge influence on Irish farming. I wouldn't say he's abrasive, but he hangs tough. He might give some ground at the end of the day to pull off a deal but he'll never be soft."
After graduating with a BA in legal science from Trinity in 1977, he qualified as a chartered accountant and went to work as a manager with Stokes Kennedy Crowley. His next job was as finance director with Woodchester. He was chief executive of Larry Goodman's Food Industries when the company was acquired by Greencore in 1988.
After the Irish Sugar Company was privatised in 1991 and it was taken over by Greencore, Dilger became a director and chief executive in 1992, succeeding Chris Comerford, who had been forced to resign the previous September over a scandal involving the sale of the Irish Sugar Company.
One source recalls a conversation he had with David Dilger after a session of intense negotiations. He inquired of the chief executive if he found it stressful running a big, successful company. "No, no problem," Dilger assured him. "I'm well paid for it." π