M50 upgrade vastly over budget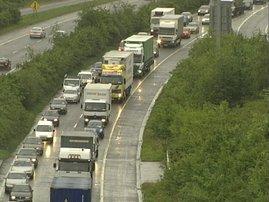 The upgrade to the M50, once completed is going to cost €1billion, three times the estimate given by the National Road Authority (NRA) in 2003. This gives the M50 a total bill of €2 billion and it will have taken 20 years to be completed since the first section opened.
In 2003 the NRA estimated that the upgrade to the M50, which includes widening of 32 km of the motorway from four to six lanes and upgrading 10 interchange lanes would cost €318 million. They then included two more interchanges, which brought the cost up to €580 million, and by 2006 they said it was going to cost €810 million.
With a final bill estimated at €1 billion, once the upgrade is completed in 2010, that is an average yearly increase of €136 million and an increase of 68 per cent from the original estimate.  The total cost of the completed motorway, before the upgrade, when it opened in 2006 was €936 million.  At that stage the M50 had been in progress for 17 years. The first section, the Western Parkway and the West Link Toll Bridge opened in 1990. The most expensive section of the motorway was the South Eastern Motorway. The 11 km stretch from Rathfarnham to Shankill was estimated to cost €153 million in the 1996 National Development Plan, but when it was completed in 2006 the total cost was €595 million.
Although the upgrade is due to be completed on time, Ikea recently complained that the upgrade could delay the opening of their Ballymun store for seven months.