Lula: Broadening Brazil's hopes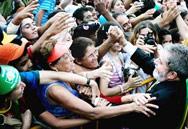 Re-elected in October 2006, Brazilian president Luiz Inacaio "Lula" da Silva has announced his new growth plan which allows for an investment of 511bn Brazilian reals, or €184bn, over his four-year term. This investment is the same as the amount planned for Ireland's newly-announced National Development Plan.
The Brazilian president, known affectionately as Lula, began his second four-year term with the ambitious plan to "broaden Brazil's hopes" by upgrading roads and railways and developing the country's energy provision. The investment aims to bring the rate of economic growth up to 5 per cent from the current point of less than 3 per cent where Brazil has lagged for two years. Brazil is Latin America's largest economy, and is placed around 10th in terms of world economies. Brazil has low growth in comparison with other so-called "emerging economies" of similar stature such as India, Russia and China.
Lula was given a strong mandate by the electorate, despite condemnation of his beleaguered Workers Party last year following a number of corruption scandals. His personal popularity with the poor of Brazil, who in the poorest regions have an average monthly income of around €10, ensured his re-election.
Lula grew up in a poor family, progressed as a left-wing trade union leader and has convinced many that he understands and is concerned for the poor of Brazil. More than this, the poorest Brazilians have seen definite increases in income. An estimate by respected think-tank the Getuilo Vargas Foundation put the increase at 14 per cent in 2004, far exceeding the overall increase of 3.6 per cent. In addition, his first term featured successful programs like the 'Bolsa Familia', a regular allowance for the poorest families, dependent on children's school attendance and vaccination.
Brazil has long been associated with massive state borrowing, which contributed to its galloping inflation and numerous currency changes in the past. Lula's predecessor FH Cardoso brought inflation under control, but there still exists a large national debt, at 50 per cent of GDP. The new 'Acceleration Programme for the Country's Growth' will raise 13 per cent of the €184bn from central government. The rest will come from state-controlled companies and the private sector, whose participation is being enticed through tax concessions. This reflects Lula's consistent path on the economic middle ground, despite his reputation as a leftist. The plan will go ahead if approved by congress and state governors.
Critics of the plan say that Lula can not invest so heavily in the economy and claim that public spending will remain disciplined. Nor does his plan propose to reform the pensions system, which is a huge drain on the economy, or the tax structures which need major remodeling. The deeper structural problems of the Brazilian economy may remain unsolved, but as long as Lula remains the saviour of the poor, he will continue to have popular support.
Tom Rowe