Leonard Cohen: Life of a Ladies' Man
Came So Far For Beauty, performed as part of the Dublin Theatre Festival, is a tribute to the songs of Leonard Cohen. Jessie Collins charts his life, poetry and multiple affairs.
By the age of 18, Leonard Cohen had learned the basics of hypnotism from a school friend's magician father and tried out his new skills on the family maid. He hypnotised her, removed all her clothes, put them back on and then brought her round again. She was none the wiser about what had happened.
It was a preemptive display by the young Canadian, who, despite his unassuming persona and whispered poetic lyrics, is one of the most infamous womanisers in rock and roll.
Born into a wealthy Jewish family in Montreal in 1934, he had a traditional Jewish upbringing, his grandfather being a respected rabbi.
In university, Cohen started his first group, the Buckskin Boys, and began to circulate his poetry. His first collection, Let Us Compare Mythologies, was published soon after graduating.
In 1960 he moved with his Norwegian model girlfriend Marianne Ihlen on the Greek Island of Hydra, where a small colony of artists, painters and writers had taken up residence. There, fuelled by amphetamines, he wrote his first novel, Beauty At Close Quarters.
The publication of his second collection of poetry, The Spice-Box of Earth, and his first novel, The Favourite Game, gained him more serious recognition and brought a stream of visitors, many female, to his Hydra home. Despite his relationship with Marianne, he had many affairs. Cohen was still not making a living through his books and, having seen the rise of folk singers such as Bob Dylan, he moved to New York again and into the promiscuous music scene in the Chelsea Hotel, now synonymous with his song of the same name about an affair with Janis Joplin.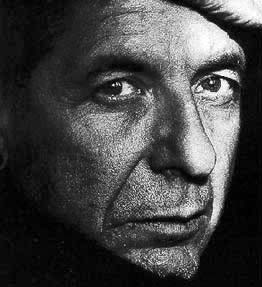 Songs of Leonard Cohen, his first album, was released in 1968. The London Times called it "depressing" and "despairing" but cover versions of 'Hey That's No Way To Say Goodbye' and 'Suzanne' became international hits. He met and began an affair with fellow singer-songwriter Joni Mitchell, and his relationship with Marianne eventually ended in 1968. A brief flirtation with Scientology introduced him to a 19-year-old called Suzanne Elrod. They moved to Nashville where Cohen recorded his second album. Songs From A Room met with some success in Europe, but still attracted biting reviews. In 1973 he released his third album, Songs of Love and Hate, which was even less successful than previous efforts. By this time he had become a father but was looking for an escape from family life. He joined the US army in the Middle East. He lived in a Tel Aviv hotel and foreswore his promiscuous ways. His self-imposed celibacy was shortlived. A young female journalist tracked him down and he gave the interview on condition that she took off her top.
Placed with the US Air Force entertainment group on the front line, Cohen performed at rocket-launching sites and drank cognac with General Sharon. But his army experiences diluted his sense of patriotism and he returned to the US and Suzanne, releasing New Skin For The Old Ceremony to some acclaim. In 1977 he split from Suzanne. He continued recording and writing, releasing Recent Songs, a book of 50 psalms, and made a brief appearance in an episode of Miami Vice as head of Interpol.
By now his albums were not being released in the US but his songs found new life through successful covers by Willie Nelson, The Pixies, Nick Cave and Jeff Buckley. Despite this, and a new relationship with actress Rebecca de Mornay, Cohen suffered bouts of depression and became dependent on Prozac. He retired completely from public life and was ordained as a Buddhist monk in 1996. He re-emerged in 1999 with further albums and written material, reportedly broke after his publishing royalties were gutted. By his own testament, he also began to settle down. "Growing old is the only game in this town," he said in 1997, "but it puts you off a lot of other games you've become attached to, like romance, because there is nothing more inappropriate than seeing an old guy coming on."
? More dublintheatrefestival.com;
leonardcohenfiles.com; leonardcohen.com