Joseph and The Amazing Bank of Ireland Chequebook
"Joseph and The Amazing Technicolour Dreamcoat" has already bought Noel Pearson a small castle in Killiney and may yet rescue him from the depredations of "Elvis" and "Plain Porter." More appropriately the show should now be known as "Joseph and The Amazing Bank of Ireland Chequebook."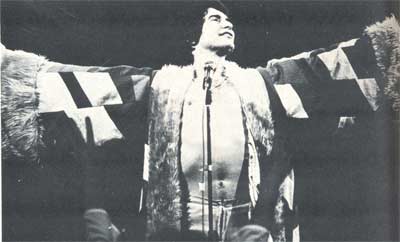 Pictured Above: Tony Kenny as Joseph
The show first opened in Ireland on March 4, 1974. It ran three weeks in the Olympia, transferred to Limerick where "it died a death", returned to the Olympia during Holy week and "stuffed" two houses a night, then to the Gaiety for four weeks, then back to the Olympia for six weeks, on to the State Theatre in Phibsboro, and finally to the Pavillion in Dun Laoghaire.
There was nothing ever like it in Irish show business and Pearson must have made over £50,000 out of it, though of course he vigorously denies such suggestions. But how about that castle in Killiney - it was far from there he was brought up (Crumlin in a family of 13) - and those flashy cars, though now reduced to a small Renault?
Hard work, my boy, hard work! Balls.
Pearson has hardly been the most disciplined and diligent of toilers. He rarely rises before the crack of noon, though then his night life commitments (that's the business side) are strenuous. Lunch in the Old Stand with Jim Hand with whom, until recently, he shared office and a car and thousands of tall incredible tales. Stroll back to the pad (i.e. office-cum-flat, off Merrion Row), a few frantic phone calls and then to the Horseshoe Bar in the Shelbourne for more crack.
His office colleagues are Eddie O'Leary, late of the property world, and author of the proposal that wives shouldn't be allowed in beyond the canals after 8 0 'clock at night without special passes, and Earl (Derby) Gill. All human life is there.
Anyway they made a cock-up of a few shows recently. "Elvis" was a shambles because of the script and the absence of suitable venues. They had a run of only two weeks in The Gaiety before having to move off to Waterford, where they played in a tiny hall to an even tinier audience. They were to move to a hall in Derry until Pearson discovered that the curate running the gig, hadn't bothered to make any arrangements and this was a few days before they were to go there. They switched to Castleblaney because Pearson or Jim Hand, or someone knew a guy who owned a biggish hall.
But the Monaghan folks weren't interested much in "Elvis", so they returned rather desperate to the Olympia. There it petered out and, though he lost a small fortune in "The King", there were no regrets as they all had a great time.
The "Elvis" idea was typical of the Pearson initiative. In the first place the idea wasn't his at all, but that of Maevis Ascott, the choreographer. But he immediately pounced on the suggestion, and within a matter of two days the show was under way.
Journalist, Donal Corvin, was commissioned to write the script and then was immediately threatened with dire consequences if he failed to produce on time. Michael Hand, of The Sunday Independent, casually mentioned to Pearson that Corvin had been late twice with stories for him and Pearson hired Shay Healy instead.
Healy "poured his soul into that God. damn thing", but made a total pigs mickey of it.
But the music was fine, Earl Gill produced the right sounds, Maevis taught even Cahir O'Doherty to dance, actually Cahir was really good as Elvis and Donal McCann did manfully with Healy's script on the elder Elvis.
But it was a disaster and all in all it deserved to be. Pearson took off a few times in the middle of all this to fly to Germany or Switzerland or Manchester or somewhere for a "snatch" - i.e. to off-load The Dubliners of 10% of the loot they were raking off around the continent. Pearson is their manager.
Though he was losing thousands and one of his flashy cars on the "Elvis" show, he was amazingly unperturbed. friends said that his inner calmness was attributable to a renaissance of the religious fervour that drove him to become a Marist brother for a while. The mother of one of his stars is said to have been the instigator of the "Plain Porter" idea. The formula seemed right, for hadn't it worked with the very much less well-known Sondheim last summer? Basically it involved stringing all the composer's best known songs together with a tenuous, vaguely witty script ( what is the difference between disappointment and despair disappointment is the first time you realise you can't do it twice and despair is the second time you realise you can't do it once).
They booked it into the Gaiety for a 7-week run, and though the critics liked it, except for Con Houlihan, the public was lukewarm and the show was taken off with three weeks to go. (Johnny Giles beware).
What to do, what to do? Bring back  Joseph, his bank managers chorussed. So enter Joseph, stage right.
But he'd better beware. The last time Joseph rose from the dead, at Goffs, off the Naas dual carriageway, there was a touch of rigor mortis about him. The punters weren't quite ecstatic and the show only barely broke even.
Shows are a precarious business at the best of times. Eddie O' Leary who does the books, among other things, says that only a handful of them out of a total of 26 have made money over the last six years. True the Tony Kenny and Nial Tobin (both are in the Pearson stable along with The Dubliners and Ronnie Drew and Stack) shows were profitable, as was Jesus Christ Superstar and the Sondheim show, but the others were either losses or breakeveners.
It has been for this reason that Pearson has spent a lot of time over the last year chatting up millionaires, hoping to prod their egos into "sponsoring" shows (i.e. they foot the losses and he pockets the profits). Surprisingly to anyone with an even vague acquaintance with these people, their egos have so far withstood these inducements.
The art of getting money out of people has been practised by him on both sides of the Atlantic. He has been trying to raise about £200,000 to do a film on the life of Brendan Behan for some time. He has chatted to Government Ministers of all hues, to hardened businessmen all over the place and even to blue rinse little old ladies in America - there was a hilarious occasion some years ago when he was enticed (for once) to Arizona or someplace to meet this little old dear who wanted to invest in culture. Pearson says she would have parted with the loot had he gone to bed with her, but there is only so much you can be expected to do for your country - die maybe, but lie, never.
Actually the Behan film might come off in the near future. He has enticed money out of the Government and some American has put up some cash. All he needs now, he says, is about another £100,000.
His success in extracting money from the Government may not be incidental to his political leanings. He fancied himself as a Fianna Fail candidate in Dublin South-West for a while (that's the home territory, where he brings impressionable acquaintances late at night, sometimes to go through a mawkish recantation of his deprived childhood).
Maybe himself and Pascal Mooney will set up a party of their own sometime.
His political interest extends to the North, for he has been a loyal devotee of the SDLP for years - in their early days they stayed in his modest sixbedroomed home in Zion Rd, Rathgar (now inhabited by Kevin Marron who in all seriousness has frequently abused Pearson for selling him a haunted house) that was before Joseph moved them to Killiney. The SDLP scandalously abused his hospitality, but Pearson remained their best friend in Dublin.
Not that he has any politics really other than a vague desire to be in the mainstream of "respectable" middle class opinion - so much for the nostalgic trips to the scenes of his childhood. He likes the SDLP as individuals, especially John Hume with whom he has a great affinity.
While he is well practiced in enticing money from others, he is also well versed in not parting with his own cash. He has been involved in a number  of  'outside interests' all of which has   been characterised by his remarkable   stinginess. He was connected with a   model agency for a while, which he   enjoyed thoroughly, he later got involved in a restaurant, "Eve's" in  Pembroke Road, which he decorated  with photographs and posters from his  shows and then disengaged and, most  recently there has been Magill.........
It was great fun for a while until  he became distracted by "Elvis"or  something, and then there was no  interest on his part at all. Eventually  he decided to get out, but at a profit,  clever bastard.
   
Anyway Joseph is back again from  the bible and will feature in The Gaiety  until the end of May and then move,  hopefully, to The Olympia for an  extended run.
   
Then on June 6 he opens, again at  The Gaiety, with "The Borstal Boy"  by Brendan Behan, with Nial Tobin,  and this should be another money  winner. The play has been by far the  most successful Abbey production,  possibly in the history of that theatre.  It was a huge success here in 1968 and  then a rave success in Broadway.  Pearson put the play on three years ago  in Cork and this with the original star,  Toibin, and the original director,  Tomas MacAnna, is the first time he  has brought it to Dublin. It is expect- ed to run until mid-July.
Meanwhile he will probably be  running a new version of "Plain Porter"  as a dinner theatre in the Shelbourne,  this time with a case of four, and just  two musicians. Gemma Craven may be  returning to take one of the parts.
Three shows going at the one time - how can one little man to do much?
He has come a long way from selling buckets of medals at the foot of Croagh Patrick as a child ("blessed medals for sale") and make no mistake Pearson is an able, gent. Some day he will make a packet for himself and maybe even become famous which would really  make him happy. If anyone in showbiz here deserves to make a packet, surely it's him. He has shown flair, courage and ingenuity repeatedly over the years and had he reverted to the easy money of show-band management there are few who could have blamed him with the un-even success he has had with his shows. But he has persisted with the pre-carious vocation of impressario, even if often his doggedness has met only with ridicule.
Meanwhile, if you see a squat, badly bespeckled little gent with a manic glint In his eye scurrying around town...... Beware.