The Irish economy on the move: Dublin Port at daybreak
Every morning at 6am, two of the largest sea ferries in the world disgorge, onto Dublin Port, thousands of tons of imports, for sale a few hours later on supermarket shelves throughout Ireland. Within two hours these same ferries leave with thousands more tonnes of exports. Vincent Browne spent a very early morning watching the Irish economy on the move.
Thursday, 16 June, 5.45am: We are out at the extremity of Dublin Port at Terminal One, just opposite the Pigeon House and its two chimney stacks. I am with Seamus McLoughlin, the Dublin Port Authority's head of operations, and Brenda Daly, the marketing/public relations manager. No rain, shining sun, but a cold north-east whipping wind. We are wearing yellow visibility jackets.
The huge Stenna Adventurer is just passing by on the way to its berthing just down from us, bang on time. The even more massive Ulysses of Irish Ferries is on its way into the port, to dock right beside us.
The Ulysses was built in Finland, between 1999 and February 2001, at a cost of €100 million. It has 12 decks. It can carry more vehicles than any other ferry operating anywhere in the world with almost three miles of parking space for 1,342 cars or 240 articulated. It operates two return sailings between Dublin Port and Holyhead each day with a sailing time of just over three hours (same as Stenna Adventurer). In a single day it can transport 5,368 cars or 960 articulated trucks across the Irish Sea. Plus 2,000 passengers. Nobody said "awesome", but had they, it might have been forgivable.
5.57am: The Ulysses docks on time, as usual. Seamus McLoughlin says the Ulysses has never missed a sailing, no matter what the weather.
6.01am: Double-deck ramps come down beside us, at right angles to the dock. The bough doors of the ship open and internal ramps extend out towards the dock ramps, to form a bridge.
The internal ramps, when the ferry is seaborne, form a watertight door inside the ship – an innovation introduced on these large ferries after the disaster of the Herald of Free Enterprise on 8 March 1987, when 193 passengers and crew were drowned off the Belgian port of Bruges-Zeebrugge. That disaster was caused in part by failure to close the bough doors properly before leaving port and the absence of any internal protection against the encroaching sea water.
The dockside ramps, which cost €20 million each and are electronically operated by a port official, rise and fall with the oscillation of the ship, an oscillation caused by the swell of the sea and the ebb and flow of the tide.A secure bridge, or rather two bridges, are established – one 20 meters above the other.
6.03am: The trucks start to roll from the ship, across both bridges, one above the other. We are at the lower bridge, wide enough for four lanes of traffic. I miss the signage on the first truck to come off on the lower level. The second has "Dermot Laffey Transport" printed on its side, followed by a truck "Dixon Ireland", then "Marks & Spencer.com". The trucks are now rolling in a steady stream across both bridges, just four to five minutes after the ship docked.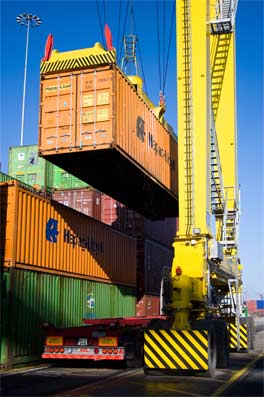 "That's the Irish economy on the move" says Seamus McLoughlin. "You get all the consumer goods coming in here and it ranges from cornflakes to television sets, tyres, motorbikes, all the consumer goods we need. The lorries and trucks come from all over Europe and if that stops, our economy grinds to a halt."
6.05am: The trucks keep rolling across both bridges: Meath Street; Kilcullen; Co Kildare; Norfolk Line; Refrigerated Transport; Nolan Transport.com, Wexford; Monaghan Refrigerated Transport.
There are plenty of refrigerated units on these trucks. Seamus McLoughlin says: "They've a small fridge on the front so you'll find in those a lot of perishable goods, you know, foodstuffs and this kind of stuff. They need it on the shelves probably this morning somewhere. And they'll be there. That's why it's very critical for us to play our part because the end receiver of these goods, the various chain stores whatever, they depend on us having everything in place so the ferries can do their thing."
6.07am: Lots of trucks carrying horses emerge from the ship: Emerald Enterprises; Martin Racing; Neville Horse Transport; Shamrock Logistics. The Ascot races are on this week, which could have something to do with the abundance of horses.
Increases in air transportation hasn't dampened port activity too much: "A lot of air cargo goes through Dublin Port. They can get to the market much more reliably and much quicker by sea in many cases than they can by air. If somebody wants it at seven o'clock in the morning, it's not stuck going around in circles in a place like Heathrow Airport. I saw a Ryan Air fuselage coming in here one day on a trailer going to a college in the UK. No wings obviously and tail. I've seen helicopters, I've seen boats, anything you can think of coming in and out on these ships," says Seamus McLoughlin.
6.08am: The speed with which these trucks get off the boat is amazing. Maybe 40 trucks have gone through here on the lower deck alone in the few minutes we've been here – certainly 10 trucks or more come off a minute. The same is happening right overhead us.
Seamus McLoughlin says: "You wouldn't know what's in these things, every conceivable type of consumer good is carried on these units so if you stopped and open them, you could find anything in there. That's a Polish unit [pointing]. That truck started in Poland, [and] has come across a hundreds, maybe thousands of miles of roads. It's gone through various ports and we're just one element in that supply chain. What we target is to make sure that our portion or our role in that supply chain is as efficient as possible so that the goods keep moving and get to the market as quickly as possible and it's very, very important to the economy that people can rely on these goods moving quickly."
6.10am: Cars come across now on huge trucks – Toyota cars, second hand. Seven cars sit on the first truck coming through and yet another truck roles by with lots of cars, again, second hand. Eleven cars on the next: Carnagh Transport. The same activities go on at the upper level. Shamrock Logistics, Freight Forwarding, M&S, Noone Transport, Slane, Co Meath and T Cullen Transport all trundle by.
6.12am: A warning signal. The ramp operator is adjusting the position of the ramp relative to the ship. As the ship goes up and down with the tide the ramp has to be changed as well to maintain the relative position of the roadway on the ramp. Obviously if there is a big hump in it, the trucks would get caught going over it. If there is a big dip in it then the front of the trucks and the tails of it would get caught so it has to be constantly adjusted. Some of the ramps do so automatically.
Brenda Daly says: "At the gates going out of each of these terminals, you'll have Garda, Immigration, for example and you'll have customs and they do spot checks and they randomly stop vehicles for a check but that's going on way over there. But now that the port tunnel has been opened we don't have the tailbacks that we used to have as you can imagine with two ships discharging, seven kilometres of trucks suddenly appearing on the roads, we used to have big tailbacks here before but the tunnel has made a fantastic difference to that, a tremendous asset to the port. It keeps the goods moving very, very quickly. It's very funny like you go up to some of these places like Marks & Spencer and there will be somebody up there literally waiting, the truck would be there in two minutes and he'll have his team ready and they'll discharge it and very often that truck will empty, turn around and go back out on the same ship on the morning's sailing. That's how well it works."
"They might go up with, for example, one of those trailers. He might have brought in one yesterday morning. He'd just drop it up there and the staff up there would start unloading it and getting it onto the shelves straight away. He'll just hook up onto the empty he left there yesterday morning. He'll leave the full one. Two Marks and Spencer's trucks there. You'll find that there are probably three on the other ship [Stenna Adventurer]."
6.18am: The "accompanied" trucks (ie those with the cabins and engines attached) have all been discharged from the lower area. They are still coming out on the upper ramp. Now yellow tractor units (a cross between a tractor and what looks like an un-menacing JCB, with cabins that can be rotated) now roar up behind us and go down into the hold of the ship, emerging a minute or two later with the elongated trailers carrying containers.
6.22am: We go to the upper level. There are still "accompanied" trucks coming off here (accompanied by drivers) and after a while the tractors swarm around, disappearing into the vast mouth of the ship and emerging with trailers loaded with containers. The trailers are towed to large trailer parks nearby, where they await the arrival of the towing cabins and drivers. Sometimes their wait lasts a few days. Other ships are coming and going: tankers, ships carrying just containers and smaller ferry vessels, nearly all from the western coast of England – Holyhead and Liverpool mainly.
There is constant traffic – ships all needing berth space when they arrive, needing the off-leading facilities, access to the huge container yards and the parking areas. All is organised with the precision of air-traffic control.
A large volume of the sandwiches that are available in Dublin shops are made the previous evening in Crewe and other locations in England. These sandwiches are then transported to Holyhead by trucks that board the Ulysses or Stenna Adventurer. The trucks disembark shortly after 6am and deliver "fresh" sandwiches to Marks and Spencer's and other outlets for Dublin customers.
There have been few foot passengers on the Ulysses this morning. They cross into the arrivals area through a passenger bridge shortly after 6am; then into the baggage area, similar to the baggage halls at airports; then through immigration control and customs.
7.20am: We move into the arrivals area where there is an exhibition of flowers from the National Botanic Gardens, which originated from ships that came into Dublin port over the years. The exhibition was overseen by a Liverpool artist, David Yeats, and he involved St Joseph's School in East Wall.
Brenda Daly explained: "These old flowers that came off ships on clay ballast years and years ago, they are very unusual. Ships now use their ballast, it's water now, years ago, it used to be rock and clay and the seeds got into the clay. So the ships came all the way over here from places such as Malay and the ballast was thrown overboard, all of a sudden these non-indigenous plants were growing all over the place but it was never native to Ireland. The Botanical gardens obviously had an interest in these and it was from there that the exhibition arose."
7.45am: We moved on to the Port Operations Centre. This is the equivalent to the air traffic control centres at airports. Liam Byrne is in charge in a tower overlooking the port, out into the bay. He is sitting in front of three computers, all keeping him informed of sea craft movements not just in the port but right out into the bay and into the Irish Sea. He points out the salient point in the bay and to the Bailey Lighthouse at the tip of Howth Head, Poolbeg Lighthouse, North bull Lighthouse, the Kish right out into the Irish Sea, and the Burford Bank, a sand bank right at the entrance to Dublin bay. Sea traffic must travel on either side of the extensive bank and there are two lanes on each side – one for outgoing traffic, one for incoming traffic. There are buoys at either side of the Burford Bank: the north Burford buoy and the south Burford buoy. Ships can't come in over the sandbank.
There are parking areas in the bay, where ships park, sometimes for days, after they have discharged their cargo and while they are waiting to take on new cargo.
Liam Byrne explains: "We've two different radars. I keep my main working radar on a ten-mile scale just for traffic coming and going. We have a second radar, I normally keep it on a 30-mile scale just for viewing different ships, you know from a distance. Most ships have now what's called AIS (Automatic Identification Systems). When you log on to it on the computer screen, it gives you the name of the vessel, it's next port, in this case, Stanlope, more or less up by Liverpool, up near the Manchester Ship Canal. It just gives you details on the ship, the speed... he's doing, on three knots. He's on a course of 06/2 degrees. It gives you a fair amount of information. We can keep an eye on him then, you know.
[Pointing at another screen]. This would be the list of ships due for arrival and departure and so, say for instance, The Rheintal, he's due at 08.00. This one here, his last port was Antwerp. He's due next port Belfast. It just gives a description of the cargo, he's a container vessel so a description of units which would be your standard container 40ft-20ft containers. He'll get a pilot 08.00."
He points to other ships registering on the computer screens and by merely clicking on their icons can tell a great deal about them: where they are going, from where they are coming, the cargo they are carrying, and their estimated time of arrival.
"If it's fishing vessels and that, they'd use the insure traffic zone, that's the inshore zone. The ships themselves must use the traffic separation scheme. Small vessels and fishing vessels they'd be exempt, they can use the insure zone."
Seamus McLoughlin intervenes: "Do you remember Captain Bligh, Mutiny on the Bounty? Well Dublin Port, the area is very unusual, the tides normally are sort of six hours one way and six hours the other, but because of the shape of the Bay, what actually happens in the Port, the tide goes north for nine hours and south for three. It's just the physical properties... of the area and the resultant currents that flow around it, give you more or less northerly drifts for nine
"So Captain Bligh did a big study in the port 200 years ago and decided that the sand was being moved up and up and up and that's what was blocking the channel and they couldn't keep the port moving so he and some experts at the time sat down and said, 'we'd better build a great blooming wall out here to try and protect it', which is the Great South Wall... the wall that extends way out there, which everybody loves walking on. That was terrific in that it stopped the sand piling in here and blocking the port, but because it changed the way the water flows, the whole currents came around and that's where Bull Island came from.
"They thought well now we've built a wall on the Southside, that's a great idea, why don't we build a similar wall on the Northside? And the philosophy was that if we do that all the outgoing tide, there's such a volume of water trapped in here, that it'd flow out there so quickly it would scour it and keep it clear so we won't ever have to dredge it. Now most sailing ships could come in against the velocity of water that was there, so they only built that up to half tide. So, in other words, up to half tide the water is constrained to move out but it's not flowing to such a velocity then when it goes over half tide.It literally flows over the wall. People don't realise that Bull Island didn't exist at all and that's a beneficial outcome of the Bull Wall. And there's a bird sanctuary out there and you've got two golf courses."
8.05am: We leave the Port Authority area and head towards the Head Office. Along the way we see mounds of containers, piled one on top of the other, all registered, all immediately identifiable on computers and all accessible through a massive crane, straddling the huge piles of containers.
Back at the Port Authority headquarters on the top floor of an ugly building right beside The Point, we are joined by Enda Connellan, the managing director.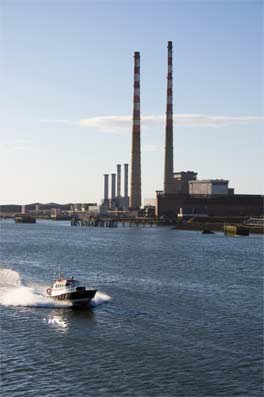 One of them tells the story of the port: "Where Trinity College is, is actually on reclaimed land. All of the land east of there was reclaimed even where East Wall is. Of course the port started originally up in Wood Quay [opposite the Four Courts] and it has migrated as most ports do down through the years, always in pursuit of deeper water because of ships getting bigger. Up to 1975 we brought ships up to where the IFSC is now, the old custom house docks."
Enda Connellan says: "The port area is now about 260 hectares; it's the guts of 650 acres. Of the goods that come off the ships here we reckon about 50 per cent goes to locations within the M50. Seventeen per cent doesn't go more than 50 miles from Dublin. In fifteen years we have grown by a factor of five and our last 10 we've grown by a factor of two."
I ask about the proposal to move the port to north county Dublin. Enda Connellan says: "I think the first thing that if there was a proposal to move the port, I would imagine that somebody would be talking to us, and there isn't. There's nobody talking to us. There's megaphone politics going on, other people telling us what we should be doing but there's nobody talking to us.
"It would be a pretty massive project. It's not impossible but the first thing you have to do is to identify a suitable site And the strange thing about the site that's being talked about is it's Braemor, up there in Fingal. There are two north- east facing ports in the country: Rosslare and Dun Laoghaire and they close every time you have a north easterly severe gale. This port at Braemor is also to be north-east facing. Any sketch of it I've looked at, I wouldn't touch it with a barge pole. For that reason you'd close in storms in heavy weather."
We revert to talking about Dublin Port. Enda Connellan says: "We are at the end of a feeder chain here. You know if you are bringing a cargo of say Guinness from here to the United States, you have to bring it east first because that's where all the mother ships run from. So it is taken from here to Rotterdam and from there to Philadelphia or New York or from Rotterdam to Singapore or Hong Kong or wherever it is going. So we want to send a container from here to Singapore or from here to China or from here to America, we first send it to Rotterdam.
"Fifty per cent of our containers go to Rotterdam the other 50 per ccent will go to places like Liverpool, Southampton, Le Havre, Hamburg and they'll take mother ships from there to their final destinations but every now and again someone comes up with this great theoretical idea that we should run a container service directly from Ireland and that the last one was going to run from the Shannon to New York but it would mean that everybody would have to put their eggs in one basket. Guinness would have to, Pfizer would have to put everything on the ship, you know, if you're going to fill that ship and they simply won't do that.
"There's an example of it some years ago Guinness landed 30 containers of Guinness on the Quay Wall in Boston and they were expecting about minus 5 degrees but it went down to minus 15 and the whole consignment was destroyed. Now they quickly had to replace those 30 containers, which they were able to do otherwise their marketing campaign was gone. So, what I was saying is we are on the end of an international feeder chain, which we're not in control of. Rotterdam has huge power. Rotterdam can decide when it gets a little bit congested, which it has done in the last few years, it's not going to take any more empties. We don't have that luxury and once they decided they were going to do that we suddenly find empties coming our way, which we have to cater for. Container line operators have to find somewhere to put them. Rotterdam says you're not putting them here, we're too busy so they say there's a bit of room in Dublin, we'll bring them over there but they'll constrain you and say we're only going to allow you to have 2 per cent or 5per cent empties. So they're the powerful guys in the market. But Rotterdam will get over that problem now because they've reclaimed 3,800 hectares, just like that.
"There's about a quarter of a million trucks bringing stuff from here and bringing stuff back from here to Europe using Britain as a land bridge. Maybe the Brits don't like that too much and we're using their roads and we're not paying them any road tax. You might go from here across to Holyhead or Liverpool right down to Dover or something. If you were bringing goods to the Manchester area, you would definitely use one of the lines running to Liverpool. If you were running to Dover you'd probably use Holyhead because it's easier to access Dover through Holyhead than it is through Liverpool, but if you were going to the Manchester area, you would be unlikely to use Holyhead as your route. So there would be patterns within those trades.
"In Dublin Port Company – not in the port itself, about 4,000 work in the whole port – but in Dublin Port Company, which manages the port of Dublin, we had nearly 500 people about six years ago. We now have 172 so that brought the cost base down. We had to bring the cost base down anyway but we also had an increase in quantities so we were able to keep the price the same and I'm talking in real terms".
I ask about dockers. Enda Connellan answers: "There are probably a few more than there were but they're no longer called dockers, because the traditional docker is a fella that you saw with a slash hook over his shoulder and those guys have gone. They wouldn't allow containers into this port up until 1975 for instance. What you have now is a whole heap of competing companies. We have nine competing entities and they all employ their own workforces and they don't look nor act like the traditional docker. And that's why you think that there aren't any dockers."
8.21am: Seamus McLoughlin says: "There is the Stenna Adventure going out, remember the ship we saw coming in this morning? The Ulysses is already gone. Now there's the turn around we're talking about. She's loaded all  that cargo we were talking about and she's gone again."
By this stage I am almost gone too.
The Bull Wall and Captain Bligh
Sand was the major problem with the port throughout the centuries. Because of the currents and tidal flows in the bay, there was a constant build up of sand at the mouth of the Liffey, which obstructed the passage of large ships. For centuries large ships anchored in Dalkey Sound, between Dalkey Island and the coast. Cargoes were taken off in small boats and housed in one of Dalkey's five castles.
Later large vessels berthed at Ringsend, but precariously. Then Captain Bligh came along (of Mutiny on the Bounty fame) and he proposed, at the beginning of the 19th century, the constructing of a long wall, out into Dublin Bay, to prevent sand lilting up the entrance to the Liffey. This did the trick, although sand banks continue to be a hazard, with the Kish, the Buford and the Bray sandbanks being obstacles to large vessels.
The port originally was sited at Wood Quay opposite the Four Courts. Over the years it has moved out towards the bay in search of deeper waters.
Bringing in the Big Ships
Liam Dempsey is one of the pilots at Dublin Port. I asked him about how he gets on board these huge ships from the small pilot boat in which he travels to them. "I board by pilot ladder. A robust form of rope ladder. It's usually straightforward but on a February morning or whatever, it can be a bit rougher but in beautiful weather like this, it's no problem at all. With the smaller ships, where the master had been in and out of Dublin already several times, he'd know the port quite well, he'd know his own ship quite well. So I would just give him communication's advice. With larger vessels, if the captain hadn't been through the port much before, then it's quite likely that the Captain would ask me to sheer the ship into port and also perhaps to do the manoeuvring to get the ship alongside the berth, particularly if we were working with the tug boats. So it varies usually on the size of the ship, how regular the ship is here, and how often the captain has been here as well
"In a 12 hour day I would be doing this anything from typically four times to eight/ten times perhaps. Bring ships in, ships out. It can be straightforward, you can go out in one and transfer to another."
I asked where he learnt to steer such big ships. "Most pilots, I'm no exception, have been away to sea and normally work up to have a Master's qualification, a Captain's qualification and ideally have Captain's experience, so that you'd have experience on your own ships manoeuvring the ships"
Facts about Dublin port
Half of all Ireland's imports and exports come through Dublin port.
The value of goods passing through the port is estimated at €120 billion.
As many as seven kilometres of trucks come off ferries at Dublin port each morning, just between the hours of 5am and 7am.
The port holds two days aviation fuel reserves. Without it Dublin airport would close.
More than 80 per cent of the goods coming through the port are for the retail market.
There are 17 ferry sailings every day connecting Dublin port with Holyhead, Liverpool and Douglas in the Isle of Man.
Over 1.3 million tourists come through the port every year.
Eighty cruise vessels visit the port every year, bringing an estimated €30-€50m to the local economy.
In 1997 Dublin Port was established as a corporate entity, wholly-owned by the State. Its chairman is Joe Burke, a close associate of the former Taoiseach, Bertie Ahern. Among its other directors is former Labour senator, Pat Magner.
There are 170 staff employed by the company but over 4,000 work in the port area.
The new Lord Mayor of Dublin, Eibhlin Byrne, is an Honorary Admiral of the Port, by virtue of her office.
The area occupied by Dublin Port is in the region of 600 acres.
Dublin Port Ltd has invested €227m over the past ten years and anticipates investing a further €500m over the next 10 years.