Irish-British-Chinese atheist at StormontIrish-British-Chinese atheist at Stormont
Anna Lo has been elected to the new Stormont Assembly for the Alliance Party, one of 18 female MLAs. By Fionola Meredith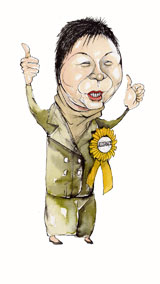 It could almost have been a scene from Strictly Come Dancing rather than the Northern Ireland Assembly election count at the King's Hall in Belfast. Everyone turned to look when the normally dignified Alliance party leader, David Ford, dashed across the room and embraced a tiny laughing Chinese woman, whirling her high into the air.
Ford was euphoric: his candidate for South Belfast, Anna Lo, had just clinched a decisive victory for the party. With 3,829 first-preference votes – just 506 short of the quota – Lo polled far ahead of the three Ulster Unionist candidates in the constituency, and was elected on the eighth count. It quickly emerged that Lo, who was born in Hong Kong and has lived in the North for the last 32 years, is in a unique position: not only is she the first politician from any minority ethnic group to win a seat in the assembly, but she is also the first Asian woman to be elected to any European parliament.
Lo, a mother of two, says she was given just 24 hours to decide if she wanted to join the party and run in the Northern Ireland Assembly elections: incredibly, she was approached only the day before the deadline for submitting nomination papers expired. "If I'd had a week to consider it, I might have talked myself out of it. But I joined because Alliance is the only neutral party with any clout. I don't feel affiliated to Catholic or Protestant parties: Alliance is my natural home."
It was an uncharacteristically imaginative move by the cross-community, non-sectarian Alliance Party, which holds just 7 out of 108 seats in the assembly. Most voters treat Alliance with a benign indifference, and while the party traditionally pulls in a small but consistent vote, its politicians are often portrayed as colourless, middle-class do-gooders. Their well-meaning, preachy discourse is usually drowned out by the noisy, tribal tub-thumping of Northern politics.
The Alliance do have the odd maverick in their ranks, who refuse to toe Alliance's (relatively) liberal line, including the party's Mr Angry, former assembly member Seamus Close. The irascible Lisburn city councillor embarrassed party leaders by trying to prevent same-sex civil partnerships taking place in the council's wedding venue, the Cherry Room, which he wanted to reserve for purely heterosexual rites. This defiance of party policy – Alliance is a firm supporter of civil partnerships and other equality measures – earned Close the mildest rebuke from David Ford.
"I'm not Anna Lo's PA," snaps the receptionist at the party's Stormont office, frazzled by the incessant stream of media enquiries. Lo herself is relaxed and expansive, buoyed by her win and looking forward to taking her place in the assembly when it finally meets in May. She's proud to be one of 18 female MLAs. "The assembly should reflect the make-up of society. Women are practical, pragmatic people: they work, they run homes, they run their husbands, partners and children. We could do with that common sense at Stormont."
As chief executive of the Belfast-based Chinese Welfare Association, Lo hopes that her election will "give a voice to the 10,000 Cantonese speakers in the province who often found themselves on the margins of its complex political make-up. Many of them have been here for 30 or 40 years and this was the first time that they came out to vote and have had someone to vote for. Coming from outside here, it's so difficult to understand the local politics. For Chinese people to feel that they are naturally affiliated to one side or the other is even more difficult, let alone wanting to vote."
With her distinctive Belfast twang, it's clear that Lo feels right at home in the North. She was just 24 when she first came here in 1974, in the bloody chaos that followed the loyalist general strike. "It was a bad situation, complete madness. I arrived in the middle of a fierce sectarian war: my parents and friends thought I was crazy to come. I had lived in London, and after that vibrant place, Belfast seemed dead. There was no entertainment, no restaurants, and the city centre was surrounded by a ring of steel."
Newly married to a young Northern journalist, Lo and her (now ex) husband moved into a flat in Cyprus Avenue in East Belfast. The street might have been idyllically sun-dappled in Van Morrison's romantic imagination, but Lo's time there was much darker. "One night a bomb was thrown at the door of a Catholic family across the road, and it rolled back under their car before exploding. The force of the blast blew out all the windows in our house. My husband was away and I was on my own in the night. I just dived under the dining table. I was absolutely petrified."
But Lo's pragmatism had her galvanising the small, isolated Chinese community, setting up English-language classes and organising jaunts to the northern coast. Remarkably free of ego, Lo is likely to bring the same brisk cheerfulness to politics. And, perhaps inured by years of exposure to both casual and overt racism, she is stoical in the face of the vicious abuse she has received, both before and after the election.
She was advised by the PSNI to carry a panic alarm while out canvassing after receiving a stream of racist threats, and a far-right website published pornographic images on which Lo's face was superimposed. "In the past I have been kicked on the street because of who I am, but they are not going to stop me," she says.
It's the congratulatory cards and letters, the messages of support and good wishes that keep her going, and it's this warmth that Lo insists is truly representative of local people. "Compared to the overwhelming support I have received, this is only a small minority. In all societies there are small elements who are against you simply because of who and what you represent. I think my election shows how far we have actually progressed as a society." And the abuse on the internet? "It's filthy and offensive, but I just try not to think about it."
In the flurry of international interest which followed her election, it's been widely reported that Lo is a Taoist, an adherent of the ancient Chinese philosophy and religion which values simplicity and non-interference with the natural order. She's not: "While both my parents were devout Taoists, I am an atheist." It seems that Lo, who describes herself as "Irish-British-Chinese", is keen to waft away any lingering exoticism which clings to her name. Lo has no time for the hand of history on her shoulder. She simply wants to get the job done.