Ireland first! Gibraltar a close second!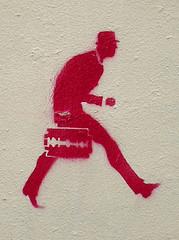 Remaking the country in one's image, or at least in ways that fit snugly with one's interests, is all the rage among Ireland's golfing cosmopolitan elite. On the day when Ed Walsh called for the implementation of economic 'martial law', Patrick Barry examines Dermot Desmond's drive to become Ireland's leading political moustache.
If all people approach a problem with the same point of view, that debate adds nothing.
Dermot Desmond. Ireland First. Political Reform – Effective and Efficient Government.
Micheál Martin's Fianna Fáil is going to be the party of reform. Contrasting his party's plans with those of others, he states: "Our proposals would involve a transformation for our government," which moots "that membership not be limited to members of the Oireachtas." The Corkman summons his boyish, Bobby-from-Dallas, charm when he concludes that FF will institute "real reform of parliament and government only when we are willing to rethink key structures which have been in place for most of our history as an independent state". Rethinking these key structures means more than you might think and of course not who you might think. What counts for reform and on whose terms this reform takes place are not being examined. Instead we are being punished with promises of reform that is "badly needed" and "necessary". Everyone's doing the reform performance: Labour, Fine Gael and the Greens. Civil society too is awash with proposals.
The Dublin City Business Association has a 10 Point Manifesto Towards a Second Republic that opens with quotes from Plato and Edmund Burke. The National Forum Alliance wants to reform the judicial system and to "restore national pride". Dublin and other constituencies are bursting with independent candidates such as Paul Somerville who exhorts us to "Stop talking. Act." Elaine Byrne, who could be forgiven for having watched too much Logan's Run, believes that it is the young who inherit the political terrain. Her attempts to get new voices into the mass media deserve support but you have to ask: reform for whom? Now, there is an answer: he stands proud and plays lots of golf. In the pages of the Irish Times whose servers host his musings, he leads as always from the front. His name is Dermot Desmond.
Desmond sees an opening somewhere in the current climate for political reform. There is a crisis in competence; government is broken and it needs to be fixed. There's an obsession with secrecy at the highest levels of the civil service which requires that "we must radically reform the political system to a design that puts Ireland first". Desmond proposes reforms to the Oireachtas and Government, the electoral system, local government and he seeks "open government". The man's talent, built up over 40 years of selling off other people's companies, has been applied to the task of suggesting reforms to Ireland's political system. Desmond is a very wealthy man but he is also a non-Irish resident for tax purposes. This means that he does not have to pay Irish tax on non-Irish sourced income. Desmond maintains a home in Dublin but as long as he does not spend 183 days or more in Ireland during a tax year he avoids paying tax on non-Irish sourced income. He denies simple motivations for this, naturally. He can still register to vote of course. Putting "Ireland first" also means that you do not have to pay income tax first. The irony is not lost on Desmond. He states:
The very essence of local accountability is people paying a form of taxation to their local council and seeing that self same money ploughed back into the community in terms of enhanced services. At the moment, there is by and large no direct link between the services provided to households and what households pay.
He wouldn't see that direct link, I am sure, because he doesn't have to use the A & E in St James's Hospital. In fact he did much to destroy that link: he gave Charles Haughey some walking around money. He goes on to say that:
Establishing a real link between local spending and local revenue requires that regional authorities have the power to vary the rate of any new tax, according to the needs and demands of different local areas.
Desmond's definition of local is of note. To many readers local might imply their immediate neighbourhood, perhaps their side of the town. I think, although I am open to correction, Dermot Desmond's sense of local extends across Europe, because in November last year when speaking to the Golf Business Conference last year he said:
It seems to me that Ireland faces a choice between a moderate tax economy with a competitive social welfare and public sector, versus an economy with high taxes and generous social and public packages.
This is Ireland in a global setting, competing for the business of multinationals, a setting where the word "high" and word "generous" are bad things. So reform for whom exactly? Dermot, in the past, has told us that he could take his business anywhere but he does not live in Ireland because he is avoiding politicians and small-minded people. It is these self-same politicians whose environment Desmond now seeks to reform. So committed to Ireland is he that he does not need to mention the word "justice" or "fairness" once in his proposals. The word "equality" exists only in as much as local authorities are provided with an equalisation grant – a base from which they can more effectively compete for services. TASC and Social Justice Ireland have produced monumental amounts of analysis on the reform of social welfare and corporate governance. Desmond concerns himself not with these matters. It is not budget cuts that harm people of course, it is a lack of joined-up thinking:
Many local authorities have produced innovative transport policies based on a reduction in car usage and an increase in public transport usage. Yet, at the same time, Bus Éireann is shutting down routes and reducing services.
This is straight from the IMF austerity colouring book. It is also exceptionally vague and badly written – not that this has ever stopped the Irish Times:
At the end of the day we get more for less by publishing data. This is an argument that transcends partisan discussion and ensures that the influence of vested interests is limited to the maximum extent possible.
He should know this because, as Gavin Sheridan writes, "Dermot Desmond went all the way to the Supreme Court in a bid to prevent the contents of the [Glackin] report being read into the record of the Moriarty Tribunal in 2004." Of course, no one can find out how many people, let alone who, benefit from non-residential taxable income either. The people who took the effort to write letters to the Irish Times this week know this all too well. They can see through his green jersey and know a neoliberal sock puppet when they see one. They would be aware that Desmond's dollar-green jersey is threaded to larger networks of capital. These networks live nowhere but get fixed in places, seemingly with no consequence for those living and working there. Transcending partisan discussion means taking all that "ugly politics stuff" out of our hands.
This is about political choices of course; the same political choices that are now proposed by Fianna Fáil and others when they want to open up government to unelected representatives. They are the political choices of those who want to see Michael O'Leary in charge of the HSE or Dermot Desmond sitting in the Department of Finance. Listen out for the rapid evacuation of people politics in Desmond's proposals because the less say we have, the more money he makes.