Hugh Brady : doctoring UCD
The president of UCD is ruffling a lot of feathers in the college by introducing radical reforms designed to bring it into the twenty-first century. But is he up to the job? John Byrne reports.
When UCD President Hugh Brady announced his reform proposals in March this year, the College issued an accompanying statement. "The consultation process about these changes has underlined the strong collegiate in UCD. We have managed to achieve change with little internal rancour or division."
When this was put to academics at the college this week, one laughed in disbelief, and another said the statement was "total bullshit".
There seems little doubt that there is considerable acrimony in UCD about the reforms. Since Brady took over as President in January 2004, there has been a protest march featuring hundreds of angry students. Letters have appeared in national newspapers from disgruntled lecturers. And in a general sense, there is a very tense atmosphere among staff at the University.
"You can tell that what is going on is serious, because academics are generally a conservative lot and it takes a lot to make them actually get up and do something," said one person.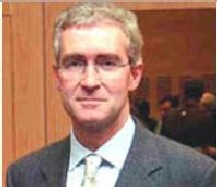 Forty-five-year-old Brady is in the process of introducing some of the most radical changes the University has seen in its 150-year existence.
His champions say he is a radical visionary, kicking a reluctant, antiquated UCD into a shape which could turn it into one of Europe's leading universities.
His detractors insist he is an arrogant, messianic man who refuses to take on board the opinions of those who don't agree with him. Some of them believe his American-inspired reforms will destroy the fabric of the University and turn it into an institution where the principles of learning and research are sacrificed in order to ensure the philanthropy of large, private companies.
"Hugh Brady is a very polite man," says Moore McDowell of the UCD Department of Economics. "He prefers to be called by his first name, and not 'President.' He is also a workaholic, very capable and very single-minded. He's inherited his leadership style from his medical background, and perhaps that annoys some people in UCD. But he doesn't want to make everybody happy. He wants to make changes."
The description of Brady as a dedicated, ambitious and driven person is consistent from his days as an undergraduate onwards. He schooled in Newbridge College in County Kildare. He studied in UCD and graduated with medicine and science degrees in 1982 and 1984 respectively. Those who studied with him remember him as extremely bright and quite serious. He enjoyed both squash and rugby, and still attends rugby matches.
A well respected academic, he left Ireland for the States where he held various positions in Harvard Medical School, including deputy director of medicine. He met his wife there, Irish nephrologist Dr Yvonne O'Meara.
"He has a huge reputation internationally in terms of high-level medical research," says Patrick Masterson, a former President of UCD. "His academic qualifications are top-notch. He was very much influenced by his time in Harvard, I would say. But it would be impossible not to be profoundly influenced by the practices of one of the top medical medical schools in the world."
Brady returned to UCD to become Professor of Medicine and Therapeutics in 1996, a post which he held until he became President. Pupils remember him as amiable, if slightly distant, and quite focused on the academic side of his work in the later period before he was offered the job as President of UCD. Some expressed surprise that he accepted, or was even offered, a job in which managerial skills play such an important part, given his somewhat reserved personality.
"He was a good leader of a medical team because everybody had the same goal – to make a person better. But I'm not so sure what he'd be like dealing with people who disagreed with him. He wasn't the kind of guy who'd come in and start working a room, he's not a schmoozer," said one source. Moore McDowell's description tallies with this. "He's doesn't have much time for small talk, and he knows what he wants. He's no bully, but when he disagrees with you, you know he's the boss."
Brady's plans will see 11 faculties being replaced by five new colleges. The 90-plus separate academic departments in UCD are being amalgamated into 35 schools, with previously separate departments joining together. He also wants to introduce 'modularisation', which will allow students do brief courses outside their area of study – for example, a medical student could take a course in Philosophy if he or she wished.
In addition, he is making changes that critics claim will centralise power. Whereas under the old system, the Deans who headed the faculty were elected by staff of the faculty, the heads of the new colleges will be appointed centrally. This means, according to the most alarmed of UCD's academics, that in place of having trusted, elected people overseeing their work, they will now have a Brady stooge telling them what to do.
Brady hopes to have these changes made by the beginning of the next academic term and has announced this aim publicly. This means that a number of very significant modifications to the system have to be made over a short space of time, and that has dismayed many of those on the ground who have to implement them. Some feel that to make all these changes in one go is almost impossible.
"The changes have been brought in very rapidly," says Moore McDowell. "And perhaps that might cause some difficulty in some areas. But I think that reflects his drive to bring about reform."
And then there is the issue of consultation. Many academics that Village spoke to feel that the consultation process was ad hoc, that their suggestions were not taken on board. They remained unclear as to why the certain Departments have been conjoined with others. There is a deep sense of unease and suspicion among academics about what will happen to the college and why the changes are happening. Many of those who work in UCD feel that Brady's style of rule is alienating, that he is not making a genuine effort to convince his many doubters that his vision will either work, or is the right direction for the University to adopt at all.
"I have major reservations concerning the lack of evidence for the proposed changes. What worries me greatly is that we will be selling a generation of students short. Most important perhaps, is that the whole reform process has failed to generate the kind of trust which is the basis for its legitimacy," says Ray Kinsella of the UCD Commerce Faculty, the only one of the many academics who was willing to go on the record with criticisms of Brady.
While his supporters do not deny that he has put many noses out of joint, they feel that many of his critics are stuck in their ways, and are against change of any description.
"I'm in a comfortable position in that I'm at the end of my career, so the reforms are not going to effect me that much," says Moore McDowell. "But academics don't like to be disturbed. They prefer to just get on with their research and teaching and don't like change. These changes will force people to think. There are some details that I might disagree with, but overall I think the thrust of his plan is correct." p