Howards Way: In or Out?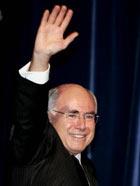 Australian Prime Minister and key US ally John Howard has intimated that he could stand down as leader of the Liberal Party in an effort to boost its re-lection chances. By Simon Roughneen in Darwin.
Since last week Australian newspapers and television have been buzzing with rumors over the future of evergreen Australian Prime Minister John Howard. With an election looming and the Liberals lagging behind the main opposition Labor Party in polls, the Prime Minister told his coalition's weekly meeting of MPs that "the public opinion polls suggest we would not just lose, but be annihilated."
This was leavened by Howard's admission to Sky News that his own political longevity could hinder his party's re-election bid.  After over half those questioned in a poll published in Australian magazine The Bulletin said that they thought Howard has been in office for too long, Howard conceded that it was both a strength and weakness that the prominent triumvirate at the helm of Australia's current ruling coalition - Howard, Treasurer Peter Costello and Foreign Minister Alexander Downer - had been in the same positions since 1996.
Despite a robust economy and a lavish re-election budget, Howard's coalition is languishing behind Kevin Rudd's resurgent Labor Party in a string of recent opinion polls. Howard's unstinting support for the Iraq war and his failure to sign the Kyoto Protocol are deemed as reasons for his party's decline – though the prime minister puts the poor polling down to the aforementioned personality reasons,  not foreign or environmental policy issues.
The Liberal Party has denied that Howard's leadership is under question. However Liberal MP Wilson Tuckey has clashed with the incumbent prime minister in the past – most notoriously in helping remove Howard as party leader back in 1989. After Howard warned of his party's gloomy election prospects, Tucker took the opportunity to state that Howard should stand down before the election.
Citing the Labor Party's iconic success in 1983 when Bob Hawke assumed that party's leadership on the eve of the election campaign, before winning what turned out to be a thirteen-year tenure in office, Tucker was quoted in the Sydney Morning Herald as saying "Some people say you can't do things late. Well, Labor couldn't have done it any later than they did with Bob Hawke."
Howard loyalists came out fighting, with frontbencher Tony Abbott describing the pugnacious PM as "our best political asset." However, Liberal backbenchers may worry that if their party leader is not seen as a viable prime minister, their own electoral chances may be undermined
Howard's mood was soured further when Tucker attacked party colleague Judi Moylan in an article published in The Australian, accusing her of protecting what he deems to be a corrupt wheat company. Addressing parliament last Tuesday May 22, Moylan claimed that she had been defamed, while Tucker stood by his claims. The exchange took place in public, and a clearly-enraged John Howard left the sitting as Tucker got up to defend himself. Such internal squabbles will do little for the credibility of Howard's party in the run-up to elections, and will undermine public confidence in Howard's leadership – as voters see him unable to even maintain internal party discipline of mind.
However Labor leader Rudd has not come through this week without troubles of his own. 'An honest mistake' was how he described the failure of his wife Theresa Rein's company to pay some workers fully. The Australian media has not relented on its investigation of this issue, which looks set to be an open political sore for Rudd in the coming weeks, despite the decision taken over last weekend to sell Work Directions, the company at the centre of the controversy.
However Rudd was not deterred from continuing his assault on the governing coalition's industrial relations policies:
"What we are concerned about is, how do you make the laws which govern Australia's industrial arrangements for the future, clearer and more balanced. I have said consistently, up hill and down dale, they need to be made fairer," he said.  That industrial relations issued have been a central aspect of Labor's spin-machine is now becoming an article of ridicule for many Australians – given the content of  Rudd's own recent travails regarding his wife's business.
Whether the latest figures stand the test of the remaining time before the elections is anyone's guess. Revealingly, a Herald/ACNielsen poll published on May 21 showed 60 per cent of voters believe the Government will better-manage the economy, while only 30 per cent believe Labor will.
And Howard is hammering home his view that Labor cannot be trusted to maintain Australia's recent economic prosperity – and hoping that this will overcome the perception that he and his sidekicks have been on the scene for too long.
Howard's own navel-gazing regarding his future may be little more than mischievous attention-seeking – an attempt to focus wavering voters minds on Australia's political future if he should depart the scene. Both sides are dabbling in political gamesmanship. Howard's attempt to secure underdog status for his party was matched by Rudd, who sees the emerging scandal involving his wife's business as potentially leading to Labor taking a "whacking" in the polls as a result.
And if Howard is sincere about resigning the Liberal leadership, it is not clear who would take his place.Treasury Secretary Peter Costello is seen as next in line. However the same opinion poll that puts Howard 21 points behind Rudd as preferred next prime minister, puts Howard 26 points ahead of Costello in the same category.
Howard does not have any electable-heir apparent – if the polls are indeed an accurate reflection of the reality. With no viable alternative leader to take the Liberal Party forward to the looming elections, it may well be that Howard's Way out is no way at all. And if Australian's decide that the election will be a referendum on the economy, he might not need one.