Hot House Flowers
A woman, a black, a Mormon and a cross-dresser. No, it's not a Village People-style cabaret – it's the 2008 US presidential election. Marion McKeone reports from New York.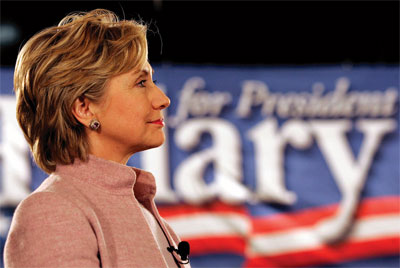 And already, they're off. Like Christmas, US presidential campaigns seem to start earlier and cost more with every cycle. The rolling four-year political brawl is well underway. Gallons of vitriol have been spewed and the seeds of rumour, exaggeration and distortion that will be harvested in the final no-holds-barred stretch have been sewn. Continued on next page
It might be tawdry but it's not cheap. Between now and November 2008, more than more than $1 trillion will be spent on the race to the White House.
The intensity with which the first steps are being covered is understandable. The scripted and stultifying campaigns of 2000 and 2004 were fought between candidates whose similarities were far greater than their differences; middle-aged, white, Ivy League educated men. Different years, but indisputably of the same class.
2008 promises a presidential campaign of firsts. It will be the first time a former first lady (Hillary Clinton), a Mormon (Mitt Romney) and an explosively controversial mayor-turned-9/11-hero (Rudy Giuliani) has each staked a claim to the White House. It is also the first time that a black candidate (Barack Obama) has been regarded as seriously viable by the media, the money and the party management.
Of the dozen 'contender' candidates, there are four governors, a mayor and seven senators. On paper, the odds of a senator being elected are not good. Since 1960, when John F Kennedy was elected president, 25 senators have set their caps at the White House and failed. The US electorate consistently goes for someone with executive experience; presidents Carter, Reagan, Clinton and Bush were all governors.
2008 may buck that trend; if only because in this race – amongst the Democrats at least – so far the money and media interest is following Democratic senators Hillary Clinton and Barack Obama.
The dull gray froth of the 2004 campaign has been blown away by the grim reality of the war in Iraq. There's an old truism in the United States that foreign policy will never win a presidential election, but it can certainly lose one. Iraq looms large in the mind of every American and its cost to the US in blood, treasure and reputation.
No matter what Bush's successor does, whether he or she stays, goes or sits on the barbed wire fence, in the end any choice will be little more than an attempt to mitigate failure.
Not only are the candidates grappling with the Rubik's cube that is US foreign policy, there are the bitterly divisive homegrown cultural wars to navigate. Stem-cell research, abortion, gun control and gay marriage are all potentially explosive minefields. And then there are the manifestos – the illusion, at least, of fresh ideas on health, education, social welfare, public spending.
And after the long and gruelling race to the finish, the eventual victor will receive the most expensive and toxic poisoned chalice in contemporary politics. Who would want it?
So far there is no scarcity of candidates out of the starting blocks.  But the unstated, overarching challenge is the physical toll of the campaign, the battering that is delivered to even the most robust constitution by the 18-hour bus tours punctuated by four-hour naps in two-star hotels. The sheer scale of the US campaign trail, the differing time zones, the number of miles covered ensures that even the most energetic candidate will become exhausted and error-prone as they traverse the endless grip-and-grin rubber-chicken circuit.
Several times a day, every day for the next year and beyond, candidates will deliver the Groundhog Day stump speeches and soundbites at state fairs, old folks homes, town halls, schools, firehouses and hospitals. Their utterances will be pored over by an increasingly bored and fractious media, desperately scavenging for scraps to feed the 24-hour media beast. Every candidate's personal life will be placed under a perpetual spotlight, every squabble will be magnified, dirty tricks and disinformation will become the campaign currency. The old saying that if you throw muck you lose ground is not much heeded in US politics.
US presidential candidates can be divided into three categories; the contenders, the crash-and-burns and the clowns. The clowns – perennial candidates like the Reverend Al Sharpton and Democratic congressman Dennis Kucinich – are there to provide the media circus with some entertainment, flashes of colour in hitherto monochrome campaigns. They are without serious Oval Office ambitions, but they fuel the notion that any American can become president, or at least flirt with the notion. For these candidates, the inevitable defeat is a victory of sorts. It boosts their profiles, bestows on them the gravitas of being described thereafter as a former presidential candidate, and boosts their after-dinner speaking fees in the process.
The crash-and-burns are candidates like John McCain and Howard Dean, pre-primary season contenders who receive the vast majority of media attention in the early days and whose upward trajectories were spectacularly felled by a combination of media backlash, magnified gaffes and dirty tricks.
It is almost inevitable that Rudy Giuliani, the former mayor of New York and 9/11 hero will join their ranks.
That Rudy Giuliani is leading the field of Republican candidates says something about the party's desperation or capacity for self-delusion. True, Giuliani displayed courageous and decisive leadership in the aftermath of the 9/11 attacks. True, he cut taxes and crime in New York. But he's also a serial philanderer who has had three wives and as many mistresses.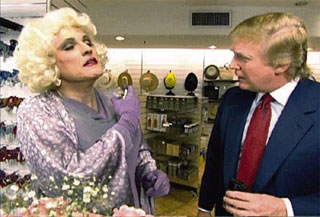 His first marriage was annulled after he claimed he didn't know his wife was his cousin. It might play well in Alabama but they're not going to swallow it in Albany. He ended his second marriage by announcing during a televised press briefing in 2000 that he had left his wife for another woman. Moments later he acknowledged that – whoops! – he forgot to tell her before he left the house that morning. The ugliest divorce in the history of US politics ensued with the Giulianis' very dirty laundry trailed across the front pages of the New York tabloids for months. Then there was the dubious parachuting of a former lover into an $180,000-a-year job for which she had no qualifications, the post-9/11 security consultancy partnership with the disgraced NYPD boss Bernard Kerik.
And with a cavalier disregard for his future career, Giuliani donned black stilettos, fishnet tights and very little else aside from red lipstick and suspect-looking underwear for a public display of the cancan. Photographs of his cross-dressing appeared in all the New York tabloids. It's the sort of gift that a Democratic campaign strategist couldn't dream up. It's hardly worth adding that his pro-gay rights, pro-choice, pro-gun-control credentials aren't going to endear him to conservative Republicans.
For now Giuliani is classed as a contender, a candidate who can attract money, media, momentum and management, the stuff by which elections are won and lost. Some long-standing Bush family advisers have attached themselves to his campaign, including a top adviser to Florida Governor Jeb Bush. And he's raking in the cash.
Right now money – the so-called invisible primary – is the first and most critical test of a candidate's viability. Long before the public becomes aware of a would-be candidate's existence, big-name donors are sizing up his chances. The brutal rule of thumb is that, if a candidate can't raise money, he won't attract media, management or momentum. Tom Vilsack, Iowa's popular two-term governor, pulled out after he managed to raise only $1m in six weeks. By contrast Arizona Governor Bill
Richardson raised $2m at a single fundraiser in mid-February 2007.
If a candidate can raise money, management will follow. No top-ranking strategist or adviser will throw his weight behind a candidate whose campaign is likely to sputter out before the primaries because of lack of cash. Somewhere along the way momentum and media coverage begin to build.
In every election cycle, the US media picks a favourite, a wild-card, a maverick candidate that will inject some excitement into a primary race that they know will ultimately be won by the candidate with the most money. Sometimes it's a third-party political outsider like Ross Perot; more often it's a candidate from inside the two-party system who promises to buck the trends of elections past.  
This time around the media frenzy is buzzing around political newcomer Barack Obama, the 42 year-old political parvenu. A black candidate with an Arab-sounding name, he is the Tiger Woods of American politics. A mixture of political acumen, intellect, charm and an ability to energise even the most recalcitrant of audiences has fuelled his rise through the political ranks. His springboard to fame came at the 2004 Democratic Convention, before he was even elected the junior senator for Illinois.
Obama's charisma is his single greatest asset. It's hard to identify the combination of factors that triggers the sort of buzz that Obama has generated. The right mixture of looks, charisma, oratorical skills, political prescience and authenticity is required. But there is an indefinable element, an alloy that solders the necessary elements and transforms them. There is a growing belief that Obama may have what it takes become America's first black president.
Since his high-profile declaration of his candidacy, his trajectory has continued to catapult upwards. He wowed Hollywood's A-list and picked up $1.3m at a star-studded political fundraiser in late-February hosted by David Geffen. From there he headed to Austin Texas, where his rally had to be hastily switched from a university gym to a public park to accommodate the 20,000 supporters who turned up to cheer him as he donned a Stetson and mocked George W Bush's Iraq policy.
His background – the son of a Harvard-educated economist from Kenya and a white middle-class student from Kansas who was raised in Hawaii, Indonesia and Chicago – and his Harvard education have given Obama an ability to shift seamlessly from white to black audiences, from inner-city community centres to the wealthiest homes in Illinois. He already has a litany for firsts behind him, starting with his appointment as first black editor of the Harvard Law Review when he was in his 20s.
Obama is undoubtedly the man of the moment in US politics. But in every election cycle there is a candidate, an outsider, a maverick that generates this kind of buzz.
In 2000, it was John McCain's Straight Talk Express, which was buoyed along by a euphoric media before it derailed in the South Carolina primary. In 2004, it was Howard Dean's internet revolution that met its Waterloo in Iowa. McCain is one of the forerunners of the Republican pack, but his recent courting of the Republican right, his vacillations on Iraq and his poor physical stamina mean that he is unlikely to go the distance. For now at least, the Republican field is wide open.
The US election campaign is no sprint, it is a grueling marathon, and while Obama may be ahead of all the other candidates save Hillary Clinton in the amount of media coverage he has generated and the amount of money he has raised, so far he has coasted by on a wealth of style and a paucity of substance.  
Despite all the euphoria, he is a chameleon on a sheet of glass, onto which the American people can project their desire for regeneration.
With just two years in the senate, he has escaped many of the voting dilemmas that will dog the campaigns of his rivals, particularly Hillary Clinton. He eschews racial politics in favour of calls for unity that transcends all ethnic groups. He was a forceful critic of the detention without trial of Arab-Americans in the wake of the 9/11 attacks and an early opponent of the war on Iraq. For a political parvenu, he has so far, managed to dodge the pitfalls that have felled veteran politicians.
So far. Given Americans' disillusionment with career politicians, Obama's lack of experience is no bad thing. But it is inevitable that at some point the momentum that has rocketed Obama into the political stratosphere will slow. Sooner or later Walter Mondale's famous "Where's the beef?" question will be demanded of Obama. Sooner or later the frenzied pace of the campaign causes even the most experienced candidate to trip up. For candidates whose minds are faster than they are deep, there is a tipping point that tests their mettle. Whether Obama will weather his remains to be seen; his campaign is perhaps the most vulnerable to the tides of national security. If America suffers another terrorist attack, if a Republican candidate can resuscitate the fear factor that has ruled American politics for more than five years, his campaign will shudder to an end.
That at least is the hope of the Clinton camp. They insist reports of the spat between the two campaigns have been overplayed. Indeed the most frequent off-the-record observation from the Clinton camp about Obama is that he would make a great running mate for Hillary. While such observations are probably intended to suggest he won't go the distance, they are probably true. Of all the candidates, Clinton has the most money – including $14m in spare change from her 2006 Senate race – the most name-recognition and the most experience of White House and Washington politics. There is also the formidable team that surrounds her, not least her husband Bill Clinton, the most formidable political strategist in the Democratic Party.
Clinton's fundraising skills are unlikely to be surpassed by any candidate. Hollywood is flirting with Obama but in the long run, it is likely to remain wedded to Hillary. She is the most polarising contender but as even the Republican camps would concede, there ain't much muck left to rake over the Clintons. While she is not scandal-free, the scandals are old news at this point. A new scandal – especially one involving her husband – could derail her, and as she herself has ruefully conceded, Bill Clinton is a hard dog to keep on the porch.